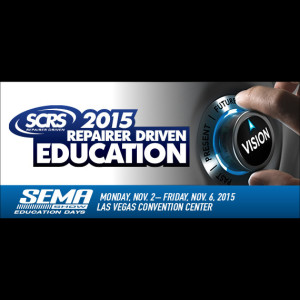 The Society of Collision Repair Specialists has released its 2015 SEMA Repairer Driven Education schedule, which will include new morning classes requested by past attendees.
Each regular and OEM Collision Repair session Nov. 3-6 is $75 in advance and $85 after the Oct. 16 early-bird deadline or at the door. An invitation to the SCRS Sky Villa after-party Nov. 5 is $85/$100, and a pass to everything SCRS offers during all four days is $375/$400.
However, space is limited at the OEM sessions, so repairers might not want to wait until the final early registration discount date to sign up for those Nov. 5 classes.
In coming months, we'll seek some of these SEMA presenters' insights in our coverage, so keep an eye on our site. We'll also be at some of these courses in November, and telling you in real time what's happening through our @repairerdriven Twitter feed.
For now, here's the schedule and a reason to enroll from each course description. Classes are all 120 minutes long aside from free lunchtime courses; you pick one per two-hour time slot.
Here's Collision Hub's recap of one aluminum repair course from the 2014 SEMA:
Tuesday, Nov. 3
9:30-11:30 a.m.
"Getting Paid for Investing in Facility, Equipment and Training"; Tim Ronak, AkzoNobel
Why you should go: "This session will look at the shrinking Labor Gross Profit percentages due to additional costs of investment in equipment, facility and training. Strategies will be explored to understand the mechanisms at your disposal to offset these rising business costs to justify a return on that capital expenditure."
"Scheduling and Work in Progress"; Tom Hoerner, BASF
Why you should go: Hoerner will "analyze the scheduling process – or lack of" at collision repairers and show you how to improve if you're in the "lack" category.
"Competing with Consolidators"; David Luehr, Elite Body Shop Solutions
Why you should go: "Independent collision repairers have many advantages over consolidators that many are unaware of. This presentation will inspire independent collision repairers to take ultimate control of their businesses and make consolidators irrelevant if these techniques are applied."
11:30 a.m.-12:15 p.m. (Free)
Why you should go: Find out some of what Ford did to make the aluminum 2015 F-150 easier to repair, "including a look at the separately serviceable lower control arm brackets, the inner fender reinforcements that can be replaced more easily, the floor pan, cross member and rocker panel sectioning opportunities along with the new b-pillar design that can be replaced without disturbing the roof."
12:30-2:30 p.m.
"Compensation Solutions"; David Dewalt, Sherwin-Williams
Why you should go: "Attendees will learn about creating successful compensation strategies that work in a lean collision repair shop" besides just paying a technician a flat rate.
"Paint Shop Performance"; John Fagan, PPG
Why you should go: "But even with the exceptional refinish products and the best equipment, profitability in the paint department poses some unique challenges for today's collision centers."
"Aluminum Damage Analysis and Joining Methods"; Larry Montanez, P&L Consultants
Why you should go: "It will explore repair vs. replace decisions on outer panels, structural diagnosis, equipment requirements, and joining methods. After this program attendees will have a better understanding of the differences between aluminum and steel vehicles, the different types of joining methods and best practices in analyzing and defining structural damage."
3-5 p.m.
"Process Driven Collision Repair"; Lee Rush, The Sherwin-Williams Company
Why you should go: Make customers happier, your work more consistent, increase volume and cut cycle times by learning how to be a "process driven" auto body shop — one that "features new concepts for the future of collision repair and packs enough technologies, premium materials and innovations to be worthy of our industry's flagship collision operations."
"Getting it All Right on the Internet in 2016"; Mark Claypool, Optima Automotive
Why you should go: Find out how to make your online content — and if you don't have any, you really need this class — best reach your audience. For example, "video viewing and sharing over the Internet has grown by more than 7,000 percent since 2006! 80% of Facebook videos get 'Likes', 60% of people will watch a 2-minute online product or service video, videos are 12 times more likely to be shared on Facebook, and 60% of people are more likely to watch a video than read text."
"Panel Discussion – Our Journey to Become a 'Successful' Collision Center"; Mike Sachire, Square One Systems
Why you should go: "The goal of this discussion is to provide concrete advice and suggestions from industry peers with first-hand experience" at growing business.
Wednesday, Nov. 4
9:30-11:30 a.m.
"The Myths, Mysteries and Fallacies Surrounding Accurate Repair Planning"; Bob Gilbert, AkzoNobel
Why you should go: "Despite your determination as an owner and all of the training sessions you and your team have attended you still are not achieving that 100% correct first time itemization. What is it about your facility that is preventing you from implementing a successful and sustainable repair planning process?"
"Removing, Replacing and Joining Advanced Materials"; Dave Gruskos, Reliable Automotive Equipment
Why you should go: "The session will focus equally on the procedural aspect of the panel joining process as well as the safety considerations that should be considered for the workers, the environment and the repair" of high-strength steel, aluminum and carbon fiber.
"The Lean Office – Organizing the Shop Office for Maximum Efficiency"; Judy Lynch, Sherwin-Williams
Why you should go: "Applying lean principles to streamline and eliminate waste from your office and administrative processes will result in bottom line savings."
11:45 a.m.-12:15 p.m. (Free)
"Structural Adhesive Bonding: The New Frontier"; Shawn Collins, 3M
Why you should go: "There's a completely new and exciting class of adhesive available to the collision repair industry and it's not just for bonding non-structural outer body panels."
12:30-2:30 p.m.
Why you should go: "Many Independent Shops assume that DRPs are no longer attainable due to the market dominance of consolidators and large local MSOs. Surprisingly, many shops are successfully growing their insurance work and customer base with some proven basic skills along with innovative strategies focused on creating a unique individual brand."
"Welding Technologies – A Comprehensive Tutorial on Modern Equipment"; Toby Chess, SCRS
Why you should go: "The equipment necessary to repair the modern fleet continues to evolve as quickly as the vehicle architecture does, and understanding tool and equipment options that provide the most capability can save repair businesses from unnecessary investments in wrong or outdated repair technology."
"In-Process Quality Assurance"; Lee Rush, Sherwin-Williams
Why you should go: "The program mixes repair theory and instruction with in-shop inspection and coaching. Attendees will be provided the tools to analyze their production and staffing requirements necessary to implement through in-process quality assurance management processes and begin to optimize their business performance."
3-5 p.m.
Why you should go: "Shops should have a clear understanding of the right numbers to review and be able to develop an ROI plan before investing. (The course) will also explore when businesses should invest, and when should they pass on an investment."
"Advanced and Evolving Automotive Structural Technologies"; Ken Boylan, Chief Automotive Technologies
Why you should go: "Come and explore technology advancements that will change how vehicle repairs are made in the collision repair environment. In this course we will explain current and evolving structural technologies that will include vehicle construction techniques, the evolution of materials used in vehicle construction, and joining technologies of today's and tomorrow's vehicles."
"Post Repair Inspections (PRI's)"; Larry Montanez, P&L
Why you should go: "Learn the differences between post repair inspections and forensic examinations and the role each play in analyzing collision repair performance. The session will also guide attendees through the steps and processes to conduct a proper and thorough post repair inspection, and the benefits that offering such services present to your customer and your business."
Thursday, Nov. 5: OEM Technology Summit day
Why you should go: "The presentations will feature companies and individuals with rich histories of producing sophisticated advancements in the automotive and collision repair fields, and will be highlight technical insight into architecture and development of modern vehicles, and how those advancements intersect with the repair process."
9:30-11:30 a.m.: "Advanced Automotive Technology"
12:30-2:30 p.m.: "The Future of Aluminum in the Automotive Industry"
3-5 p.m.: "The Continuing Evolution of Advanced Steels in Automotive Bodies"
Also Nov. 5
11:45 a.m.-12:15 p.m. (Free): "Bring Measurements to the Blueprinting Process", Tom McGee, Spanesi
Why you should go: "This session will look at current processes and enhancements that can be made in order to remove unnecessary surprises from the overall repair process, and reduce cycle times."
9 a.m.-midnight: Sky Villa After Party
Why you should go: "This after-hours event gives you the opportunity to relax and network with some of the collision industry's most influential leaders and educators, all while taking in the views of Las Vegas in some of the most recognized high-roller suites in the city."
Friday, Nov. 6
9:30-11:30 a.m.
"Protect Your Business From Fines and Disciplinary Actions by the CA Bureau of Automotive Repair"; Jack Molodanof, Molodanof Government Relations
Why you should go: "The course is specifically designed for California owners, managers and estimators who prepare and provide estimates, invoices and obtain authorizations from customers; however, shops in other states may find some value attending to see what California is doing (and maybe coming to their state soon.)"
"Optimizing Your Shop Sales Mix"; Charlie Whitaker, Valspar
Why you should go: "We will review how to properly analyze a profit and loss statement and use it to optimize your current sales mix to maximize profits."
"U.S Wage/Hour Compliance Under the FLSA – Are Your Pay Systems Legal?"; Cory King, Fine, Boggs & Perkins
Why you should go: "Class action wage/hour lawsuits are the hottest thing going these days and can easily bankrupt even the healthiest company. … This highly interactive seminar undoubtedly will scare you to death with what you didn't realize you didn't know, but needed to."
11:45-12:15 p.m. (Free)
"Repair Planning Considerations for Welded Components"; Toby Chess, SCRS
Why you should go: "Learn how to approach welded replaced components and make sure you are capturing all necessary elements" in repair planning.
12:30-2:30 p.m.
"California Wage/Hour Compliance – The Wolf is At The Door, Are You Ready?"; Cory King, Fine, Boggs & Perkins
Why you should go: "This highly interactive seminar will focus exclusively on CALIFORNIA wage/hour compliance in the automotive industry. What you will learn will undoubtedly scare you to death and make you angry, BUT this seminar will arm you with the knowledge and tools you need to get your pay practices in order and survive the firestorm."
"Business Financials: Balance Sheets, Income Statements and Cash Flow"; Mike Anderson, CollisionAdvice
Why you should go: "Using isolated examples of business activity and reviewing sample financial reports, this course will shed some light on how to manage your business via a deep understanding of the numbers. You will get an appreciation for things to monitor and manage so you can be confident in the numbers you are looking at, and more importantly, the numbers you are producing."
"Marketing to, Selling and Servicing Today's Connected Consumer"; Frank Terlep, Summit eMarketing Sherpas
Why you should go: "Today's connected consumers require all businesses, including collision repairers to connect, communicate, market to, sell and service them in the same ways they connect and communicate!"
Correction: This article has been updated to reflect changes in the OEM Technology Summit.
More information:
"SCRS Repairer Driven Education (RDE) Series"
SEMA, May 2015
Share This: