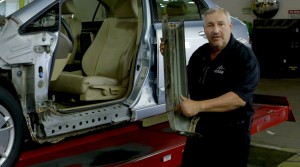 A new Honda video uses the story of a totaled vehicle that found its way back onto the street to advocate quality body shops and its ProFirst network to customers.
Beyond ProFirst shops, the video should be welcomed by any collision repairer that supports fixing a battered car as dictated by OEM repair procedures.
The 2006 Honda Civic hybrid featured in the film, posted Thursday on the collision.honda.com website, was once owned by a Honda employee until it was wrecked earlier in the decade.
"The car did what it was supposed to do; it kept him safe," a father whose son had been driving the Civic says on the video. "But the car itself was just a mess."
The insurer called the car a total loss and sold it for salvage, as repairing it properly would have cost about $20,000.
"About two years later, damn if that car didn't resurface," Honda Vice President Steve Osborne said in an interview prior to the video's posting.
Honda isn't sure what transpired between the car's relegation to a salvage yard and its reappearance at a dealership.
"In another way, I'm kind of glad I don't know," Osborne said.
A Honda dealership employee took note of the Civic, which had been brought in for warranty work by its unsuspecting new owner. Honda bought the car and began a forensic analysis with the assistance of VeriFacts and Marco's Collision Centers.
The car was sold to the driver with an indication that it had been a salvage vehicle, an obvious red flag. But on the surface
"The guy laid beautiful, beautiful paint on this car," Osborne said. "… Whoever did it had some skills, and they had some talent. But everything they did was to deceive."
"It looked like it was repaired," the video narrator states. "… Someone can be motivated to get pretty creative to cut corners."
On the video, Marco's Collision founder Marco Maimone shows viewers some of the real issues.
"You look a little closer, at the bottom of the door, the gaps were tight," Maimone says. "The fender started to get tight. That was our first indication that we had a structural problem.
Welds inside the rocker panel were patchwork and used brass.
"Not done with a MIG welder, not proper, not safe," Maimone says.
The entire frame had "significant, significant" damage, according to Osborne, and Maimone highlighted a bent area under the problematic rocker panel.
"If it's weakened, it's gonna crush too quickly," Maimone said, explaining how that could have affected the airbag timing.
Which was somewhat moot — two airbags weren't repaired or replaced.
Also, a tie rod end — Maimone says the part was used — broke once the Civic was lifted off the ground, according to Osborne.
"This would have been a vehicle driving down the road with no control," Maimone says on the video. "This could have been horrible."
As other issues scroll by, the narrator concludes what hopefully a viewer has guessed: "The repair did not meet American Honda repair standards, or the industry's standard."
It directs Honda drivers to "get involved" and encourages them to search on the Honda collision website for one a ProFirst shop.
"Go to a quality body shop," the narrator states. "Make sure they know you care. That you want it repaired to Honda standards."
Osborne said the goal was to tell Honda drivers to research both a vehicle's past and its repairs.
"If you buy a used car, be careful," he said.
More information:
"What You See Is Not Necessarily What You Get."
Honda, May 28, 2015
Featured image: On a new Honda video, Marco's Collision founder Marco Maimone shows viewers some of the real issues with an ostensibly repaired 2006 Honda Civic. (Screenshot of video from collision.honda.com)
Share This: