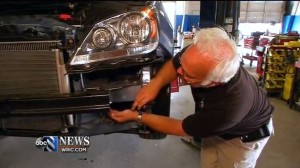 A Virginia television station which in May investigated insurers' use of salvage parts has turned its news team's gaze at aftermarket parts.
"We've learned that there may be an even bigger concern," WRIC anchor Juan Conde says in the introduction to the video posted Tuesday.
This report by Kerri O'Brien of the 8News Investigates team features Michael Larkum, whose parked Honda Odyssey (unfortunately, the year isn't specified) was collateral damage in a November 2014 crash.
"He never imagined it would take seven months to get his car repaired right," O'Brien says.
The original repairer used an aftermarket bumper cover, headlamp and hood and botched actual repair work, Ben Gibson of Harrison Body Works — Larkum's new body shop — told the station.
"You see there is a pretty noticeable color difference between the bumper and fender," Gibson says on the broadcast, and Larkum noticed a headlight rubbing against the fender and the wheel scraping against the vehicle.
Besides the parts, it looks like there were some other issues with the repairs, either work not done at all or done badly.
"I could probably take a chisel and just pop those welds loose," Gibson says on the video. In another area, welds should have been done but weren't.
"They drilled the holes to weld it; they just forgot to weld it," he says.
That shop told WRIC it stands by its repair and aftermarket parts can be quality, the station reported. Insurer Elephant Insurance, which on its website advertises "Rates from as low as $12" (the fine print states this was calculated using a 2000 Passat driver with liability insurance), did not respond to WRIC's request for comment.
An Elephant video of the company's mascot "undercover" at a direct repair program shop tellingly stresses that he confirmed the shop works fast, has great customer service, and the repairs are guaranteed. Nothing about parts or technician competence.
After Larkum battled Elephant for months, he contacted the Virginia Bureau of Insurance and attorney general, according to WRIC. Elephant caved and is paying for the car to be fixed with OEM parts.
Here's the report WRIC did on insurers using recycled parts:
More information:
"Auto insurers accused of cutting corners on car repairs"
WRIC, June 2, 2015
Featured image: Ben Gibson of Harrison Body Works indicates what he said was a weak weld on a Honda Odyssey in this screenshot from WRIC video. (Screenshot from www.wric.com video)
Share This: