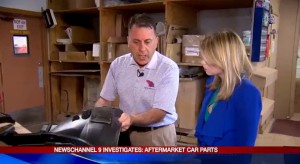 Another television news team has drawn attention to the use of aftermarket parts by auto insurers for collision repairs in a very thorough new report.
"You expect it will come back the way it was before the accident," WSYR anchor Ron Wood says on the broadcast posted Wednesday. "But, drivers may be shocked to learn what parts insurance companies are recommending."
Rachel Polansky, reporter for the Syracuse, N.Y., TV station, describes a familiar situation — a policyholder who didn't notice the fine print allowing non-OEM parts and the pressure insurers place on repairers to use them.
"In most cases, there is no negotiation," Jeff Lyman, owner of Jeffrey's Auto Body, says on the broadcast.
This time, the car was Michele Bassett's 2012 Volkswagen Jetta — barely three model years old — upon which an unspecified insurer wanted to place an aftermarket light and fender liner, according to WSYR.
Bassett took the Jetta to Nick Orso's Body Shop, where owner Mike Orso told her about the nature of the parts and said they wouldn't fit correctly, according to the station.
"It kind of angers me," Bassett, whom a caption describes as "angry at her insurance company," says on the broadcast. "… You're paying for insurance. Your car should be fixed the way it originally was bought. I don't think that it should be fixed with parts that are not genuine. That cannot be guaranteed. … Otherwise, why bother having insurance?"
Bassett's insurer ultimately listened to Orso and allowed the parts, according to WSYR. Bassett told the station she still might switch insurers.
Polansky does erroneously imply there is no benefit to repairers in using OEM parts over non-OEM ones other than being able to look at oneself in a mirror — missing the fact that there is typically a markup to the insurance company.
But the rest of the report is very comprehensive, touching on the concepts of wasted time getting non-OEM parts to fit, the importance of repairing something the way its manufacturer says, and even soliciting input from General Motors and Toyota.
Polansky also interviews Republican state Sen. John DeFrancisco, who this session introduced Senate Bill 30.
That bill mandates collision repair shops (and insurers) use original equipment manufacturer parts for the first three years of a car's life or the length of a relevant warranty — whichever is longer. It also requires them to tell customers what replacement parts they used after that time and get customer approval to do so.
Insurers would also be responsible for the extra labor costs required to install a non-OEM part if it's not the easiest fit.
By the way, though OEM parts do cost more, the Property Casualty Insurers Association of America estimated in 2013 (using 2009 NAIC data) that dropping aftermarket components would increase premiums by $24 a year. We hope you haven't been buying too many mansions with the money you saved.
State Farm and Allstate sent the station to the Insurance Information Institute, and spokesman Michael Barry told WSYR that parts are inspected by the Certified Automobile Parts Association, which still isn't accurate for many parts.
"I think there's no evidence that anybody has been harmed by an aftermarket part," Barry says on the broadcast. "… I think the way to look at this, is not so much maybe as aftermarket parts as generic parts."
Strangely, the III highlighted the predominantly anti-insurer report, posting a complete copy on YouTube and pointing to it on Twitter.
Our Mike Barry explains what #WSYR @NewsChannel9 viewers should know BEFORE signing #auto repair contract. http://t.co/oseVw2KSLD

— I.I.I. website (@iiiorg) June 4, 2015
More information:
"NewsChannel 9 Investigates: Aftermarket Car Parts"
WSYR, June 3, 2015
Featured image: Mike Orso, owner of Nick Orso's Body Shop, shows an aftermarket part to Rachel Polansky, reporter for the Syracuse, N.Y., WSYR station in this screenshot from WSYR video. (Screenshot from www.localsyr.com video)
Share This: