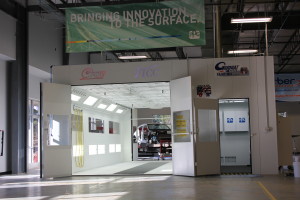 Garmat USA has joined the Society of Collision Repair Specialists as a corporate member, the first paint booth manufacturer to partner with the group at that peak level.
"Garmat USA has been a supplier to the automotive industry since our inception, so it is just a natural fit for us to support the mission and vision of SCRS," Garmat marketing director Debbie Teter said in a statement included in Tuesday's SCRS announcement. "Being a member also allows us to be part of the solution for the problems faced by the industry.  Working together with body shop owners and other manufacturers can only strengthen the voice provided by SCRS."
Teter said in a brief interview that the move was also encouraged by an interaction at a Collision Industry Conference week event.
"One of my owners came up, and he hugged me and said, 'You're with Garmat, you need to be here,'" she said.
"That was very powerful for me that he said that," Teter said: The vendor wasn't considered an outsider but another voice in the collision repair industry.
Another vendor's input helped too.
"Car-O-Liner told me we had to," she said half-jokingly, but added: "They told me how valuable it was for them."
Founded in 1988, Garmat's products include the Accele-Cure Accelerated Drying System for waterborne and solvent paints; booths large enough to accommodate trucks and RVs as well as custom-designed configurations; downdraft and modified downdraft fixed booths like the Tier 1 and Frontier, refinishing stations; closed-top, open-front booths; mixing rooms; preparation areas; and other jamming booths.
Garmat also annually honors one the industry's best paint technicians with its Sharp Shooter award.
"Garmat's products, distribution network and design assistance make it a respected and proven manufacturer for collision repairers alike, and SCRS is proud to partner with such an innovative, customer-focused company," SCRS Board Chairman Andy Dingman said in a statement. "As new materials demand greater painting and refinishing technique and shops demand greater productivity for their customers and bottom lines, we look forward to keeping collision repairers ahead of the curve."
Details: info@scrs.com and info@garmat.com.
More information:
"SCRS Welcomes Garmat USA – First Paint Booth Manufacturer to Join as Corporate Member"
Society of Collision Repair Specialists, June 9, 2015
Featured image: A Garmat USA booth is shown at Fayetteville Technical Community College in Fayetteville, N.C. (Provided by Garmat USA)
Share This: