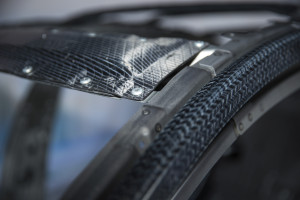 By Alicia Figurelli
Greco Publishing
Though carbon fiber is by no means a new material, its increased presence in the collision repair industry as more and more manufacturers introduce it into their vehicle designs demands the need for a better understanding of how shops can successfully — and safely — work with it.
Many repairers may have seen carbon-fiber components on vehicles in their shops before. It's lighter and stronger than aluminum or traditional steel; however, carbon-fiber doesn't have the flexibility of its counterparts. That means when it comes to working on a vehicle containing carbon-fiber elements, damaged pieces must often be replaced, not repaired.
And as Mark Allen, collision programs and workshop equipment specialist for Audi — an automaker whose Audi R8 and Lamborghini Huracán both utilize a hybrid construction of carbon fiber combined with aluminum — explains, working on a material like carbon fiber must be approached with these unique characteristics in mind.
"Respiratory protection is very important for the person doing the work, given the health risks associated with inhaling carbon fiber dust," he said. "Eye and skin protection are also necessary, as the material is extremely sharp, with a barbed shaft — so if it gets into your body, it becomes difficult to remove. For Audi, we recommend a wet drop vacuum to contain particles as well as an air filtration system with a carbon fiber filter, for both the dust and the fumes emitted by adhesives."
The R8 and Huracán in particular feature aluminum construction with the integration of carbon fiber modules, and as a result, cross-contamination in the workplace should be addressed.
"Carbon fiber will corrode aluminum," Allen said. "It will also corrode steel. The other thing to remember is that carbon will carry a charge.
Gary Wano Jr., executive vice president of G.W. and Son Auto Body, whose facility has received factory training to work on the carbon-fiber reinforced plastic used in the BMW i3 and i8, explained that a shop looking to safely repair these advanced materials must be fully committed to doing it per the manufacturer's recommendations.
"Having the proper, OEM-recommended tools and equipment for the job is incredibly important," he said. "BMW has created a very specific milling tool for working with carbon fiber elements on their i3 and i8, which cuts in such a small amount at a time that the likelihood of damaging the pieces becomes very difficult. The milling tool attaches to a vacuum system to extract a lot of the dust released. If you were using a something like a grinder instead of the recommended tool, you'd be releasing this material into the air for the whole shop to breathe."
Like any other new initiative in collision repair, both Allen and Wano said that the most important tool for preparedness continues to be continuous and consistent education.
"We're all going to see more aluminum, more high strength steel, and more carbon fiber repairs coming to us," Wano said. "As this industry continues to evolve, training and information from the manufacturers themselves will be key to make sure you are working on these cars properly and safely. If you're a repairer who wants to hold onto the same old repair methodologies you always have, that's fine — just be aware that then you also need to be a little more selective of what cars you're working on. You cannot veer off the path of using the correct processes or tools when working with these new materials. Otherwise, you risk putting your customers and your shop in danger."
"Carbon fiber is not necessarily 'the new aluminum,'" Allen said. "We're all focused on aluminum right now, and I think we're still a long way off from carbon fiber also becoming very prevalent in vehicle construction. If you're going to be working on any of these advanced materials, you have to know the properties of the material you're dealing with before you start. Audi and Lamborghini repair procedures dictate replacement only, and other manufacturers have their own equally specific repair instructions. If you want to explore carbon fiber repairs, or the repair of any advanced material, do your research, consult the OE repair procedures and make sure you are prepared. Proper education is the best first step."
Featured image: Carbon fiber in the BMW "Carbon Core" 7 Series. (Provided by BMW)
Share This: