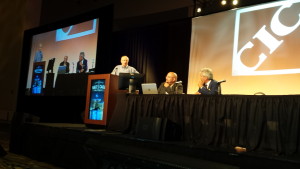 Tiny inefficiencies in the parts procurement process can cost a collision repair business thousands over the course of the month, a Collision Industry Conference panel demonstrated Tuesday.
Using the hypothetical of a $50 an hour labor rate, global OEM key account manager Amjad Farah pointed out how quickly a shop can waste serious money.
The entire parts procurement process, after all, is "non-value-added," according to Farmah. You don't get paid for it, but "we still have to do it." Worse, you're paying an employee to do that task instead work billable at your labor rate.
With "just 5 percent" of problematic repair orders and a $50/hour posted rate (or $400 in an eight-hour-day), you'll have done $2,000 worth of work for free for every 100 done in a month, Farah said. He estimated that 100 ROs a month was probably average for the audience.
(The estimates Farah gave only took into account the income you might have otherwise received from billable work instead of adding the amount you had to pay your parts employee on top of it.)
Another example involved the idea of having to do a second invoice because the shop used multiple vendors for the same repair. Using one audience estimate of 75 percent of parts orders requiring multiple invoices and a half-hour per invoice, you'd basically have eaten $4,000 just by adding a second invoice, according to Farah.
And if the issues added up to the point where the shop missed the promised delivery date to the customer, one's customer satisfaction index takes a "huge hit," according to parts panel Co-Chairman John Bosin of I-CAR.
"Those indirect costs are costing this industry more money than you can imagine," Farmah said.
See a flowchart of the parts ordering process here and check how one of those"10 minutes here, 20 minutes there" inefficiencies at your shop could add up over time.
Continue to check Repairer Driven News for more updates.
Featured image: John Bosin, left, Amjad Farah and Chris Northrup participate in a parts procurement panel at the July Collision Industry Conference on July 21, 2015. (John Huetter/Repairer Driven News)
Share This: