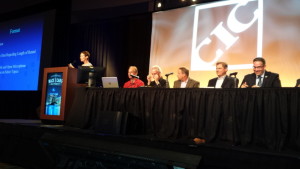 Estimates of when a customer's collision repair will be finished would be much more accurate if done after the vehicle teardown and the shop had worked out the parts logistics, a repairer-insurer panel and audience seemed to agree Tuesday.
At that point, ETAs for repairs would be correct about 90 percent of the time instead of the discrepancies being seen today, participants said during the discussion of cycle times at the Detroit Collision Industry Conference.
Problems currently exist now under scenarios like when an insurer call center gives an general ETA to a customer which conflicts with what a shop sees on the actual car; or when a shop is required to fill in a time to open a repair estimate, which puts the cart before the horse since the car hasn't actually been disassembled and the parts secured.
It sounds like there could be room for progress on this important customer experience point, even if other insurer-repairer cycle time conflicts might still exist.
The discussion also touched on the repair-related rental times which had been released recently by Enterprise. Read more about that data here.
Share This: