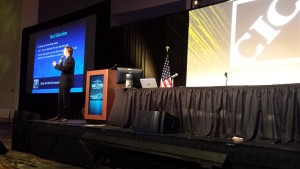 Four out of 10 paint suit manufacturers which agreed to test refinishing gear for isocyanate protection reported their suits had passed, a GMG EnviroSafe executive announced Wednesday.
The other six either failed or wouldn't disclose the result of the ASTMF 903 testing, Chief Operating Officer Brandon Thomas said on the second day of the Collision Industry Conference. He wouldn't disclose which ones passed, though he did agree to provide shops and media with a list of the ten which tested one or more suits. (The concern was that the message would become "Brandon said" to buy a particular suit, Thomas said.)
Following a more informal round of paint suit testing by GMG Envirosafe which found gaps in isocyanate protection, Thomas had contacted the manufacturers about taking the 903 test, which tests permeability of a suit after liquid comes in contact with it at a certain pressure. He had also verified with the Occupational Safety and Health Administration that the test was a viable measure of suit safety.
"Would this testing support the employer's claim they have selected the appropriate PPE for their employees?" Thomas asked the OSHA Industrial Hygiene division.
The response — the existence of which he said was a "big coup" — according to Thomas: "Yes, it looks like the lab results show due diligence providing PPE that hold up against isocyanate use(;) however(,) as soon as PPE becomes soiled by isocyanates(,) clothing needs to be changed out, according to the NIOSH pocket guide to Chemical Hazards."
"This is not a superhero costume," Thomas said, where one suit can hold up for three years. They'll need to be replaced to adequately protect a refinisher.
He encouraged the industry to ask manufacturers if a particular suit can pass the ASTMF 903 test.
We've asked Thomas for a list of the 10 manufacturers. He's provided 11 which have contacted him. It's unclear which of Summit or 3M was the original tenth, but it appears to be Summit.
SAS
CTW International
Devilbiss
Cadillac Looseleaf Products
Shoot Suit
Dupont
EZ Mix
Choko Design
Coverco
Summit Group
3M
Featured image: GMG EnviroSafe Chief Operating Officer Brandon Thomas speaks July 22, 2015, during a presentation on suit protection for refinishers. (John Huetter/Repairer Driven News)
Share This: