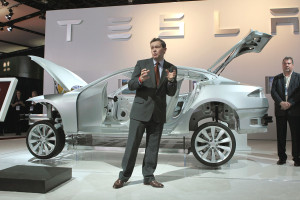 Solera announced Monday that Tesla would use the AudaExplore and AutoWatch estimating and customer service programs in its certified collision repair centers.
The Tesla integration would be available in the next few weeks for North America, Europe and China users, according to Solera. The information provider parent company also said that AudaExplore/Audatex and AutoWatch were Tesla's "sole choice."
"We have worked closely with Tesla over the past several months to develop highly accurate and data-driven integrated solutions for Tesla's collision repair network," Solera CEO Tony Aquila said in a statement. "Our goal is to fully leverage Solera's technology platforms to digitally transform the vehicle repair experience for all stakeholders."
Little else about the partnership was announced Tuesday morning. We've contacted California-based Tesla and Texas-based Solera for more information. Continue to check Repairer Driven News for updates.
In June, Mitchell announced that it had integrated Toyota's Recommended Repair Procedures within Mitchell Estimating, allowing users of the desktop service to obtain a list of Toyota and Scion recommended parts and labor for a particular repair. It's unclear how similar the Tesla-Solera agreement would be to the Toyota-Mitchell one.
More information:
"Tesla Motors Selects Solera as the Sole Provider of Collision and Customer Communication Services"
Solera, Aug. 3, 2015
Featured image: Tesla's Vice President of vehicle engineering Peter Rawlinson introduces features of the Tesla Model S sedan during the press preview of the North American International Auto Show at the Cobo Center on Jan. 10, 2011, in Detroit. (Scott Olson/Getty Images News/Thinkstock file)
Share This: