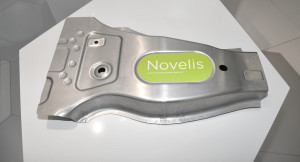 Novelis on Monday announced a 7000-series aluminum it says is two to three times stronger than typical automotive aluminum.
It said in a news release the Advanz 7000 is up to the job of "bumper systems, crash ring components and door intrusion beams" while remaining lighter than high-strength steel. The company released images of a 7000-series aluminum B-pillar reinforcement on Monday.
We've contacted Novelis to learn more about the strength of that aluminum, which would apparently is meant to replace the kind of components which are growing beyond 1,000-megapascal high-strength steel. (See, for example the 1,500 MPa door ring on the new Honda Pilot.)
Aluminum has already been used for those types of super-strong components. At 2014 and again at the 2015 Great Designs in Steel, Acura indicated the 2015 TLX had aluminum bumper beams, which makes us curious what grade of aluminum was used and who built it. For comparison, the 2015 Ford Edge, also shown off at the 2015 Great Designs in Steel, had a 1,300 MPa ultra-high-strength steel bumper.
"As more automakers look to reduce vehicle weight and improve fuel economy, high-strength aluminum alloys are playing an increasingly critical role in vehicle design," Novelis Chief Technical Officer Jack Clark said in a statement. "For decades, Novelis has been a pioneer in aluminum alloy development and set the standard in the automotive industry. Novelis' Advanz 7000-series will drive the industry forward by offering automakers additional weight savings with superior strength for optimal safety performance."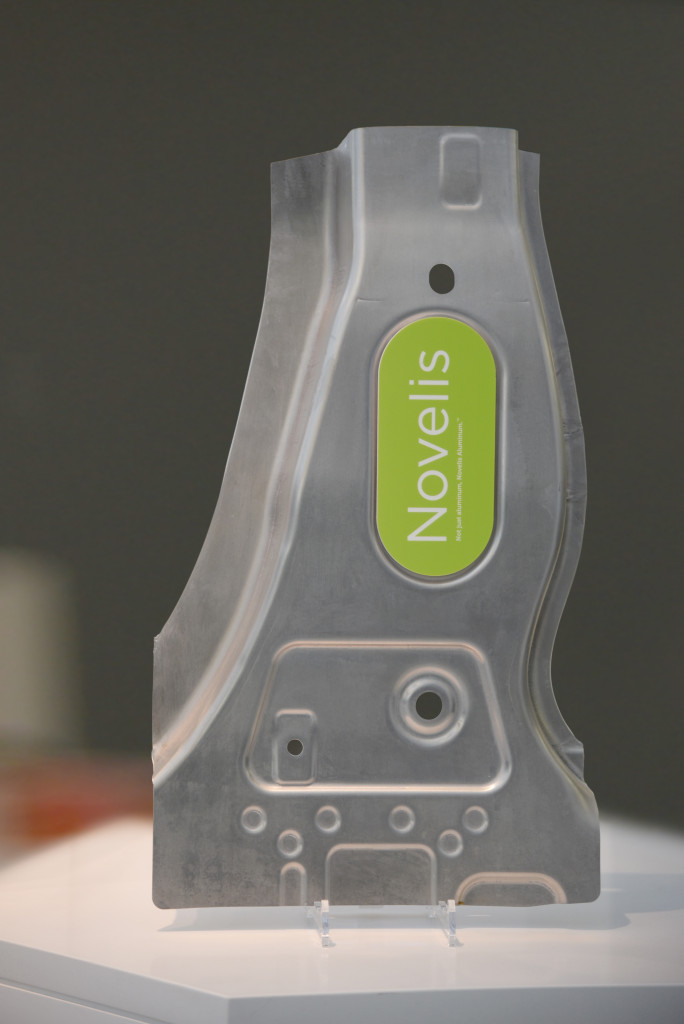 Novelis said "a number of global automakers" are testing the alloys right now, though it did not provide specifics.
Automotive News noted that Ford and Jaguar Land Rover are among the company's biggest automotive clients.
"We are working with Novelis on a whole range of new, high-strength aluminum alloys, of which the 7000 series could be included for specific applications on future products," Jaguar Land Rover chief body engineer Mark White told the newspaper.
"The development of Novelis Advanz 7000-series high-strength alloys is the latest step in our strategy to expand our automotive offerings around the world," Novelis global research and development Vice President Todd Summe said in a statement. "Our Novelis Advanz … 7000-series alloys will be used to produce automotive sheet at Novelis facilities on all three of the world's major automobile producing regions – Asia, Europe and North America – offering a unique supply chain advantage to our global customers."
This aluminum usage will likely mean more replacing of parts rather than repairing them, and different joining techniques than traditional welding.  (Of course, such new repair procedures are in place for the ultra-high-strength steels Novelis hopes the 7000 series replaces.)
For example, repairers are only allowed in some cases to fix the TLX's aluminum hood — but the car's aluminum bumper beams and aluminum-steel front subframe must be replaced. A TLX service bulletin also notes that corrosion should be a concern, and certain fasteners can't be reused on aluminum parts.
More information:
"Novelis Unveils Next-Generation High-Strength Alloys for Automotive Industry"
Novelis, Aug. 10, 2015
"Novelis: Automakers test stronger aluminum"
Automotive News, Aug. 10, 2015
Featured image: Novelis on Aug. 10, 2015, announced a 7000-series aluminum, seen here on this partial B-pillar. (Provided by Novelis via Edelman)
Share This: