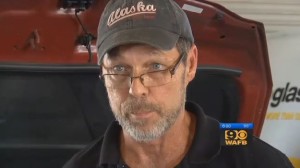 Louisiana television station WAFB on Wednesday became one of the latest networks to warn consumers that their policies indicate the insurers won't always use new parts in collision repairs.
This time, the story focused on a 2014 Kia Sedona minivan — last model year! — which needed a condensor, radiator and bumper after the owner rear-ended another vehicle, according to WAFB's article and video posted Wednesday.
State Farm refused to pay more than the cost of non-OEM parts, and Baton Rouge, La.-based Miles Paint & Body Shop owner Tim Elkins decided to eat the difference in cost, according to WAFB. (It's unclear from the broadcast if the parts in question were recycled, aftermarket or reconditioned; Elkins describes all three.)
WAFB 9 News Baton Rouge, Louisiana News, Weather, Sports
"They force these parts on us," Elkins says on the WAFB broadcast. "They make us use them. They've gotten to where now they tell us where to buy our parts and who we have to buy them from."
Elkins also criticizes the idea of reconditioned parts, noting in the broadcast that "for that matter, I could fix what was on it."
The repairer also raised the question of the minivan's warranty being affected by non-OEM parts, WAFB points out the distinction that Kia can't void the warranty, but it can deny it citing damage from the parts.
"A vibrant, profitable auto collision repair industry is in the interest of State Farm," State Farm said in a statement to WAFB. "At the same time, we are advocates on behalf of our customers for reasonable repair costs.  We believe repairer profitability and proper auto repairs that are reasonably priced can both be achieved."
The story also references Republican Louisiana Attorney General Buddy Caldwell's lawsuit against State Farm, part of the multidistrict litigation being heard in Florida.
Not much has happened with that case this year based on our look at the docket, but other related private-sector Louisiana lawsuits were in May amended with more detailed allegations, including poor customer service and blatant steering.
More information:
"The Investigators: Body shop owner says State Farm forces him to use recycled car parts"
WAFB, Aug. 12, 2015
Share This: