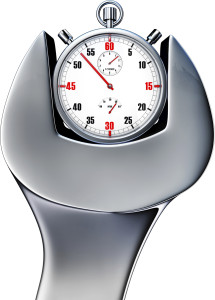 The Boyd Group MSO has launched an aggressive initiative to boost customer satisfaction and lower cycle time at Boyd and Gerber shops, and it managed to cut the latter down to seven days in a pilot 2014 launch.
However, CEO Brock Bulbuck cautioned analysts in a November 2014 earnings call not to make too much of those results from the first "28 model shops" adopting the WOW Operating Way initiative.
In Boyd's most recent earnings call, held Friday to discuss April-June financial results, Bulbuck noted that some WOW shops' performance had eroded.
"We're extremely pleased with the progression we're making on WOW," Bulbuck said Friday, but "we've got a lot of work to do." He chalked it up to the human tendency to "fall back to old habits."
"It's not related to pushback," Bulbuck said, adding that "enthusiasm" and "buy-in" are growing.
An April Raymond James analysis for investors touting the company as a stock worth buying reported a little more resistance from the rank-and-file, though neither it nor Bulbuck reported specifically what had been eroding.
"To date, the largest obstacle has been employee adoption with some experienced mechanics and operators (who historically operated quite independently) opposed to change and the imposition of a specified process," Theoni Pilarinos and Edward Gudewill wrote.
About 30 percent of the company's more than 300 locations had been "certified" under the WOW process. Bulbuck said the process had been accelerating, but Boyd would likely continue future expansion at the current pace rather than roll it out even faster. (Or slow it, he said.)
"We still have a positive performance gap" between those which are and aren't WOW shops, Bulbuck said, but "that gap has diminished somewhat."
But when it works, it really works, Bulbuck told investors in the November 2014 call.
"It works and delivers very clear best-in-class results in terms of cycle times," he said. Those initial 28 shops were posting times "well under seven days," as well as "very, very high levels of customer satisfaction."
At this point, Boyd's strong results in the first half of the year shouldn't be chalked up to WOW, Bulbuck advised Friday. However, the program could ultimately pay off with greater customer demand and volume, leading to better margins, he said during a March call.
"We have to have the sales in order to gain the margin leverage," Bulbuck said in March.
Speed and service
Asked by Repairer Driven News for more details about the program itself, Bulbuck wrote in an email that the company couldn't say much "for competitive reasons." Boyd/Gerber is battling with the other large MSOs in the collision industry's consolidation war. ABRA, Service King and Caliber are bankrolled by private equity firms, Boyd is publicly traded.
However, Bulbuck did clarify in the email that WOW was meant to address speed and satisfaction rather than quality control.
"While the processes and disciplines of our Wow Program are primarily aimed at efficiency (cycle time) and service (customer satisfaction), there are elements of it that contribute to better in-repair quality control and other benefits," he wrote.
The most extensive detail on the program comes from the Raymond James report by Pilarinos and Edward Gudewill, in which the analysts announce they're going to start studying Boyd for Raymond James clients. They rate the Canadian stock an "Outperform," meaning it should do better than the market in general.
Boyd contracted a consultant to find out if cycle times could be cut to 5-7 days, and the consultant confirmed that the delays primarily stemmed from waiting on parts and repairs, according to Pilarinos and Gudewill.
"For example, several days were lost due to wait times between when a customer dropped off his car to when technicians commenced repairs, between when repairs were completed to customer pick-up, and while parts were on order," Pilarino and Gudewill wrote.
The collision repair industry averaged 10.5- to 12-day cycle times, they wrote, citing Boyd statistics. (Recent Enterprise second-quarter data found repair rental times averaging 11 days.)  Boyd/Gerber and other MSOs averaged two days lower, they wrote.
After 18 months and $3.5 million in consulting fees, Boyd developed the WOW program.
"The process includes better scheduling of vehicle intake, a more thorough assessment of repair needs and mirroring of parts, and scheduling a committed output date," the Raymond James analysis states.
Obviously, if speed results in lower quality under WOW, that's a problem for customers. But the Raymond James analysis indicates Boyd's more trying to address factors like waiting for parts to arrive and waiting for the repair to start. Those are concerns industrywide, as Detroit Collision Industry Conference panels on parts procurement inefficiencies and customer satisfaction related to misleading ETAs indicate.
So what Boyd/Gerber does might provide some lessons for other shops and MSOs — not to mention make it a tougher competitor. Pay attention.
Featured image: The Boyd Group MSO has launched an aggressive initiative to boost customer satisfaction and lower cycle time at Boyd and Gerber shops, and it managed to cut the latter down to seven days in a pilot 2014 launch. (frankpeters/iStock/Thinkstock)
Share This: