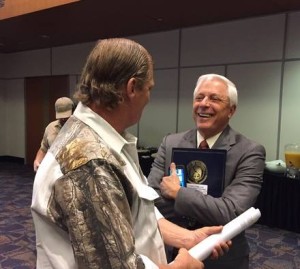 Calling it a "victory for Louisiana consumers," the office of Louisiana Attorney General Buddy Caldwell announced Wednesday that the state's case against State Farm had been returned to state court.
Caldwell, a Republican, filed Louisiana v. State Farm last September in the Louisiana 19th District Court. In December 2014, a federal panel added it to a group of lawsuits from more than a dozen states being heard by Middle District of Florida Judge Gregory Presnell to avoid the burden of repetition on the legal system and parties. The other lawsuits were filed by filed by collision repairers and trade groups, including two cases filed by Louisiana repairers.
In fact, an Oregon case against insurers saw the plaintiff shop successfully arguing to keep the case in Florida.
Ironically, State Farm attempted to use the 1963 Consent Decree as a defense of sorts in petitioning to keep the case in Florida. It argued that the citation of the Consent Decree by Caldwell raised federal issues and thus deserved a federal hearing.
But Presnell agreed Tuesday with Caldwell's request to send the case back to Louisiana, pointing out that Caldwell was merely mentioning it and calling for the court to require adherence to it should the state win the case. Louisiana was suing the insurer (and subsidiaries) under Louisiana law, not federal law. (By contrast, the Louisiana private-sector cases allege violations of the Sherman Antitrust Act, which is definitely federal.)
WAFB 9 News Baton Rouge, Louisiana News, Weather, Sports
"We are pleased that the Court ruled in our favor and will be sending the case back to Louisiana, where it belongs" Caldwell said in a statement. "State Farm has violated Louisiana laws by engaging in a pattern of unfair and fraudulent business practices aimed at controlling the auto repair industry and forcing unsafe repairs on vehicles without the knowledge or consent of Louisiana consumers. We look forward to moving this case forward for the benefit and safety of our citizens."
Caldwell's public-sector suit accuses State Farm of violating the Louisiana Unfair Trade Practices Act and the state's Monopolies Law. It alleges the insurer steers customers to State Farm direct repair program shops and pressures repairers to disregard best practices in favor of cutting costs — potentially jeopardizing safety.
State Farm denied the allegations. It also said in its answer to the complaint that subsidiary State Farm General, one of the defendants, didn't write auto insurance in Louisiana.
"The allegations in the lawsuit are not in line with State Farm's mission to serve the needs of its customers, and our long, proud history of achievements in advancing vehicle safety," State Farm has said in a statement regarding another private-sector lawsuit along similar lines. "… Our customers choose where their vehicles are going to be repaired.  We provide information about our Select Service program while at the same time making it clear they can select which shop will do the work."
In 2012, State Farm underwrote more than 33.6 percent of auto insurance in Louisiana and collected nearly $1.021 billion in premiums, according to Caldwell's lawsuit. (State Farm disputed the specific market share described in the lawsuit, citing lack of knowledge.)
Featured image: Republican Louisiana Attorney General Buddy Caldwell talks to an unspecified attendee in this Aug. 18, 2015, law enforcement training seminar in a photo provided by the Attorney General's Office. (Provided by Louisiana Attorney General's Office)
More information:
"State Farm Auto Insurance Lawsuit to be Heard in Louisiana"
Louisiana Attorney General's Office, Aug. 18, 2015
Share This: