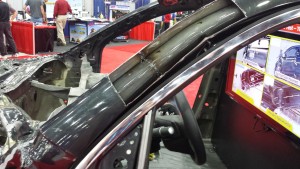 The case of a Vermont mechanic charged with manslaughter after allegedly passing an unsafe car and Honda's presentation of how a badly repaired Acura MDX fared in a crash test are dramatic examples of how failure to follow proper procedures could come back to haunt repairers.
"This should be a wake up call to the collision industry," Alliance of Automotive Service Providers-New Jersey Executive Director Charles Bryant said about the Vermont case in a statement Monday. "It's one thing if you allowed a bad job to get out of your shop and were sued – there's insurance to cover things like that – but to go to jail for doing a careless job is a whole different story. So many shops try to do the right thing but are told by insurers that they won't properly reimburse them for what needs to be done. They say things like they will only pay for used suspension, which, in my opinion, is the worst thing that could be done! Used suspension from a total loss should never be used; there could be internal damage that puts peoples' lives in jeopardy. We have to stand up and say no in cases like that."
Garagekeepers insurance expert Gerald Cecil and collision repair advocate Erica Eversman had different takes on the likelihood which a garagekeepers policy would protect an auto body shop in civil litigation over poor repairs caused by factors like corner-cutting or non-OEM parts or procedures.
But they agreed that in a criminal case, such as the Vermont one, garagekeepers insurers likely have no duty to defend you. You're on your own.
WCAX.COM Local Vermont News, Weather and Sports-
Will garagekeepers cover it?
Cecil said the Arrowhead program typically covers 99 percent of repairer related accidents that result in bodily injury or property damage, but noted that most of what they see as respects to products or completed operations claims are "minor."
Something truly unusual or serious, such as a frame coming apart, "those are very, very rare."
"We just don't see that kind of activity," he said, calling it "to the credit of the industry."
Commonly, the problem is something like a wheel-off which happens immediately, in a collision repairer's parking lot, he said.
Arrowhead carrier's tendency would be to cover claims for its clients, according to Cecil, and he said failing to follow OEM procedures wouldn't be blanket grounds for refusal.
---
Related RDN coverage
---
But Eversman challenged the idea that should something serious happen, a garage-keeper's insurance underwriter would support you for ignorance or corner-cutting.
"All insurers are always looking for a way not to cover the claim," she said.
She cited an instance of Zurich (through which the Arrowhead program places business) rejecting a claim by a DRP shop whose defense was that it had done the repairs instructed by Farmers — a Zurich subsidiary.
Eversman also hypothesized that cases where cost-cutting or negligence at the shop level led to a more severe crash might exist but not have come to light.
After a crash, insurers typically take possession of a totaled car and cut the policyholder a check. With the proof to the contrary in salvage yards somewhere, it's easy for insurers to say that aftermarket bumpers, for example, perform appropriately in crashes.
Plus, most lawyers "don't have a clue" the insurer is so involved with the repair. They're typically more interested in litigating medical claims rather than examining the car in which their client was a passenger.
It's also possible that such issues haven't arisen yet because vehicles which can't be repaired the old ways are just coming into the mainstream. The EPA 54.5 mpg 2025 standard was announced in 2009, and the Insurance Institute for Highway Safety's tough narrow-offset crash test debuted in 2012.
To help satisfy both of these, automakers are just now debuting stronger models with much more aluminum and ultra-high-strength steel as they reach the next generations of their brands with the 2015 and 2016 model years. And these are intended for normal consumers as well as luxury buyers, which means there's better odds of them appearing in the average shop.
Day in court
As mentioned earlier, a garagekeepers insurance company's "duty to defend" typically only applies in civil cases — not criminal ones, such as the Vermont story.
And even then, a garagekeeper insurer might not owe you a lawyer if the incident was willful, according to Eversman and Cecil.
For example, a garagekeeper who will defend you in a civil case if a torquing mistake results in a fatal wheel-off certainly doesn't have to do so if you sabotaged the wheel.
But willful negligence could extend to instances where a repairer knows there's a recommended way to fix something but opts to do it differently.
However, Eversman said civil courts are typically hesitant to immediately absolve an underwriter of the duty to defend, and Cecil said garagekeepers insurers are unlikely to pursue that as a first recourse anyway unless the facts are very clear-cut. As the case progresses and more details emerge, however, a garagekeepers insurer might be excluded from having to cover a willfully negligent client.
As far as the case itself, a court is going to look at the "duty issue," Eversman said. A repairer has a duty to fix a car correctly, regardless of whatever an auto insurer or the shop's own business model would prefer.
"Did you breach that duty?" will be the question, and "Was harm caused by that?" according to Eversman.
Considerations will include "what would the ordinary person" in the job would have done, Eversman said. That would involve paying attention to manufacturer recommendations and following them "unless there is some very specific reason" not to do so, she said. (For example, it's impossible to follow procedure X when the vehicle has been handicapped-retrofitted.)
Otherwise, according to Eversman, your day in court will play out along these lines:
PLAINTIFF ATTORNEY: You know that the automaker releases repair recommendations?
SHOP OWNER: Yes.
ATTORNEY: Do those recommendations include a specific way to weld this component?
OWNER: Yes.
ATTORNEY: Did you follow it?
OWNER: No.
"Then the case is over," Eversman said.
Judges and juries don't understand the "economic battle" between shops and insurers, Eversman said. They see that a repair failed through the shop's actions, regardless of what pressure might have been coming from another party, according to Eversman.
"'Cause the insurer wouldn't pay for it' is not going to protect you from liability," she said.
She criticized shops which fail to test-drive a car because the insurer wouldn't pay for it.
"That is absolutely negligent," she said.
Eversman also said she cautions technicians that they could be the target as well; it doesn't matter if you were told to do a certain procedure by your boss that you knew was wrong. A manslaughter charge is still possible.
As far as a civil case, Cecil said he hadn't heard of individual employees being targeted; typically, a victim sues a business. Employees who did the work in question as part of their job would probably be covered under the garagekeepers policy — but it all boils down to who is defined as "insured."
(Plus, as Eversman noted, willful negligence can still be grounds for a garagekeepers carrier to deny a claim.)
Not knowing one was making an incorrect repair also won't save a shop from legal action, according to Eversman.
If a shop represents it can fix the car but doesn't actually have the equipment or access to the OEM repair recommendations to do so, that's a problem. Difficult as it may be, it's your obligation to refuse.
It'd be as if a client came to Eversman for representation on an area of law with which she wasn't familiar.
"I am supposed to refer that case," she said, not "make a hash of it."
(Editor's note: None of the analysis in this article should be interpreted as professional legal or insurance advice; always check with your attorney or insurance provider about your own situation.
Also, for those who were intrigued — and possibly alarmed — by the explosion of things to scan for in collision repair referenced in the Collision Hub video, don't miss "Tech Crunch –The" Role of Programming and Diagnostics in Post-Repair Road Worthiness." A panel of automakers, technology specialists and programmers will discuss the real world application of vehicle scans, diagnostics and calibrations. These subject matter experts will bring a focus on the technical aspects of vehicle scan code requirements and the role that diagnostic testing plays in repairing vehicles and restoring roadworthiness. Learn why you don't know what you don't know if you aren't performing full system scans. Register for it here.)
Featured image:
This improper butt weld to the A-pillar portion of a 2014 Acura MDX door ring was done by Honda to mimic similar improper work done by a repairer on the passenger's side. (John Huetter/Repairer Driven News)
Share This: