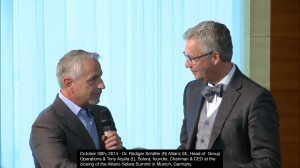 The Solera board of directors on Sunday approved $33 million in incentives for "key employees" to remain during a transition should the company be sold, Solera announced Tuesday.
Solera, which owns AudaExplore and Audatex, said Thursday it "is exploring a variety of strategic alternatives." Reuters on Aug. 19 cited an unnamed source which said at least one private equity firm has already arranged financing to buy Solera, and the 8-K filed Tuesday speaks of a "Transaction."
Founder and CEO Tony Aquila will receive $9 million for staying around through Aug. 22, 2016, even if Solera isn't sold, according to Tuesday's 8-K. He'll get another $9 million as of the sale closing date or Aug. 22, 2016, whichever is first.
All other employees targeted for payments under the $33 million fund will receive their bonuses for staying through the deal close or Aug. 22, 2016, whichever comes first. The 8-K specifically mentions Chief Financial Officer Renato Geiger, who will make $815,000, and general counsel Jason Brady, who will earn $3.5 million.
"The purposes of the Program are to preserve the value of the Company and to provide an additional incentive for the key employees to continue in employment and contribute towards the successful (i) ongoing operations of the Company's business and (ii) completion of any strategic transaction involving a 'change of control' of the Company currently being explored pursuant to the Company's announcement on August 20, 2015," Solera wrote in the Securities and Exchange Commission filing.
The practice of paying employees to stay isn't uncommon. As the Solera filing indicates, it can help ensure companies run smoothly during the upheaval of a sale and keep those who understand the business around to help buyers with their new toy. (Those seeking more insight should check out this 2014 Towers Watson survey on retention incentives.) Some buyers — Berkshire Hathaway and Boyd/Gerber, for example — even prefer for good management staffs to remain long-term after an acquisition rather than replace them.
Year-end results: No sale details
The retention incentives were perhaps the juiciest piece of new information about Solera's future. The company's fourth-quarter and 2015 year-end results (Solera's fiscal year ended June 30) detailed to the SEC on Tuesday don't mention the possible transaction (which wasn't announced anyway until the first quarter of the 2016 fiscal year).
Solera opted against taking any questions — sale-related or otherwise — and refrained from discussing the sale during a brief earnings call on the quarter and year Tuesday. Solera had said Thursday it likely wouldn't make any more public statements while the company explored the "strategic alternatives."
In fact, Aquila and Geiger didn't stray far Tuesday from the usual recitation of fiscal period data during the 7-minute webcast, failing to give any of the usual "color" on the results typically offered on earnings calls prior to Q&As with analysts.
In a news release announcing the fourth-quarter results, Aquila's only statement was a brief: "We were pleased with our fourth quarter revenue of $297 million, which was up 7.5% on an organic constant currency basis and in-line with our expectations."
Solera stock rose 1.09 percent Tuesday to close at $41.71, according to CNBC, and after-hours trading saw it rise 7.89 percent to $45. The company beat Wall Street estimates, CNBC reported; investors might have also been snapping up shares ahead of a potential sale.
That performance was in contrast to the Dow Jones Industrial Average and Standard & Poor's 500, which fell 1.3 percent Tuesday despite a rally, CNBC reported. The NASDAQ dropped as well.
Other Solera news
Analysts on average saw Solera stock as a "strong buy," according to a NASDAQ summary of Zacks data. The results apparently predated Tuesday's earnings release.
However, on Monday, S&P  announced it would put Solera on its negative CreditWatch list while the company looked at "strategic alternatives," though this could change when Solera's review ended.
"The CreditWatch listing reflects our expectation that the company's strategic review may result in increased leverage or the potential adoption of a more aggressive financial policy," S&P analyst Peter Bourdon said in a statement.
The financial evaluation company in July said Solera's BB- creditworthiness rating outlook would be revised to "negative" from "stable" given the company's $850 million in senior unsecured debt which would be used to buy the rest of Service Repair Solutions and pay off an interim line of credit used to buy DMEautomotive.
More information:
"Solera Holdings, Inc. Reports Fourth Quarter and Fiscal Year 2015 Results"
Solera, Aug. 25, 2015
Solera 8-K on retention incentives
Solera, Aug. 25, 2015
Q4 2015 Solera Holdings, Inc. Earnings Conference Call
Solera, Aug. 25, 2015
Featured image: Solera CEO Tony Aquila, left, and Allianz group operations head Dr. Rudiger Schafer are pictured Oct. 30, 2014, at the Allianz-Solera Summit in Munich, Germany.  (Provided by Solera Holdings via PRNewsFoto/File)
Share This: