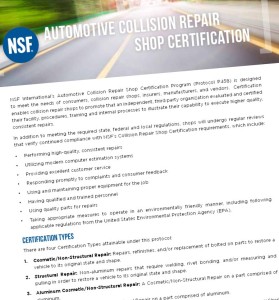 NSF International will use unannounced audits and check actual repair work under a new body shop certification program announced in July, the organization said recently.
"Equipment and training are great inputs and necessary ingredients for a successful repair but that alone isn't enough," NSF automotive certification business unit manager Alton Lee wrote in an extensive August email interview with Repairer Driven News.
The program will cost between $5,000-$7,000, depending on which of four certifications is desired — cosmetic, structural, aluminum cosmetic and aluminum structural — and how many shops are being certified within a group. That dollar amount also includes the travel expense for the on-site audits by AccuracyDriven4.
"We understand this is a large range but this is due to the complexity and variability of repair shop configuration," Lee wrote.
The collision repair certification landscape already includes Assured Performance and VeriFacts — both of which have deals in place with OEMs — and luxury OEM in-house programs. Nevertheless, NSF could distinguish itself as a complement and as a rival, according to Lee.
---
Related RDN coverage
---
"NSF International is an independent, global organization with 70 years of certification and testing experience," Lee wrote. "… NSF International looks at service offerings from organizations like VeriFacts and Assured Performance more as complimentary than competing.  Since NSF International's certification is a truly independent and third- party program, other organizations can provide consultative services to help shops achieve approval."
NSF won't consult or train, and unlike some other certifications, it "audits actual work being performed on site," he also wrote.
However, the program doesn't yet have any OEMs adopting its program, unlike Assured Performance (which perhaps most notably certifies Ford's aluminum Ford F-150 repairers) and VeriFacts (which recently received the nod to certify Cadillac CT6 shops).
"Some automakers have shown interest," Lee wrote. "The fact that NSF International's program enables shops to demonstrate that an independent, third-party organization evaluated and certified the capability of their facility, procedures, training and internal processes to execute higher quality, consistent and safer repairs is a step in the right direction."
Shops must pass at least three onsite audits to be certified, Lee said, and they'll face unannounced quarterly audits afterwards.
AccuracyDriven4 will be looking at both the equipment and training "inputs" as well as the work itself, according to Lee.
"We will witness repairs in the actual shops to confirm that they are being done correctly and according to the OEM recommended repair procedures," he wrote. "Finally, we also examine the outputs for quality and records traceability.  We audit and verify the whole process – start to finish."
NSF will require employees to have "training traceable to an industry recognized training provider" for their current roles.
"This doesn't necessarily mean that every employee in the repair shop has to be I-CAR Platinum," Lee wrote. "But we do require that technicians be trained by someone who was trained by I-CAR or other industry recognized providers.  This allows shops the flexibility to send only some representatives of their staff to formal training who can then spread the knowledge throughout their repair shop."
As for equipment, NSF will allow brands different than what an OEM calls for if it "meets or exceeds the capabilities and specification of the equipment brand specified in the OEM repair procedure."
OEMs at NACE expressed a desire to make life easier for certified shops by requiring specifications — not brands — for certified shops' gear. However, there are cases where manufacturers demand specific brands for repairs, and while inconvenient (a glut of rivet guns is one note we've heard), collision repair best practices dictate following the OEM party line. So it's a little worrisome that NSF would break from that tradition, even if it does demand proof from the tool manufacturer.
"If shops use a different brand, the equivalency or superiority of the alternate brand equipment must be supported in writing by the alternate equipment's manufacturer," Lee wrote. "Documentation of this will be checked during the on-site audit."
In this vein, it seems as though NSF will face a hurdle to adoption in its embracing of non-OEM parts through another certification program.
OEMs are more aggressively pushing new or official Opt-OE parts, which makes it seem unlikely they'd back NSF certification for their networks despite the tough repair auditing Lee describes. And some of the most qualified shops in the industry are major proponents of OEM parts.
However, Lee wrote that NSF didn't see a conflict of interest with its certification program and parts policies.
"NSF International's repair shop certification program does not require shops to give any kind of preferential treatment to NSF certified parts over OEM parts," he wrote. "We understand that today many shops are supporters of OEM-only parts, mostly because they have had issues in the past with low quality aftermarket parts.
"NSF International is fully confident that our certified parts are equivalent to the OE service parts in form, fit, and function.  As aftermarket part quality improves and NSF International certified parts become more prevalent and recognized in the industry, we feel that certified aftermarket parts will be synonymous with high quality.  NSF International certified parts must undergo rigid dimensional testing, material testing, performance testing and vehicle test fits."
NSF is also hosting a webinar today on the collision repair certification at 1 p.m. ET. The link appears broken on the NSF website itself, but it appears to still work here on BodyShop Business. Even if you're unable to register, Repairer Driven News will be listening in and covering any new developments, so continue to check here for further updates.
Featured image: NSF International will use unannounced audits and check actual repair work under a new body shop certification program announced in July, the organization said recently. (Provided by NSF International)
Share This: