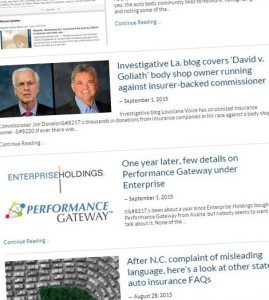 Did you miss these? Catch up on pre-holiday Repairer Driven News coverage
By on
Associations
With your thoughts on the Labor Day weekend or the dwindling summer, there's a chance you might have missed a few of Repairer Driven News' recent highlights.
Now that the holiday's over, the kids are finally packed back off to school, and you're back focused on collision repair, we offer this recap of some of the most important breaking news and other coverage related to the industry.
We also offer a shameless plug: Follow us and join the debate on our new LinkedIn page as well as other social media.
Technology
Verizon 'hum' will scan diagnostic codes, call EMS but not insurer/OEM
IIHS: In just 2 years, percentage of vehicles with front crash protection has crossed 50%
With eye towards usage-based insurance, GM to allow OnStar users to share data with Verisk
Repair operations
NABR: Release of "non-included" payment docs will protect auto body customer privacy, won't raise antitrust issues
NSF elaborates on audits, equipment, insurer buy-in for auto body shop certification
NSF to surprise-audit auto body shops, check repair work under new certification program
Developers, auditors of NSF's collision repair standards have background in insurance, MSOs, aftermarket
International
Service King minority owner Carlyle bids $764M for Innovation Group
Australian racing legend Mark Skaife to campaign for new OEM parts, calls it 'serious safety issue'
Business practices
$33M incentive for Solera execs to stay if sale occurs; 4Q webcast silent on AudaExplore parent's search for buyer
One year later, few details on Performance Gateway under Enterprise
Insurance
Repairer: Misleading N.C. insurance FAQ used by GEICO to dispute auto body rate
After N.C. complaint of misleading language, here's a look at other state auto insurance FAQs
Legal
Vt. DMV's case against mechanic accused in death describes unopened manual, missed chances by others to note brake, rocker flaws
Judge sends 14 auto body lawsuits back for redo, implies way for 'steering' allegations to survive
Investigative La. blog covers 'David v. Goliath' body shop owner running against insurer-backed commissioner
Associations
DEG inquiry leads to CCC adding raw bumper prep for numerous Mazdas
Share This: