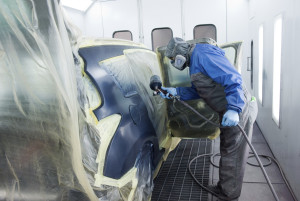 A prominent collision repairer has blasted CCC for its refusal to join its competitors and include an option to refinish outer rooflines connected to quarter panels.
When you refinish a damaged quarter panel, best practices require refinishing that outer roof area too unless the two are separated by an actual panel break. However, CCC doesn't include that additional labor time when a user indicates they're refinishing a quarter panel. It must be entered manually.
If you're smart, your shop is remembering to indicate that work and get paid for its time, Angelo's Auto Body co-owner Nick Kostakis wrote in an email describing the issue.
But since this panel configuration is extremely common, "It kind of begs for an automated solution," Kostakis said in an interview.
"We need a very efficient way to express that," he said.
---
Refinishing at Repairer Driven Education
---
By contrast, AudaExplore offers the option to blend into or fully refinish such a roofline, he wrote. Database Enhancement Gateway Administrator Art Harris said Mitchell also includes an automated way to indicate similar work.
"Anyway, the absence of this feature (in CCC) causes ambiguity and friction between repairers and insurers, and lately, at least in my market, it is going one step further, with insurers stating that this outer roofline does not require 'blending' but instead, just clearcoat," Kostakis wrote.
The insurers then assign an arbitrary labor value for that procedure, according to Kostakis, who challenged it as "completely flawed in my opinion, because clearing a part that has already been 'set up for refinish' and then basecoated or blended and then cleared, is different then clearcoating a part that has not undergone the 'setup' part of the process." (On a related note, see more on the problems which can arise when clearcoat is blended instead of applied to the entire panel with this coverage and gallery.)
It's not that the insurers are necessarily refusing to pay repairers for work on the outer roofline, Kostakis said. It's just a "hassle" to hash it out, he said, since any manual input values can be contested by either party as subjective.
"It's just one more place for us to argue where there's no need to," Kostakis said in an interview.
A CCC spokeswoman in an email provided the company's response that the company can't distinguish the outer roofline because it isn't a distinct part. Kostakis wrote that this was "a lame excuse, as it is no different than the CCC popup that enables selection of raw bumper prep."
"MOTOR cannot create a standalone refinish operation for a part that does not exist, unless it is (a) part of a parent assembly with an OEM part number, or (b) correlated with a sectioning operation of that parent assembly," CCC wrote.
CCC included a paragraph from the MOTOR Guide to Estimating arguing that the sheer variability of that kind of work makes it too difficult to calculate:
"Suggested refinish operation times do not include additional time for repair of damage to adjacent panels resulting from normal cutting, welding and grinding procedures. The amount of damage can vary considerably depending upon process and technique used by the servicing technician and, therefore, is impractical to anticipate in this publication. MOTOR recommends these factors be considered before finalizing any repair cost estimate."
Featured image: A collision repairer is criticizing CCC for its refusal to join AudaExplore and Mitchell and include an option to refinish outer rooflines connected to quarter panels. (RobertHoetink/iStock/Thinkstock)
Share This: