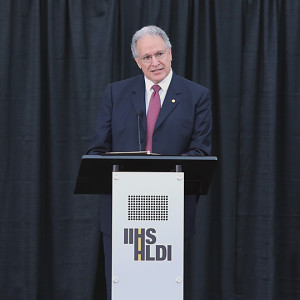 Ten automakers with 57 percent of the U.S. market share will make automatic braking standard soon, the DOT, NHTSA and IIHS announced Friday.
The technology has a huge potential to cut into collision repair rear-end business within a decade of its introduction as a standard feature, given the average age of fleet and repaired vehicles.
The Insurance Institute for Highway Safety said the technology can cut injury claims by 35 percent, and other studies have shown drops in crashes in general.
There's not a "due date" for the standardization announced for Audi, BMW, Ford, General Motors, Mazda, Mercedes Benz, Tesla, Toyota, Volkswagen and Volvo. However, many of these already planned to offer it standard or as an option in the 2016 model year.
---
Learn more about OEMs at SEMA Repairer Driven Education
---
"Secretary Foxx's direction to NHTSA is clear: We must work to expedite the implementation of advanced technologies to save lives at every opportunity," NHTSA Administrator Mark Rosekind said in a statement. "These 10 manufacturers have committed to an important principle: AEB is a life-saving technology that should be available to every vehicle owner. In the months ahead, NHTSA will work closely with IIHS and the auto industry to carry out that commitment, and we encourage every other manufacturer to join this effort."
The National Highway Traffic Safety Administration said in a news release that the OEMs "will work with IIHS and NHTSA in the coming months on the details of implementing their historic commitment, including the timeline for making AEB a standard feature."
"We are entering a new era of vehicle safety, focused on preventing crashes from ever occurring, rather than just protecting occupants when crashes happen," Secretary of Transportation Anthony Foxx said in a statement Friday. "But if technologies such as automatic emergency braking are only available as options or on the most expensive models, too few Americans will see the benefits of this new era. These 10 companies are committing to making AEB available to all new-car buyers."
Auto-braking, often known as AEB (automatic emergency braking), will stop the car in anticipation of a crash — often a rear-ending situation — if the driver fails to do so. Prior to that, the systems typically alert the driver and then start preparing the brakes so the errant driver doesn't have to apply as much pressure when he or she finally stomps on them.
The systems typically work at lower speeds, but that's where the majority of rear-ending occurs anyway, according to Toyota.
"The Department and IIHS encourage all other light-vehicle and trucking manufacturers to bring automated vehicle technology to all vehicles on U.S. roadways as soon as possible," the NHTSA release states.
Auto-braking won't be mandated on the holdouts. However, the NHTSA wants to add the technology to its recommended advanced features.
The IIHS often doesn't give "Top Safety Pick-Plus" ratings to cars without auto-braking as an option. Asked if there were plans to make AEB necessary to achieve the Top Safety Pick rating, the second highest IIHS rank, an IIHS spokesman wrote in an email that advanced headlights would probable come first.
"We expect to tighten the TSP criteria in the future, but it will likely involve advanced headlight systems," spokesman Russ Rader wrote. "We're developing a way to evaluate headlight performance."
The announcement came at the expanded Vehicle Research Center, which the NHTSA said will let IIHS better test new crash-prevention technology.
"The evidence is mounting that AEB is making a difference," IIHS President Adrian Lund said in a statement. "Most crashes involve driver error. This technology can compensate for the mistakes every driver makes because the systems are always on alert, monitoring the road ahead and never getting tired or distracted."
More information:
"DOT and IIHS announce historic commitment from 10 automakers to include automatic emergency braking on all new vehicles"
National Highway Traffic Safety Administration, Sept. 11, 2015
Featured image: National Highway Traffic Safety Administration head Mark Rosekind speaks Sept. 11, 2015, at the expanded Insurance Institute for Highway Safety Vehicle Research Center. (Provided by IIHS)
Share This: