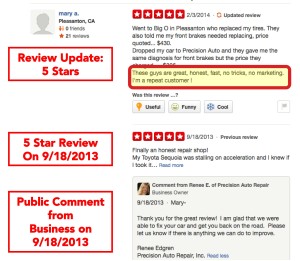 Online reviews are becoming more relevant each year, and collision repairers who fail to claim or maintain their own business' page on Yelp or other sites are ignoring a huge free marketing opportunity, a business liaison told a Guild 21 call Thursday.
Morgan Remmers, Yelp senior manager of local business outreach, cited 2014 Nielsen data that 78 percent of customers turn to review sites find a business. (See all the slides from her presentation here.) She also displayed BrightLocal data showing 88 percent say they regularly or occasionally look at online reviews.
The number of "regular" online review readers has grown from 22 percent to 39 percent from 2011 to 2014, while the "occasional" readers have mostly held steady at 49 percent, according to the BrightLocal study.
Validation online is "more valuable than ever before," Remmers said.
"Gone are the days of the water cooler conversations," she said.
That's not necessarily a bad thing in terms of free publicity — so long as it's not bad.
"It really is word-of-mouth amplified," Remmers said.
---
'Online reputation' at SEMA Repairer Driven Education
---
The Nielsen research also revealed that of those 78 percent who used reviews, 44 percent used Yelp, 12 percent used TripAdvisor (which is irrelevant to collision repair), 8 percent used Angie's List, 6 perent used CitySearch, and 4 percent used YP.com. It's unclear how Google Reviews fared.
Yelp is perhaps best known for its reviews of local eateries, but its users critique a variety of services, and Remmers showed a sample page from an actual collision repairer as well as a local AAA.  A pretty cursory search of our area found some auto body shops which had already received reviews (and one who paid for top placement — but not to obtain the review within it).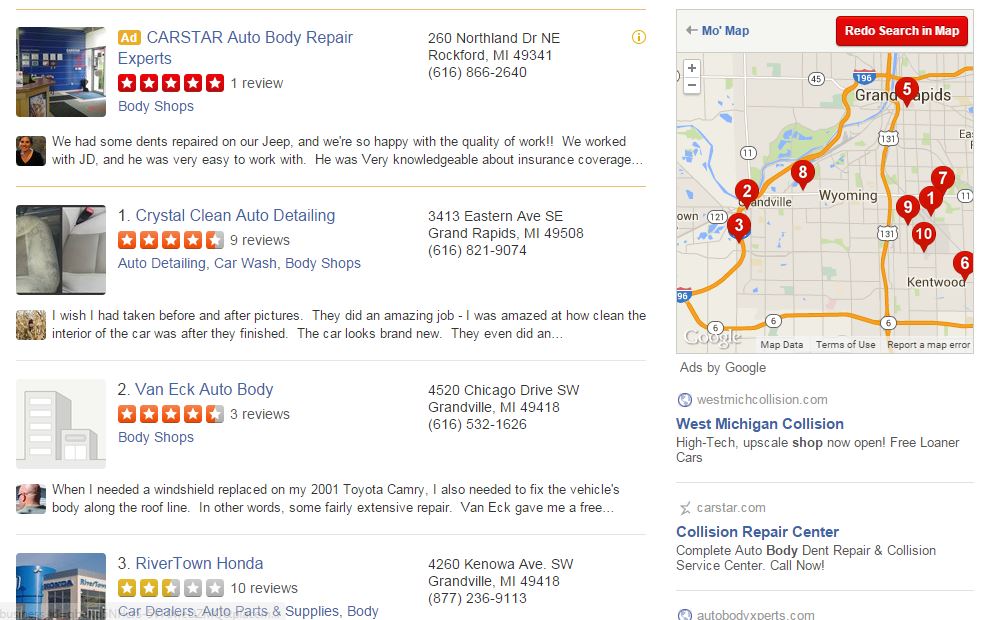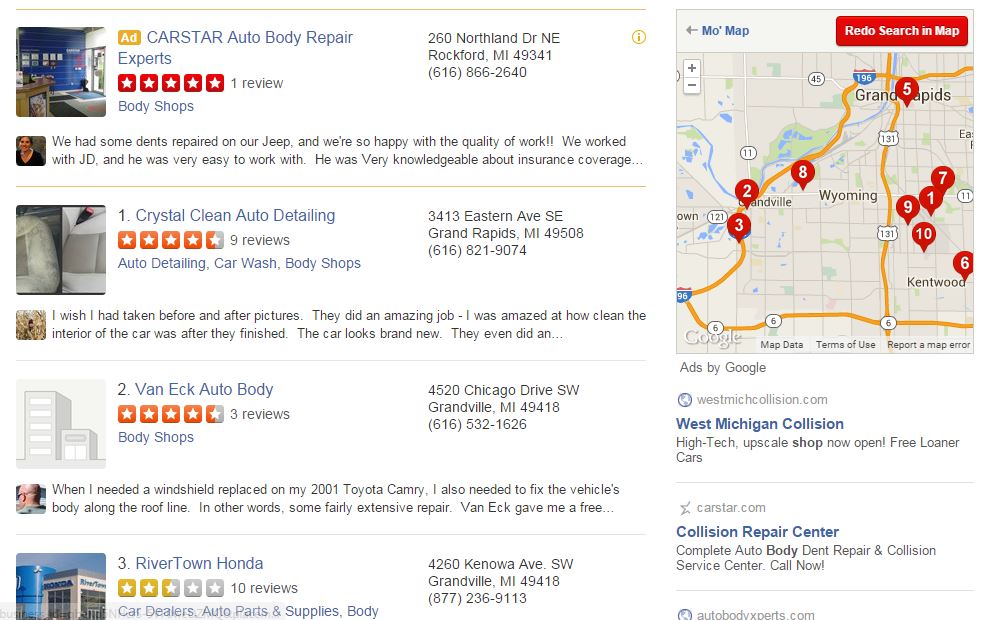 'Online reputation'
However, a quick poll of the Guild 21 audience found that most either looked "once in a while" or never at their business' Yelp page. That's problematic, because that means they're giving up the chance to attend to what Remmers called the "scary buzzwords" of an "online reputation."
Remmers recalled an electrician who upon seeing the words "online reputation" at another presentation "nearly fell over backwards in his chair." After the event, she asked the man why he'd reacted as he did.
The electrician's response was "I'm a one-person show. I have so many other things."
But, she asked, would you talk to someone you overheard criticizing your business about what had happened during the incident?
"Yeah, of course, it's my business" was the answer, she said.
And so there you are.
The odds were of course long that a business owner would happen to be in the same place as a physical complainant, Remmers said. But that's moot online: Any review left at any time can be seen and addressed at any time.
Your business page
Remmers said businesses should simplify their online management by picking three to five top traffic drivers to their business and running pages for the company on those sites.
"Really hone in on that first," she said. If you can manage your presence on those three to five sites, then consider expanding.
Yelp lets any business claim a page and put a lot of information up for free, not to mention see and respond to reviews.
One Nielsen study cited by Remmers found that 82 percent of Yelp visitors intend to buy a product or service. (For example, you know you're going out to dinner that night; you're just using Yelp to figure out where you want to go.)
Eighty-nine percent make the purchase within a week. Within a month, 98 percent buy that product or service.
"It's pretty compelling data," she said.
So your Yelp presence had better be tailored to drive those searchers to your company.
"Think about what your customers are doing when they go to that site," Remmers said.  What would you want "if you were in need of your kind of business?"
To see some of this in action, Remmers offered an example of Fix Auto Mission Valley, which she said had a well-developed page.
"I can't tell you how great your business page looks," she said of the Fix Auto page.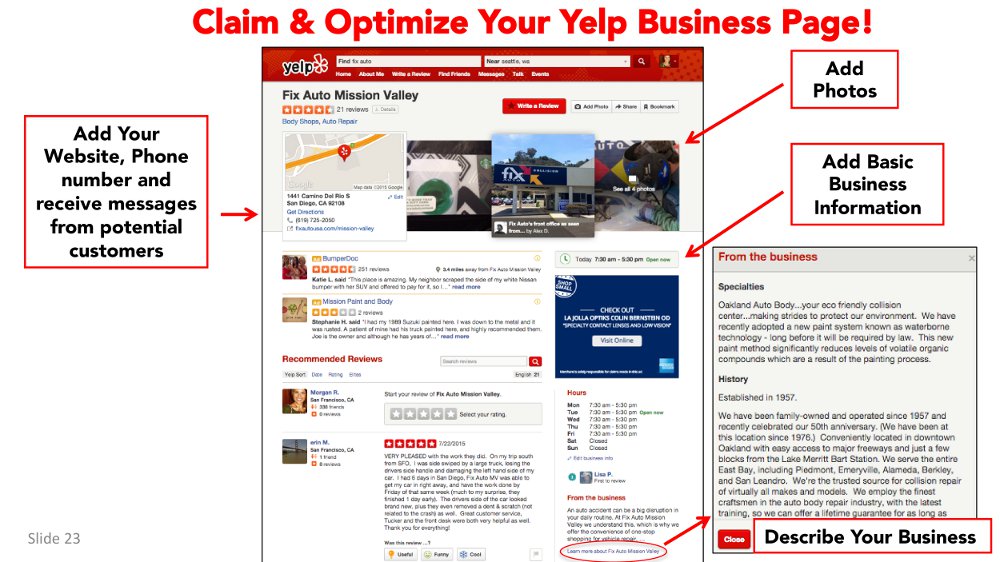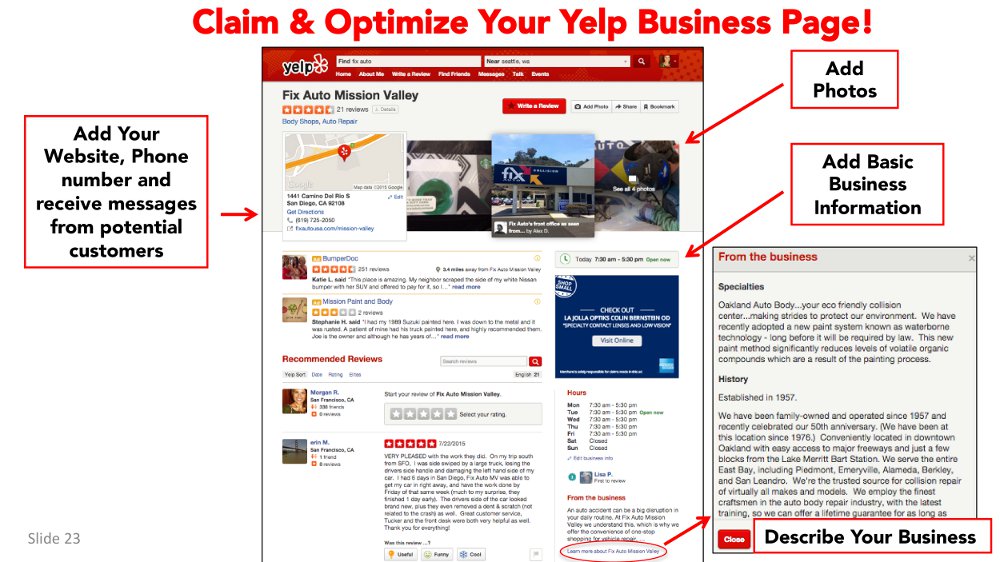 The more information you add to a Yelp page, "it actually plays a huge result in search results as well." Yelp will boost the odds a business' page shows up sooner within the site based not only on reviews but how many fields the owner completed.
With a 1,500-character description of the business available for free, it's easy to see how a quality shop could really market the kind of abilities that set them apart from the rest. There's also the opportunity to add your photos, which seems ideal for before and after photos as well as showing off how clean and professional your facility looks.
Rather than hoping a customer comes in your shop and sees your plaques, one could also use a site like this to educate the general public about the existence of collision industry distinctions like I-CAR welding certification, continuing education and factors like ASE certification or presence in an OEM network. Depending on your viewpoint, you could point out your direct repair program connections or disparage the concept altogether.
On the back end, Yelp business page claimants can see a lot of "a lot of great granulal information" for free. That includes Yelp page traffic and how many people used Yelp to directly connect with the business — such as clicking on a directions link, website URL or phone number within a Yelp page.
There's also a Yelp mobile app for businesses, so an owner or manager can get a notification if someone leaves a review or requests a quote.
Reviews: Dos and don'ts
The other big Yelp task is handling reviews. The goal is to "thank happy customers" and "rectify" the situation for everyone else if possible. Fortunately, she said, most Yelp reviews are actually positive (3 stars or higher), and 67 percent are 4- or 5-star.
"Treat every customer like a VIP," said Remmers, who acknowledged the "huge responsibility" of maintaining safety and satisfaction in a repair.
"This is your opportunity" to connect with a customer after the fact, she said.
A business can send a customer a private message, post a public comment, or do both. A private message is basically an email to the reviewer; a public comment shows up on the review and essentially creates a mini message board thread which anyone can see.
Remmers suggested using private messages for customers who left a good review (but replying publicly to some as well) and possibly as the first step for a bad review.
But after 48-72 hours, a business should follow up with a public comment to a bad review to offer their side of the story.
"I can't emphasize this enough," she said. "… Craft responses you can be proud of."
The responses should be professional both publicly or privately. (Besides simple professionalism, don't forget that the critic can simply turn around and post your nasty private message.)
"Say thank you, state your policy, and respond promptly," she said.
She offered an example of what not to do. The post appears to be now have been taken down for the critic violating the terms of service, but at some point, the exchange was live on Yelp. It doesn't matter if the critic was right or wrong; the response "validates" the negative review to other customers, according to Remmers: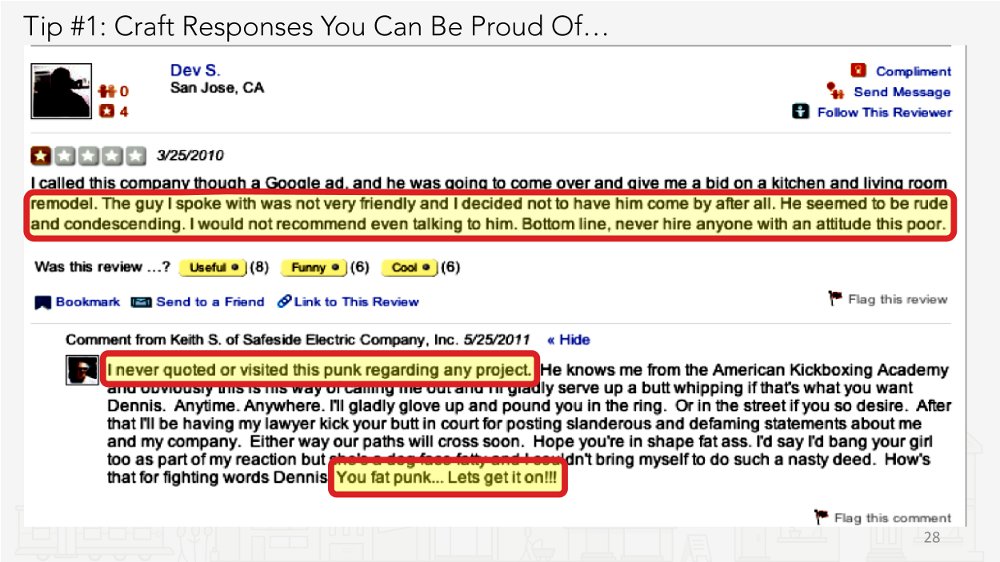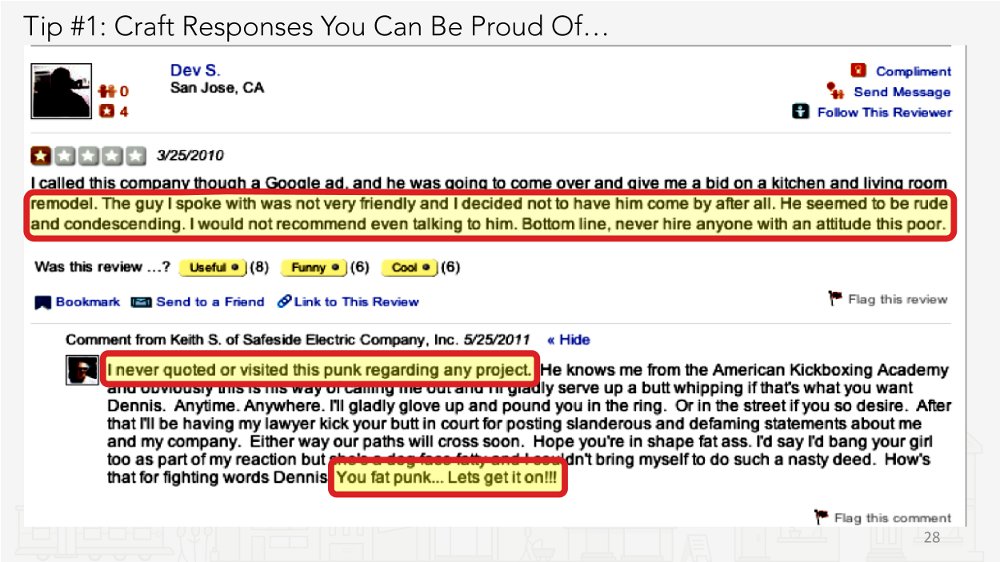 Besides responding back to the critic, business can flag reviews for factors such as not being the party served ("My brother went here and…") and other reasons. Remmers recommended citing the specific language in the terms of use or content guidelines which is being violated.
Yelp itself can refuse to recommend a review but not delete it. Only about 70 percent of reviews are recommended and used by Yelp to calculate a star rating. The other 30 have various flaws noticed by Yelp's software, including the author being new to the site or a suspicion a critic was paid to give you a good review. Apparently, according to Remmers, it's very possible to pay a guy in another country $100 to write 500 positive reviews.
But for non-flag-worthy reviews, here the right way for a business to react, according to Remmers. The body shop taking responsibility and solving the problem led to the customer even revising their review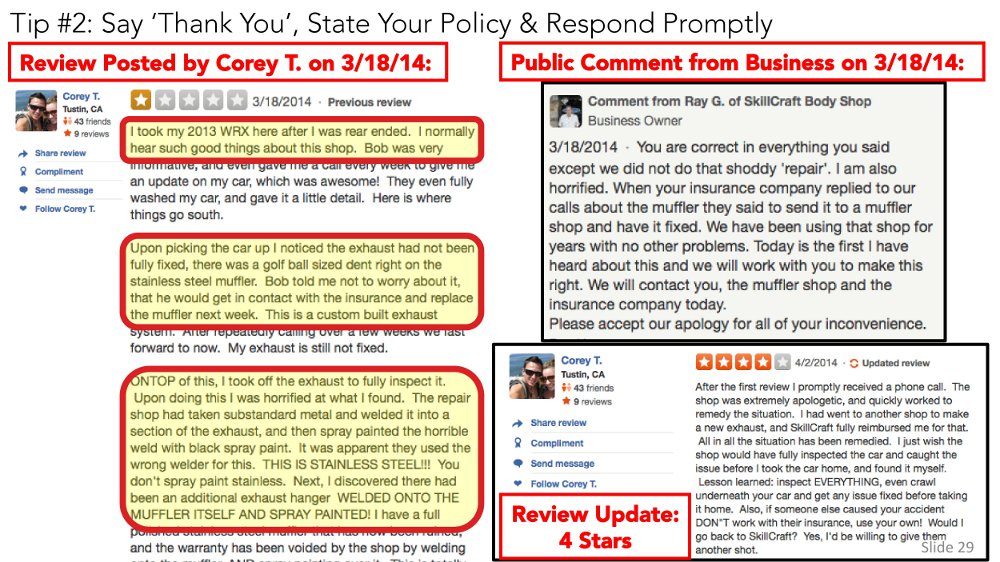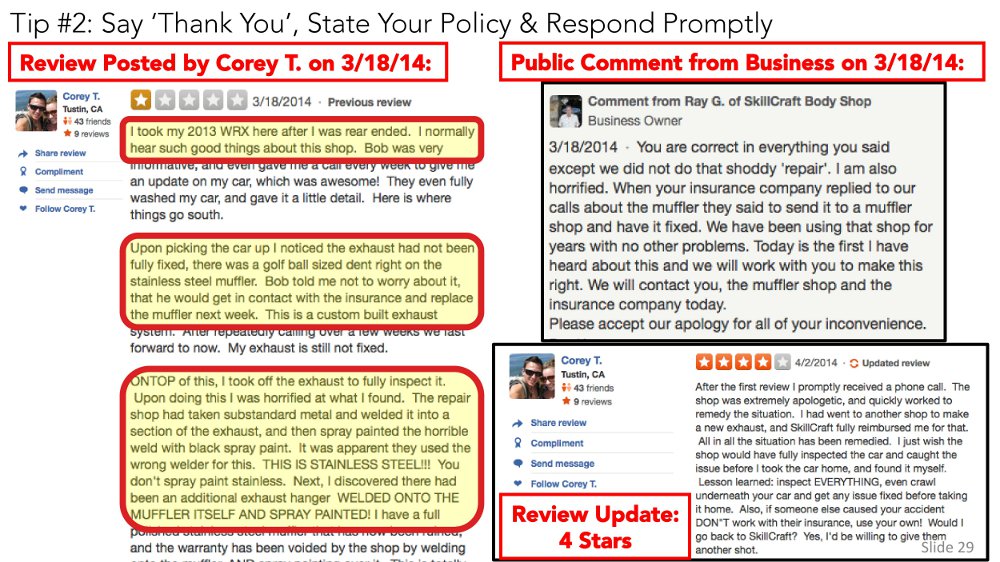 "This is exactly what you'd want to see," Remmers said. The only suggestion she had for an even better response would have been to "talk about your expertise."
More information:
"HOW TO GET YOUR CUSTOMERS TO RAVE ABOUT YOU ONLINE"
Yelp presentation at Guild 21, Sept. 10, 2015
Images
Slides from a Guild 21 presentation Sept. 10, 2015, by Morgan Remmers, Yelp senior manager of local business outreach, are shown. (Provided by Yelp via Guild 21)
Screenshot of a Yelp search. (Screenshot from www.yelp.com)
Share This: