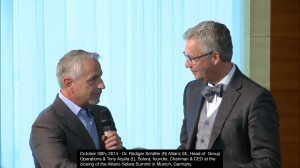 Vista Equity will buy AudaExplore and Audatex parent company Solera for $6.5 billion, a huge markup from the company's late August estimate of a $3.255 billion market cap.
"We are thrilled to be partnering with Solera," Vista CEO and Chairman Robert F. Smith said in a statment. "For almost half a century, Solera has been serving the insurance and automotive industries with innovative software and information solutions.  With the portfolio of products the Company has built and acquired, combined with the vision of its leadership, we believe Solera is incredibly well positioned for the next fifty years. The mission is clear and the opportunity is there to continue to transform how physical assets are managed and insured."
Vista Equity is expected to completely acquire Solera in early 2016.
The company — privately held — has a few offerings which Solera's products would complement. Vista Equity owns EagleView Technology, which lends 3-D measurement software, analytics, aerial images and geographic information systems to the property and casualty insurance industry. It also owns DealerSocket, which serves auto dealerships.
It once owned Applied Systems, a software provider to the property and casualty insurance industry, Zywave, which seems to serve insurance brokers; and Reynolds and Reynolds, aimed at auto dealerships.
Bain Capital bought Applied in 2006, Aurora Capital bought Zywave in 2013 and Vista said it left Reynolds and Reynolds in 2014 (The company now appears to be independent.).
"Vista expects the transaction to enhance its position as an acquirer of data companies and enterprise application software," Reuters wrote Monday. "The deal is the largest in Vista's history, according to a person familiar with the matter."
The deal values Solera's stock at $55.85 a share; Solera noted that in August, prior to the buyout speculation and announcement, its stock was worth $36.39.
Collision repairers and insurers using AudaExplore, Audatex, and the rest of Solera's products might also benefit from the deal. According to a 2014 New York Times profile, Smith says Vista's acquisitions "release more reliable software more frequently, customer satisfaction rises and profitability improves."
"This transaction delivers immediate compelling value to our stockholders and represents a pivotal milestone for Solera in partnering with Vista," Solera founder and CEO Tony Aquila said in a statement. "It not only recognizes our innovative company and talented employees, but also provides us with the optimal flexibility to proliferate our world-class solutions and services for our customers. We are extremely excited about working with Vista to further strengthen Solera's global leadership in risk and asset management technologies."
Other investors include Koch Equity Development, which is affiliated with Goldman Sachs as well as the politically infamous Koch brothers.
Employees and management
Solera's employees might have some job security and be joined by some interesting colleagues, based on a 2014 New York Times profile.
"Instead of stripping out costs from the companies it acquires, Vista usually adds sales and engineering talent," the Times wrote. "And instead of searching for candidates with Ivy League degrees and prestigious internships, Vista looks for workers who have leadership potential and innate analytical abilities."
"Using a personality test first developed by IBM that gauges technical and social skills, as well as a candidate's interest in the arts and humanities, Vista assembles a decidedly unusual work force.
"One of Vista's best software salesmen used to be a roofer. Another previously worked at a Verizon store, and went to making $240,000 a year, from $22,000. In Iowa, a pizza deliveryman took the Vista aptitude test, got an A, and was offered a job paying $43,000 annually."
Founder and CEO Tony Aquila will receive $9 million for staying around through Aug. 22, 2016, even if Solera isn't ultimately sold, according to Tuesday's 8-K. He'll get another $9 million as of the sale closing date or Aug. 22, 2016, whichever is first.
All other employees targeted for payments under the $33 million fund will receive their bonuses for staying through the deal close or Aug. 22, 2016, whichever comes first. The 8-K specifically mentions Chief Financial Officer Renato Geiger, who will make $815,000, and general counsel Jason Brady, who will earn $3.5 million.
"The purposes of the Program are to preserve the value of the Company and to provide an additional incentive for the key employees to continue in employment and contribute towards the successful (i) ongoing operations of the Company's business and (ii) completion of any strategic transaction involving a 'change of control' of the Company currently being explored pursuant to the Company's announcement on August 20, 2015," Solera wrote in the Securities and Exchange Commission filing.
The practice of paying employees to stay isn't uncommon. As the Solera filing indicates, it can help ensure companies run smoothly during the upheaval of a sale and keep those who understand the business around to help buyers with their new toy. (Those seeking more insight should check out this 2014 Towers Watson survey on retention incentives.) Some buyers — Berkshire Hathaway and Boyd/Gerber, for example — even prefer for good management staffs to remain long-term after an acquisition rather than replace them.
More information:
"Solera Holdings, Inc. Enters Into Definitive Merger Agreement to be Acquired by Vista Equity Partners for $55.85 per Share in Cash"
Solera, Sept. 14, 2015
"A Private Equity Titan With a Narrow Focus and Broad Aims"
New York Times, April 10, 2015
Featured image: Solera CEO Tony Aquila, left, and Allianz group operations head Dr. Rudiger Schafer are pictured Oct. 30, 2014, at the Allianz-Solera Summit in Munich, Germany. (Provided by Solera Holdings via PRNewsFoto/File)
Share This: