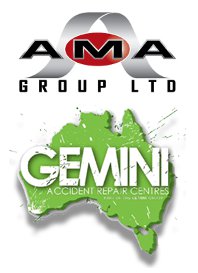 The AMA Group announced today it would buy Australia's No. 1 collision repair company Gemini, a consolidator consolidation which will result in a 70-shop chain across Australia and New Zealand.
Gemini will have to achieve what AMA called in a news release a "financial performance hurdle" to receive the largest combined payout, $71.3 million (in U.S. dollars) under the deal. That $71.3 million would be 7.5 times more than earnings before interest, taxes, depreciation and amortization.
The companies together should bring in $178.3 million a year, according to the AMA Group.
Gemini owns 40 collision repair shops in Australia and one in New Zealand. It also ones one mechanical repair shop. The company has 750 employees and posted $107 million in revenue in the 2014-15 fiscal year. (See this AMA presentation for more highlights of the companies and deal.)
According to AMA, GMI has "strong relationships with insurers and auto manufacturers," and the deal will "Broaden relationships with insurance companies."
AMA has 29 auto body shops in northwest and southeast Australia. Based on the future annual revenue statistic, AMA shops brought in $71.3 million in the last fiscal year.
AMA Group Executive Chairman Ray Malone said the move would drive even further consolidation in Australia.
"Gemini is an extremely well run business with very competent management and effective systems in place," AMA Group Executive Chairman Ray Malone said in a statement.
"With Gemini and its management team joining the fold, AMA is by far and away the leading operator in Australia's highly fragmented panel repair market and further strengthens our position to participate in the industry consolidation."
Gemini Executive Chairman Andrew Hopkins will become CEO of AMA Panel and receive an AMA board seat.
National Collision Repairer editor David Newton-Ross on Monday indicated Malone's comments on consolidation weren't just hype.
"This is a significant move in the market place and I am sure that AMA is not finished with acquisitions and will no doubt be looking to further cement their place as the consolidator of choice in Australia-and now maybe also New Zealand!" Newton-Ross wrote Monday.
In fact, AMA said in its Monday news release it was talking to "a major Australian bank" about increasing its line of credit. This, its cash flow and $32.1 obtained in capital raising "will position AMA well" to buy more businesses and grow. It noted in its presentation that "over ($3.57) billion market remains highly fragmented and ripe for future consolidation."
Gemini will earn about $19.3 million to $20 million immediately (depending on its working capital).
AMA will then give Gemini $35.7 million in shares at $0.43 each but keep those in escrow for 3.5 years.
Roughly $25 million of that will earn dividends during that time. The other $10.7 million won't earn interest.
After the 3.5 years, AMA will pay Gemini another $10.7 million.
However, if Gemini doesn't meet that "performance hurdle," the share and cash payouts after that time won't be as high.
More information:
"AMA acquires Australia's largest accident repair group"
AMA Group, Sept. 14, 2015
"Acquisition of Gemini Accident Repair Centres"
AMA Group, Sept. 14, 2015
Featured image: The AMA Group announced today it would buy Australia's No. 1 collision repair company Gemini, a consolidator consolidation which will result in a 70-shop chain across Australia and New Zealand. (Provided by AMA Group, Gemini)
Share This: