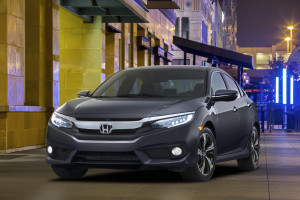 The 2016 Honda Civic, the 10th generation of one of the most popular cars in America, will be 12 percent ultra-high-strength steel — up from just 1 percent on the 2015 Civic.
The body of the car will be 68 pounds lighter and 25 percent more rigid thanks to the extremely strong steels, Honda said Wednesday, the day it officially revealed the car to the world in a LeBron James-esque YouTube event.
"This tenth-generation Civic is quite simply the most ambitious remake of Civic we've ever done," Honda Executive Vice President John Mendel said in a statement. "We are bringing more new technology and innovative thinking to Civic than ever before to establish a new benchmark for fun-to-drive performance, fuel efficiency, safety performance and refinement in the compact class."
We're hoping to get more details on the auto body design and the locations and strengths of the Civic's ultra-high-strength steels, and Honda indicated we might be able to get them in the next few days.
For now, the smaller 2015 Honda Fit, which cut 57 pounds by using higher-strength steels, might contain hints as to what's coming on the Civic and how the new car should and shouldn't be repaired. See a repairer overview here.
Honda has warned against applying heat to the Fit's body and other newer models' bodies with high-strength steels beyond 340 megapascals. It also nixes most sectioning, MAG butt welding and MAG plug welding at various ultra-high-strength steel tensile strengths.
---
High-strength steel at SEMA Repairer Driven Education
The 2016 Civic certainly mimics the 2015 Fit in one important auto body aspect, according to Honda: an "innovative new inner-frame weld body construction process."
"This new general weld system creates a more lightweight, rigid and strong body structure that helps enable the Civic's class-leading fuel efficiency, outstanding safety performance and fun-to-drive experience," Honda wrote in a news release Wednesday.
Automotive News in 2014 offered a comprehensive analysis of the technique, and it's worth reading their full piece.
Instead of using brackets and stiffeners to connect an upper body covered in sheet metal with the lower body, Honda welds the two pieces together without the sheet metal to produce the "inner frame," according to Automotive News. The manufacturer then welds and bolts the sheet metal to the car, the newspaper reported.
Automotive News continued:
As a result, some structural members have been eliminated, including the center roof-arch stiffener, the front roof-rail stiffener and some bolts. Honda says it saved about 9 pounds in the structural process, with the overall body-in-white weighing 44 pounds less than that of the previous model. Yet the final product is stronger overall, (Fit chief engineer Makoto Konishi) said.
"There is reduced weight and increased body rigidity," Konishi said through a translator. "It's also less expensive because we've eliminated all those brackets and stiffeners, and it requires less assembly manpower."
Other 2016 Civic items of interest to repairers we know so far:
Honda claims new body-sealing methods mean 58 percent fewer air leaks, so you better do a good job matching that performance.
The car also has a "flush-mounted acoustic glass windshield" to further cut road noise.
The 2016 Civic gained 12 percent aerodynamic efficiency and has the first Civic full underbody covers.
Honda sold nearly 326,000 Civics in America last year. So just as you had to make sure you learned how to fix an aluminum 2015 F-150, you'd better know how to fix a high-strength-steel 2016 Honda Civic. (See this Acura example for what can happen if you don't know what you're doing on a 1,500 MPa steel door ring.)
More information:
"Honda Debuts Dynamic New 10th Generation Civic Sedan for North America: The Most Ambitious Remake of Civic Ever"
Honda, Sept. 16, 2015
"'Inner frame' makes Fit stronger, less costly"
Automotive News, April 14, 2014
Featured image: The 2016 Honda Civic, the 10th generation of one of the most popular cars in America, will be 12 percent ultra-high-strength steel — up from just 1 percent on the 2015 Civic. (Provided by Honda)
Share This: