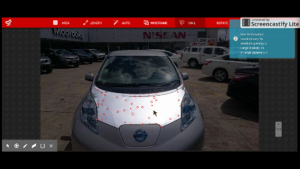 As Allstate and Nationwide roll out large mobile hail dent estimating systems able to scan an entire vehicle inside, another company is trying to do the same job with just a smartphone.
OnSource, which already offers traditional photo estimates for collision damage, wrote in a news release Monday that it could use Smart Picture technology to "find, count, and size those dents automatically, thereby speeding up a claims process that used to take a lot of time for insurance companies."
Cass said that the technology can handle an entire area like a panel — an insurer or customer wouldn't have to take individual photos of each dent, just a few wider shots of the car. There's also an opportunity for manual dent entry in case the computer misses one.
"We are happy to be working with OnSource as our partner to the insurance industry, and we have closely integrated with their mobile insurance apps," Smart Picture founder Kari Myllykoski said in a statement. "Our patented rapid dent and hail detection technology increases productivity, saves time and reduces human error."
OnSource Smart Picture Dent Detection Demo – Vimeo from OnSource on Vimeo.
While this digital cataloguing could help an adjuster reach a repair or replace decision quickly for a pockmarked panel, Cass said it wouldn't automatically spit out labor times or costs. (Though in the future, he noted, "Who knows?")
The flipside of the technology would be if an "inspector" (OnSource staffers who take the images and send them to the actual licensed adjusters) or customer misses dents by failing to photograph a particular panel or add undetected dents manually.
This could lead to frustrating arguments with a body shop or paintless dent repairer — particularly if a deskbound adjuster hasn't actually seen the vehicle and relies purely on customer-submitted photos. Nationwide and Allstate, in contrast, have adjusters manning their hail-detecting trailers.
---
Estimating at SEMA Repairer Driven Education
"Or we can calibrate by a well known object, such as a dollar bill or quarter," Cass wrote in an email. "One of our clients, where we are just deploying this, we've asked them to use a quarter on every photo."
"We think this technology will help insurance companies find dents more quickly and accurately," OnSource co-founder Tim Schneider said in a statement. "It can also be especially useful for fleet services in identifying dents and dings. Using the Smart Picture technology, OnSource is bringing our photo inspections to the next level of visual data collection, providing instant intelligence right from our pictures."
For more details, attend the "Automated Dent Detection, Right From Your Phone" webinar with Myllykoski and Schneider on Sept. 30 at 1 p.m. ET.
More information:
"Automated Dent Detection, Right From Your Phone"
OnSource via PRNewswire, Sept. 14, 2015
Featured image: OnSource, which already offers traditional photo estimates for collision damage, wrote in a news release Monday that it could use Smart Picture technology to "find, count, and size those dents automatically, thereby speeding up a claims process that used to take a lot of time for insurance companies." (Screenshot from OnSource video; provided by OnSource)
Share This: