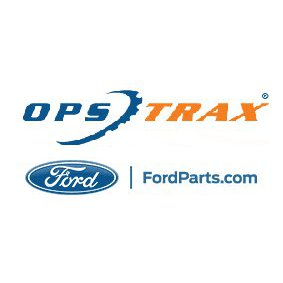 Shops will be able to see the low "conquest" price for a Ford collision part early next year in OPSTRAX under a program announced Thursday by Overall Parts Solutions.
Ford dealerships can enroll now to take advantage of the OPS Technology Suite, which gives them the chance to post a competitive OEM part price on OPSTRAX using VALUTRAX, according to OPS creative director Jeff Crump Jr.
"We're providing a very simple way for them to conquest," Crump said Monday. "…It's like an advertisement, really."
Dealerships also will gain DELIVERYTRAX, which will allow them to plan more efficient order shipments, Crump said.
"It is critical that we fulfill our commitment to our dealers by providing solutions that allow them to best connect with their customers," Ford customer service collision marketing manager Mark Mandl said in a statement. "The OPS Software Suite delivers a technology solution to efficiently connect dealers with their collision shop customers with not only a procurement tool, but delivery and logistics solution that can reduce costs and improve ordering efficiency."
---
Sales mix at SEMA Repairer Driven Education
---
The program isn't mandatory for Ford dealers. However, Crump said OPS expects the majority of North American retailers to have enrolled by Jan. 1. He wouldn't disclose if dealers which had already enrolled were today offering lower-cost parts to their various regions.
Crump also wouldn't disclose pricing details when asked if Ford or the dealerships incurred any cost for participation under the partnership.
"We are extremely excited that the Ford Motor Company is taking time and investing into our solutions," OPS co-founder and CEO Nick Bossinakis said in a statement. "They believe, like we do, getting to the next level in the wholesale business involves providing efficiency and standardizations on how they do business. We at OPS see this as a key time in our industry. Being competitive, capturing more sales and improving customer service within the wholesale parts department, all helps to build the Ford brand. The OPS Technology Suite is a bridge that provides the transformation necessary to achieve those needs and also bring our industry to the modern demands of our times."
The deal is not exclusive to Ford, Crump said, noting that OPS already has partnerships with Toyota, Nissan, Infiniti and Hyundai.
The procurement landscape has been expanding. The OPS-Ford deal joins systems backed by insurers, such as State Farm and PartsTrader (though the latter has also partnered with OEConnection's CollisionLink) or American Family and APU, and General Motors' upcoming dynamic pricing through the estimating services via the OEConnection-assisted MyPriceLink. This variety of services carries the potential to foster inefficiency rather than solve it.
Asked about this concern, Crump said he couldn't speak to competitors, but the goal was to "streamline the process that a body shop takes" and "try to keep it all under one house."
Correction: An earlier version of this article contained incorrect information about MyPriceLink. MyPriceLink provides for dynamic list pricing only.
More information:
"Overall Parts Solutions Partners With Ford Motor Company"
Overall Parts Solutions via PRNewswire, Sept. 17, 2015
Featured image: Shops will be able to see the low "conquest" price for a Ford collision part early next year in OPSTRAX under a program announced Thursday by Overall Parts Solutions. (Provided by Overall Parts Solutions, Ford)
Share This: