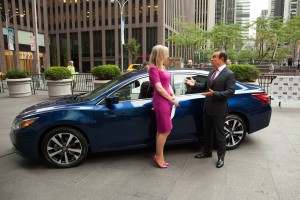 The 2016 Nissan Altima refresh adds more high-strength steel to the A- and B-pillars, which likely means body shops won't be able to wait until the next Altima generation to learn new repair procedures.
The car, which sold nearly 336,000 last year, also borrows "energetic flow" design features first seen on the all-new 2016 Nissan Maxima and 2015 Murano.
"In order to bring the new Altima into the new look, the front and rear sections feature totally new designs and sheet metal," Nissan said in a news release Tuesday. The redone Altima's hood remains aluminum.
"The enhancements were made with input from our customers – a quieter ride, so we added extensive noise isolation features such as an acoustic-glass windshield," Nissan product planning Vice President Pierre Loing said in a statement. "They wanted more standard features, a more responsive driving feel and more personal style – check, check and check. This new Altima is the most dynamic, comfortable and best-equipped mid-size sedan we've ever built."
We've reached out to Nissan for more details on the strength of the steel involved in the car, as steels become more heat-sensitive, require different welding and often can't be sectioned as they increase in tensile strength.
Given Nissan's boasting that the new Altima delivers a tighter ride — usually code for a lighter, more rigid body — and other Nissan developments, we'd think there's a fair chance the new steel content reaches the ultra-high-strength range of 780 megapascals or higher.
Some clues might be in the all-new 2016 Maxima and 2015 Murano both showcased at the 2015 Great Designs in Steel conference earlier this year. The two ramp up the models' use high- and ultra-high-strength steels, including Nissan's "1.2 GPa" 1,180-megapascal alloys.
The A-pillar and roof rail of the Murano is 1,180 MPa steel, while the B-pillar is 980 MPa dual-phase steel. Typical mild steel, for comparison, is only 200-300 MPa. The Maxima is even stronger, with a 1,180 MPa B-pillar and an even harder die-quench steel in its A-pillar and roof rail.
A Nissan executive discussing the Murano at the conference indicated it wouldn't be too difficult to replace a great deal of the body-in-white on that vehicle with the complex-phase 1,180 MPa steel, which makes one wonder how much of the stuff will wind up in the truly next-generation Altima.

The highest-end Altima SL offers optional features like auto-braking which could hurt collision repair business, and the top two tiers of SV and SL give drivers rear cross-traffic and blind spot alerts standard.
Also intriguing on the high-end SL is what Nissan calls a "class-exclusive" option of Predictive Forward Collision Warning which can sense not only the car in front of you, but the car in front of that one.
"Although that vehicle may be obscured from view, PFCW's sensors can detect if it suddenly and unexpectedly slows, giving the driver additional time to react," Nissan wrote in a news release.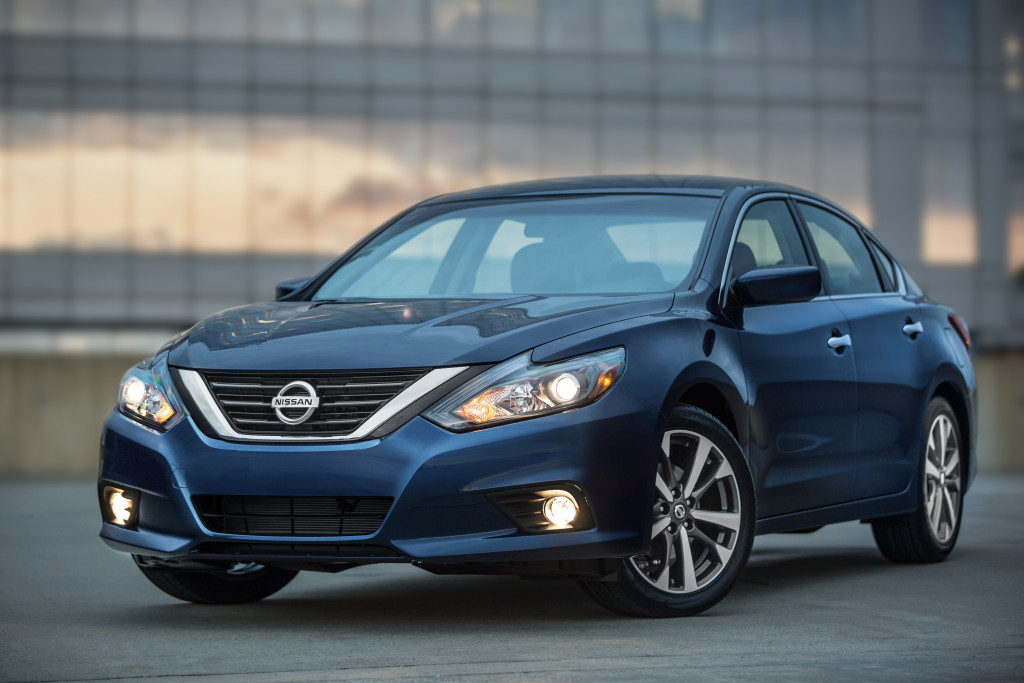 Images:
Nissan Chairman and CEO Carlos Ghosn shows off the mid-cycle redesigned 2016 Nissan Altima on Sept. 22, 2015. (Provided by Nissan)
A rendering presents the possible future development of the Nissan Murano into an even lighter, stronger body design. 1,180-megapascal steel is depicted in red. (Provided by Nissan)
The 2016 Nissan Altima refresh (the SR is shown here) adds more high-strength steel to the A- and B-pillars, which likely means body shops won't be able to wait until the next Altima generation to learn new repair procedures. (Provided by Nissan)
Share This: