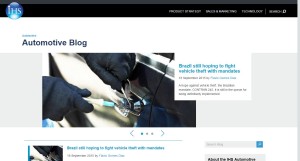 Citing unnamed sources, Bloomberg Business reported Monday that IHS might outbid Vista Equity Partners for Solera during the latter's "Go Shop" period.
"IHS is working with a financial adviser and will probably make an offer that tops Vista's by the end of that period, one of the people said," Bloomberg reported, identifying IHS as the mystery "Excluded Person" referenced in a merger agreement filed Sept. 13 with the SEC.
That party "is not an investment fund or a financial sponsor and who has made a written Acquisition Proposal prior to the date hereof," the filing states.
Solera has until 11:59 p.m. on Oct. 11 to take the IHS deal; after that, Vista Equity gets full dibs.
If Solera takes the offer from the "Excluded Person," it must pay Vista Equity $38.15 million. If it calls off the deal under other circumstances, it owes Vista Equity $114 million and/or at least up to $5 million in expenses. If Vista Equity wants out of the deal, it must pay $228.75 million.
Vista Equity had agreed to buy the AudaExplore and Audatex parent company for $6.5 billion, a huge markup from Solera's late August estimate of a $3.255 billion market cap. The deal offers $55.85 a share for Solera.
It's prompted several lawsuits despite the markup. However, it is also common for nuisance litigation to be filed following a merger acquisition in the hopes of a payout. (See this 2014 Ohio State Public Law Working Paper by Matthew Cain of the SEC and Steven Solomon of the Berkeley Center for Law, Business and the Economy for more on the subject.)
Reuters on Sept. 11 also reported that Thoma Bravo had placed a bid, and IHS had been solicited by Solera to see if it wanted to make an offer.
But Thoma Bravo seems to fall under the criteria of "investment fund or a financial sponsor," which would indicate it isn't the sole "Excluded Person." (That restriction makes sense; Thoma Bravo is a direct private equity competitor to Vista Equity.)
Solera can't solicit bids from anyone else; it's between the "Excluded Person" and Vista Equity to buy the company, according to the merger agreement.
Bloomberg reported that IHS wouldn't comment, and it hadn't yet received a response from Solera and Vista Equity.
Ironically, we'd called Solera and Vista Equity today to learn more about the merger plans before seeing the Bloomberg report. We'd guess this was why our calls haven't been returned.
"IHS should be able to pay more than Vista if it makes a compelling argument for synergies, said the people," Bloomberg reported.
IHS, which is publicly traded on the New York Stock Exchange, performs a lot of analyses in both the insurance and automotive industries (check out the IHS Automotive blog here) and offers some software as well.
It certainly sounds as though Solera would be a good fit and the two would be able to find "synergies." In 2013, the company bought R. L. Polk & Co., including Polk and CARFAX, the services of which overlap somewhat with Solera's.
However, if the same company which owns CARFAX owns AudaExplore, it would seem to raise some data privacy concerns; collision repairers and customers would want some sort of assurance that their estimates aren't getting kicked over to the crash history service.
There's already been at least one case of a customer's collision data reaching a VIN lookup system from an unknown source; the collision repairer was blamed but ultimately exonerated.
More information:
"IHS Said to Explore Counteroffer to Vista for Solera Holdings"
Bloomberg Business, Sept. 21, 2015
Featured image: The IHS Automotive Blog is shown in this screenshot. (Screenshot from blog.ihs.com) 
Share This: