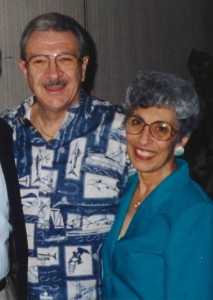 Collision repairers this week remembered Rosie Loftus, wife of the first Society of Collision Repair Specialists executive director, who died at 83.
John and Rosie Loftus "both touched the lives of so many in our industry," SCRS Executive Director Aaron Schulenburg wrote in an email Wednesday afternoon.
The couple had been married for 65 years. She had suffered from Alzheimer's for 19 years, "a long journey," John Loftus wrote in an email shared Wednesday by SCRS and Collision Industry Committee Administrator Jeff Hendler.
John Loftus had been tapped to run the newborn SCRS in 1982. Hendler, head of J.D. Hendler Associates and a Past Chairman of SCRS, remembered Rosie Loftus with the saying that behind every great man stood a great woman.
"Rosie was definitely that," Hendler said. "… Rosie was John's backbone."
Hendler recalled that SCRS at its founding was "a family" and constantly a gathering of "husbands and wives."
"She was kind of a mother figure to all of us," he said.
"Our days with SCRS and all of you were very special and the memories live on," Loftus wrote.
Rosie Loftus' funeral will be held Sept. 29 at 12:30 p.m. at the Risen Christ Chapel of Holy Cross Catholic Cemetery, 5835 W. Slauson Ave., Culver City, CA 90230.
A reception will follow at the Loftus home in Tustin, Calif.
Funeral attendees are advised to use Los Angeles International or John Wayne Airport.
"Please keep John and the family in your prayers," Schulenburg wrote. "He did a great deal to support us all; it is our turn to support him in return."
Share This: