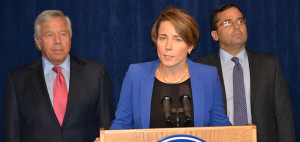 Allstate subsidiary Encompass will give Massachusetts $25,000, conduct reinspections, and train its staff to settle allegations it paid for work done by unregistered collision repairers.
Encompass must regularly train its staff on the matter and keep a list of registered shops as part of the settlement announced Thursday by Democratic Attorney General Maura Healey.
A customer had complained to the state after an unregistered shop didn't properly repair her car, according to the Attorney General's Office. The customer didn't know the shop lacked registration, the state said.
"Encompass nevertheless paid the unregistered shop $4,500 directly for the repairs that left the customer with a still unsafe vehicle, but did not provide the policyholder any additional funds to take the car to a registered shop to have all of the necessary repairs completed," Healey's office wrote in a news release Thursday.
The Attorney General's Office said the company in "multiple instances" paid unregistered repairers without having first checked their standing with the state.
"Encompass has agreed to inspect the vehicles that were previously brought to unregistered repair shops and paid for directly," the state wrote. "If the inspection determines that the repairs Encompass paid for were faulty, Encompass will pay to have the problems corrected by a registered body shop."
Customers will be notified of the reinspections.
Shops must register in Massachusetts and meet safety and training standards or face consequences, the Attorney General's Office said.
Allstate representatives reached after hours were looking into the case and didn't have an immediate comment Friday.
We'll admit in Encompass' defense that it seems to be difficult to find a current list of registered repairers on the state's website. In fact, the best one we found was the Sept. 1 records search done by GEICO.
The news release didn't state if Massachusetts was taking any action against the allegedly unregistered shops.
Worrisome in this case is that based on Massachusetts law, it doesn't appear to be that difficult to be registered unless the Division of Standards has some regulations socked away we can't find.
All it seems you need is a surety bond; an uncheckered past; and two officials, Bar members or registered repairers who will vouch for you.  After you get the license, start keeping records on what you did and don't cheat customers.
There doesn't seem to be anything about equipment or continuing education other than that related to the state emission or inspection program. In fact, state law seems to be stricter for glass repairers, which at least need to have the right equipment and maintain it, than for other auto repairers. (You do need a licensed appraiser on staff and a liability insurer in both instances, which might keep things honest.)
More information:
"Insurance Company to Pay for Repair of Motor Vehicles Brought to Unregistered Body Shops"
Massachusetts Attorney General's Office, Sept. 24, 2015
Featured image: Democratic Massachusetts Attorney General Maura Healey, center, speaks Sept. 15, 2015. (Provided by Massachusetts Attorney General's Office.)
Share This: