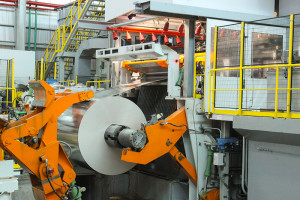 Alcoa has finished a $300 million expansion at a Tennessee plant supplying automotive aluminum to the Detroit Three, the company announced Thursday.
The plant has already begun shipping aluminum sheet to OEMs.
A Davenport, Iowa, plant which finished a similar $300 million plant expansion in January 2014 posted second-quarter automotive aluminum shipments up 200 percent.
Alcoa has also projected that the $229 million in automotive aluminum sheet sold in 2013 will reach $1.3 billion in 2018 — a sixfold gain.
---
Register for aluminum, steel sessions at SEMA OEM Technology Summit
---
Now, the Iowa gain might be skewed by 2015 model year production — like Ford's aluminum F-150 — of vehicles which didn't exist a year ago. And it makes it easier to predict through 2018 when the most popular truck line in America just committed to a new aluminum generation during that time.
However, you probably don't spend $600 million on aluminum plants unless you're confident the demand will continue past that, and Alcoa said the facility will supply General Motors and FCA and is backed by customer contracts. It behooves repairers to at least keep an eye on the metal, which has been projected to command 85 percent of all hoods in the coming years.
The site also has a large recycling facility for automotive aluminum scrap, and Aluminum Association's Transportation Group technical committee Chairman Doug Richman has cited the reusability of the metal as a perk for OEMs.
"Automakers are demanding lighter, stronger materials that improve the performance of their vehicles and Alcoa is at the forefront of capturing that demand," Alcoa Chairman and CEO Klaus Kleinfeld said in a statement. "Through our capacity expansions in Tennessee and Davenport, and breakthrough technologies like the Micromill, we have cemented Alcoa's position as the premier partner to the automotive industry as it turns to aluminum."
Of course, if steel, carbon fiber, magnesium or something else ultimately dominates the lightweighting battle, the plant's rolling mill capabilities mean it can switch to producing aluminum cans. (That's not us being snarky. Alcoa actually touted that Thursday.)
More information:
"Alcoa Completes Automotive Expansion in Tennessee to Meet Strong Demand for Aluminum Vehicles"
Alcoa, Sept. 24, 2015
Featured image: The Tandem Cold Mill processes automotive aluminum. Alcoa said the cold mill was one of the major aspects of a $300 million Tennessee expansion. (Provided by Alcoa)
Share This: