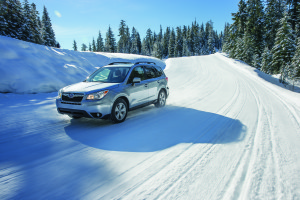 OEConnection announced Wednesday that collision repairers and dealerships nationwide will soon be able to buy and sell official Subaru collision parts at "conquest" discounts on CollisionLink.
The Subaru announcement follows the recent additions of Volvo and Mercedes and brings CollisionLink to 19 OEM dealer networks.
"We work with virtually every major OEM in the market," OEConnection manager of branding and culture Geo Money said. The luxury automakers seem to be about the only brands left for the program to sign.
Not every one of those OEMs uses every one of OEConnection's offerings, but "we're working on that."
OEM contracts are usually 2-3 years long, according to Money, and OEConnection has a 97 percent customer retention rate.
Statista says Subaru had a 3.1 percent U.S. market share in 2014, making it a larger "get" for OEConnection than Volvo and Mercedes. Bloomberg Business also reported that the company has posted the highest gain in sales of any U.S. automaker this year.
"U.S. drivers bought a record 53,070 Subarus in September, a 28 percent increase over the same month last year," Bloomberg reported. "No other car company saw sales grow so quickly. In fact, no other company has been close to matching Subaru's sales pace all year. … What's more impressive is that Subaru has been on a hot streak for years."
(Repairers, brush up on your Subaru skills. You might be seeing a lot more of them around the office.)
OEConnection said Subaru's 626 U.S. dealerships will be able to sell Subaru Genuine Wholesale Conquest parts on CollisionLink in early 2016.
"I have been using CollisionLink for more than ten years. My collision shop customers use CollisionLink regularly to send us their orders electronically because it makes order processing faster and more accurate," Jason Fowles, parts manager at Salt Lake City-based Nate Wade Subaru, said in a statement. "I am excited for Subaru to launch a parts marketing program through CollisionLink because now I can offer my customers more competitive pricing and sell more Subaru OE parts," he added.
Money said dealer buy-in "varies," but is typically strong. Some OEMs even see dealer CollisionLink adoption in the 90 percent range.
"It's a way of efficiencies for our dealers as well," Money said.
Some dealerships also use the program as a buyer when their body shop is fixing a vehicle from another brand.
"A lot of dealers are starting to service other OEM cars," Money said. "… We have quite a few dealers that use it in both ways."
Dealers must subscribe, but the service is free to buyers. Here's a 2013 video describing it further:
"We are excited to work with Subaru of America and their dealer network to build their wholesale collision parts business," OEConnection national accounts Vice President Jon Palazzo said in a statement. "One of the many reasons Subaru chose OEC is because CollisionLink has the largest footprint with collision shops and dealers in the market and is the best solution available.  Many Subaru dealers are already using CollisionLink and experiencing good benefits, so it is a logical next step for Subaru to launch their Genuine Wholesale Conquest parts marketing program through CollisionLink to give their dealers opportunities to sell more Subaru OE parts."
CORRECTION: An earlier version of this article contained an erroneous description of the MyPriceLink program. The program gives GM the capability to change OEM list prices quickly in the estimating systems; it will not input "conquest" prices into the estimating systems as originally reported. The article has been changed accordingly.
More information:
"Subaru Selects OEC Collision Parts Ordering and Fulfillment Solution"
OEConnection, Oct. 7, 2015
"Subaru Is Still the Hottest Car Company in the U.S."
Bloomberg Business, Oct. 2, 2015
Featured image: The 2016 Subaru Forester is shown. (Provided by Subaru)
Share This: