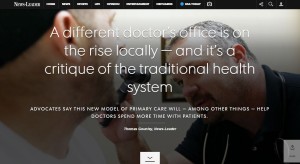 The parallels between collision repairers and doctors are obvious — both diagnose and repair a complex machine, and both have similar fights with insurance companies trying to control costs.
So it's worth it for body shop professionals to keep an eye on medical insurance developments for any lessons or cautionary tales applicable to their own industry.
An interesting one this month from the Springfield, Mo., News-Leader: Doctors who ignore traditional insurance in favor of direct primary care. It's basically service and maintenance contracts for doctors — patients pay a certain monthly subscription amount and gain easier access to a physician in person or with electronic communications, according to the newspaper.
"Among the practices in the Springfield area, monthly membership fees for an individual range from $39 to $150 a month," the News-Leader wrote. "Each operation differs slightly in what is included in the fee. Ascent Direct Primary Care, for example, will have one of the lowest monthly fees locally when it opens in Nixa, but will charge $20 per office visit. Membership at other operations includes unlimited office visits. Some practices also have pricing per couple or family, and allow non-members to pay per visit.
"Practices generally recommend that a direct primary care membership be paired with a basic level of health insurance — more spartan than what individuals might otherwise choose — to cover hospitalization and more serious medical issues."
A doctor in the article even compares the model to auto insurance. It appears that he's saying you don't use your car insurance to change your oil, so why would you use your health insurance for a minor health concern?
"The classic analogy of direct primary care is auto insurance," Dr. Shelby Smith told the News-Leader. "Everybody needs auto insurance for a car wreck. You don't use auto insurance for a car wash, or an oil change or new tires. Sort of what we're doing in the primary care realm is saying that primary care in this country should be accessible, it should be affordable and the pricing should be very transparent."
It'd be interesting if this model — which basically sounds like service and maintenance contracts for medical practices — could translate to the realms of collision and comprehensive repair.
Customers buy a membership to a body shop and can get a certain or infinite amount of comprehensive or collision work done. They still need to buy some sort of liability insurance for property damage and injuries, the latter of which could be theoretically infinite since you can't total-loss a human being. You'll note the direct primary care doctors still recommend buying insurance for major health issues.
There's also the logistical questions of out-of-state damage, towing costs, rental cars, etc.
With average second-quarter collision claims estimated at $3,198 and comprehensive severity estimated at $3,093 by Mitchell, it might work depending on how frequently you see a particular customer. (Of course, there are pitfalls to relying on averages to predict the unpredictable, as we and AkzoNobel discussed here.)
The most recent collision insurance coverage data (2012) from the NAIC indicates nationally, collision insurance costs about $24 a month. Comprehensive is another $11 a month, though this of course would include theft as well, which likely wouldn't be covered under a body shop monthly fee.
At $24 a month, the shop or insurer theoretically breaks even if a customer crashes their car no sooner than every 11 years and the bill isn't more than $3,198. Comprehensive's $11 a month means a shop breaks even so long as the customer doesn't incur more than $3,093 in damage every 24.5 years from such an incident. (However, this might be somewhat apples-and-oranges misleading if Mitchell's data presented in its physical damage report doesn't include comprehensive theft claims.)
Of course, this essentially turns shops and doctors into insurers when designing such programs, tacking on an entire industry worth of new considerations, methods and ethical questions. That's a huge hurdle and shouldn't be taken lightly.
But unlike a unique human body, a machine like a car theoretically has a finite repair cost which can be managed by a collision repairer.
You know exactly the repair procedures and list OEM part costs to rebuild a 2012 Honda Civic with X damage, you fix it in that fashion, and odds are good that the job will be done. A doctor in a direct primary program has no idea if his treatment will work or how many follow-up visits a customer will need.
The existence of that potential ceiling makes the idea of subscription-based collision repair intriguing food for thought — particularly if you've just battled another appraiser.
More information:
"A different doctor's office is on the rise locally — and it's a critique of the traditional health system"
Springfield News-Leader, October 2015
Featured image: An interesting article this month from the Springfield, Mo., News-Leader involves doctors who ignore traditional insurance in favor of direct primary care. It's basically service and maintenance contracts for doctors — patients pay a certain monthly subscription amount and gain easier access to a physician in person or with electronic communications, according to the newspaper. (Screenshot of www.news-leader.com)
Share This: