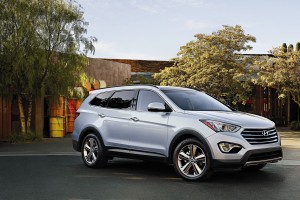 A Hyundai lawsuit alleging Rydell Chevrolet's "Genuine OEM Parts" practices violate its trademarks, misrepresent international parts and unfairly compete is moving forward in a federal Iowa District Court.
The case last month survived a Rydell motion to dismiss, and Rydell filed its answer denying the allegations on Oct. 1.
Hyundai alleges Rydell is selling grey-market parts — likely intended for use in Hyundais in other countries and possibly even counterfeit — as "Genuine OEM Parts."
Rydell denied all of the allegations and said it lacks enough knowledge to respond to them.
"(Rydell) represents that the products it promotes and sells are genuine Hyundai branded auto parts because they are, in fact, genuine Hyundai branded auto parts," Rydell Chevrolet wrote.
But the automaker noted that parts intended for sale abroad "contain numerous physical and non-physical material differences" such as part numbers, weight, packaging, warnings, production methods and warranty.
"Sale of those products in the United States constitutes illegal gray-market goods," Hyundai wrote.
---
More Opt-OE parts coverage
---
This not only can create problems for buyers — the parts might not be warrantied or be up to the Hyundai U.S. vehicle standards — but it also harms the Hyundai brand, the OEM alleges.
"Defendants advertise on their website that they will sell and supply 'Genuine OEM Parts' to repair facilities throughout North America at a fraction of regular OEM pricing," Hyundai's attorneys wrote in the lawsuit. "Defendants represent that these 'Genuine OEM Parts' were 'originally destined to build great cars and trucks, but due to production changes or minor cosmetic flaws were excluded from the new-vehicle process.'"
Rydell's Surplus OEM website contained this message Saturday, though we couldn't find a "Genuine" reference anymore. It lists parts from Hyundai's subsidiary Kia, but doesn't include any Hyundai-make components.
In its motion to dismiss the case, Rydell argued that Hyundai didn't have the grounds to allege trademark dilution by its selling of the parts as "Genuine."
"Plaintiffs' own products, no matter where they are headed, cannot be claimed by Plaintiffs to be so shoddy, unwholesome, or unsavory as to harm their own reputation," Rydell wrote.
However, foreign countries might have different engineering standards, and a part meeting those standards might not meet American regulations — or even install correctly on an American vehicle. See this 2008 Associated Press piece posted on NBC News for a glimpse at some of the issues.
In May, Repairer Driven News reported the story of a body shop which ordered what an operations director said it thought was an Opt-OE taillamp for an American BMW. It turned out to be a European taillamp with incompatible electrical standards that melted some of the car's wiring.
Also, not all automakers have an official Opt-OE program, and those that do only sell certain parts through certain designated channels. Repairers, insurers, customers need to be sure that when they're paying for official Opt-OE, they're getting officially vetted Opt-OE parts; if nothing else for the warranties available from OEMs. Find out more about which major OEMs have true Opt-OE programs and how they work here.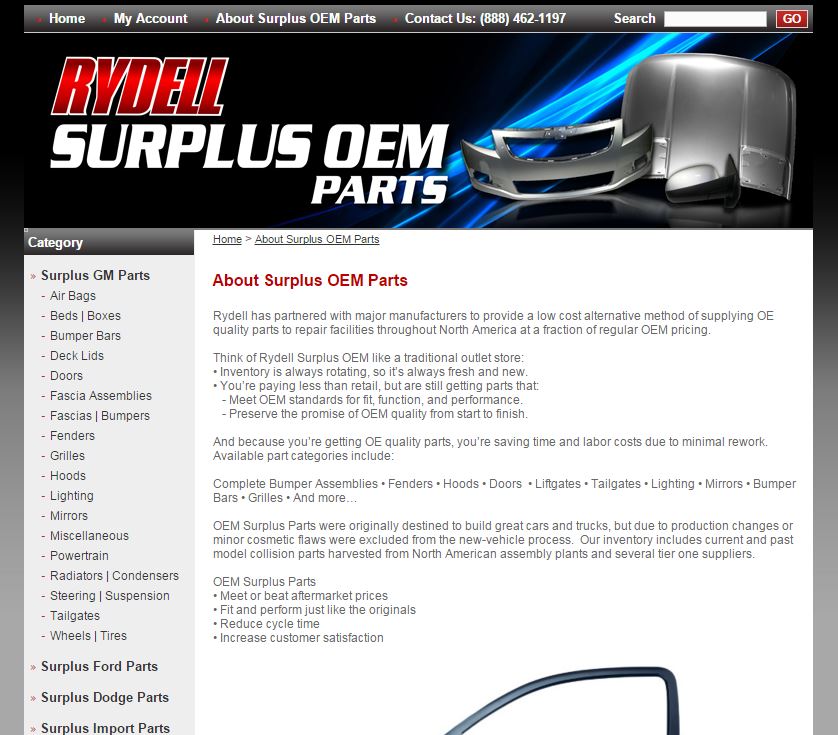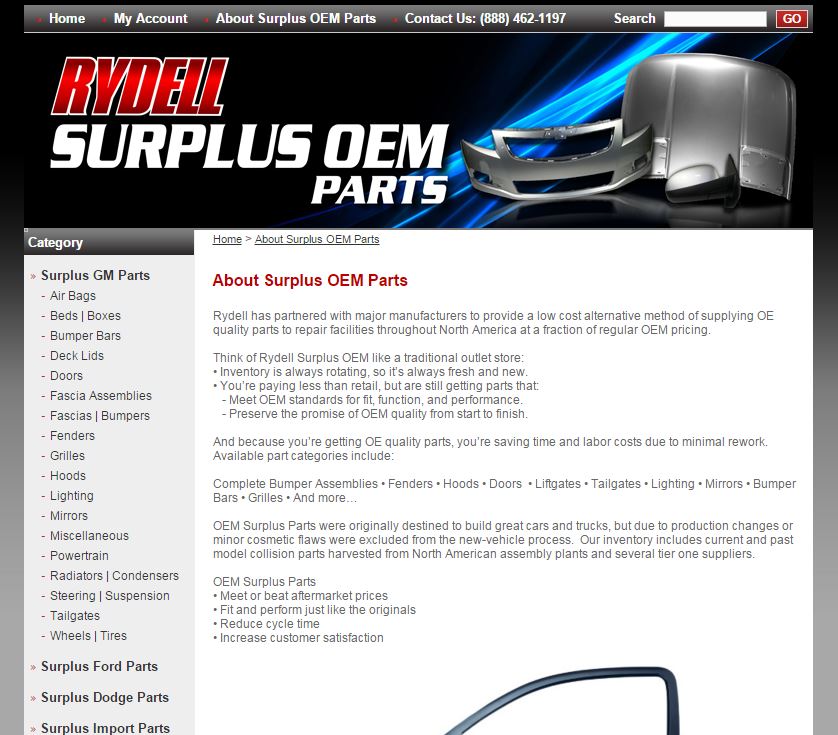 Hyundai had a dealer buy a Santa Fe front fascia energy absorber, grille, chrome grille, and fog lamp assembly from Rydell, all hyped as "Genuine OEM Surplus Parts," according to the Hyundai v. Rydell Chevrolet et al lawsuit.
Based on the parts' appearances, they're nothing of the kind, according to Hyundai.
Energy absorber: Unlike a real Hyundai U.S. part, the Rydell Hyundai energy absorber allegedly wasn't in any protective packaging, had labels on the part itself instead of the packaging, displayed"differences in the appearance of the Hyundai logo," and was 7.2 percent lighter.
Chrome grille: Rydell's Hyundai chrome grille allegedly came in a white plastic envelope rather than a box and had a different part number molded into the part itself.
It also was allegedly made up of "three separate parts, while the Hyundai Genuine Part is a single replacement part" and had a "mesh type grill assembly" not found in the real part.
Other grille: As for the other Hyundai Santa Fe grille offered by Rydell, the OEM allegedly found the part "packaged in bubble wrap" instead of a box.
Rydell's parts also allegedly had support arms and a chrome logo and trim nonexistent on a true Hyundai grille. Also unlike a proper Hyundai grille, a Rydell version was "an assembly line type sub-assembly that include ten separate parts," according to Hyundai.
Hyundai also allegedly found "one of the samples of the Rydell Product is cracked and the chrome layer has peeled away, and has an inspection sticker indicating that the part is damaged and/or has been rejected for quality issues."
Fog lamp: Like the grille, the Rydell Hyundai fog lamp assemblies were in bubble wrap instead of a box, according to the OEM.
Also like the grille, one of the Rydell fog lamp assemblies "has an inspection sticker on the part indicating that it is damaged and/or has been rejected for quality issues" and was missing an inboard mounting tab "broken off," according to Hyundai. It also allegedly had an inboard ball and socket mount "not properly engaged which allows the lamp housing to be loose and wobble on the bracket," the lawsuit states.
Someone even tried to fix the part, according to Hyundai. Which if true is certainly a nice gesture, but as Hyundai noted, the assembly "is no longer 'new.'"
Another fog lamp assembly from Rydell also included an "inspection sticker on the part
indicating that has been rejected," Hyundai wrote. An onboard mount was broken, according to Hyundai, and the part allegedly contained a rubber block which "is not a
normal piece of the assembly, and appears to be stabilizing the lamp and housing due to broken mount."
Rydell argued that none of the alleged differences were "'material physical differences.'"
It chalked up any difference as "apparently examples of product variability that occur in large scale highly diversified manufacturing network that is spread out across a variety of suppliers from around the world who manufacture genuine Hyundai branded auto parts according to Plaintiffs' specification. … "
"Defendant denies that Rydell Products are materially different than the Hyundai Genuine Parts."
Hyundai wrote that it thinks some of the parts could be counterfeit depending on the source.
"Only through the course of discovery can Hyundai determine if certain parts are counterfeit (as opposed to illegal graymarket) and if such a determination is made, Hyundai will see leave of court to amend its complaint to further allege the sale of counterfeit RYDELL Products by Defendants," Hyundai wrote.
Rydell argued discovery wasn't necessary.
"Plaintiffs have the engineering and scientific resources and presumably the expertise to compare their genuine auto parts with a suspected counterfeit part and determine whether the suspected part is or is not counterfeit," it wrote.
The OEM also wrote that it will keep investigating Rydell and try to update its lawsuit if necessary.
"In addition, upon information and belief, and based upon Rydell's advertising on its website, Rydell continues to and is importing and currently offering for sale other additional Hyundai parts, including but not limited to, bumper covers, tail lamps, headlamps, real marker lamps, upper grilles, and rear back up sensors," Hyundai wrote. "Plaintiffs will continue to investigate these parts to determine if they are gray-market, counterfeit and/or otherwise infringing upon Plaintiffs' intellectual property rights and will move to amend the complaint accordingly."
Rydell offered multiple possible defenses, including that its actions were done in good faith, a point it raised during its unsuccessful attempt to dismiss the case.
"Here … the inventory of Hyundai parts acquired by Rydell was acquired domestically from a distributor in Michigan, who, on information and belief, obtained them from Hyundai's own parts factory in Alabama," Rydell wrote in its motion to dismiss. "Plaintiffs cannot reasonably allege or establish that the accused goods are 'grey market' imports or goods at all."
Iowa District Court Judge Edward McManus ruled that whether Hyundai's allegations were true was a matter for the trial.
Hyundai originally sued the company in a California District Court in February, but the lawsuit was transferred to Waterloo, Iowa-based Rydell's home turf in May over the automaker's protest.
Images:
A 2015 Hyundai Santa Fe is shown. (Provided by Hyundai)
Rydell Chevrolet's website contained language Sunday regarding surplus OEM parts that was similar to that alleged by Hyundai as a misleading representation of Genuine Hyundai parts. (Screenshot from www.surplusoem.com)
Share This: