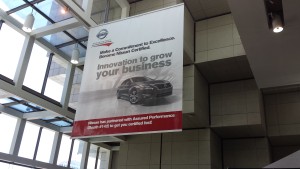 A recent Automotive News report noting a decrease in small-town dealerships could signal good news for OEM-certified independent shops — something OEMs have already said they want to embrace alongside certified dealerships.
Representatives from Ford, Chrysler and Nissan indicated this summer they were ready to aggressively push for customers to use their own network of collision repair shops.
Ford collision marketing manager Mark Mandl noted during a NACE panel that the OEMs seem to be in agreement on certification. He joked that when he joined the Blue Oval's collision repair program, he wondered, "What the hell, do we like those people (other automakers)?," because of the similarities.
The reason for the OEM interest is obvious. Both he and FCA collision marketing manager Erica Schaefer cited data then holding that a bad repair at a body shop could cost an auto brand a customer's loyalty.
"We have to take care of our customers," she said, citing FCA research that half of customers dropping a brand did so because of a bad repair.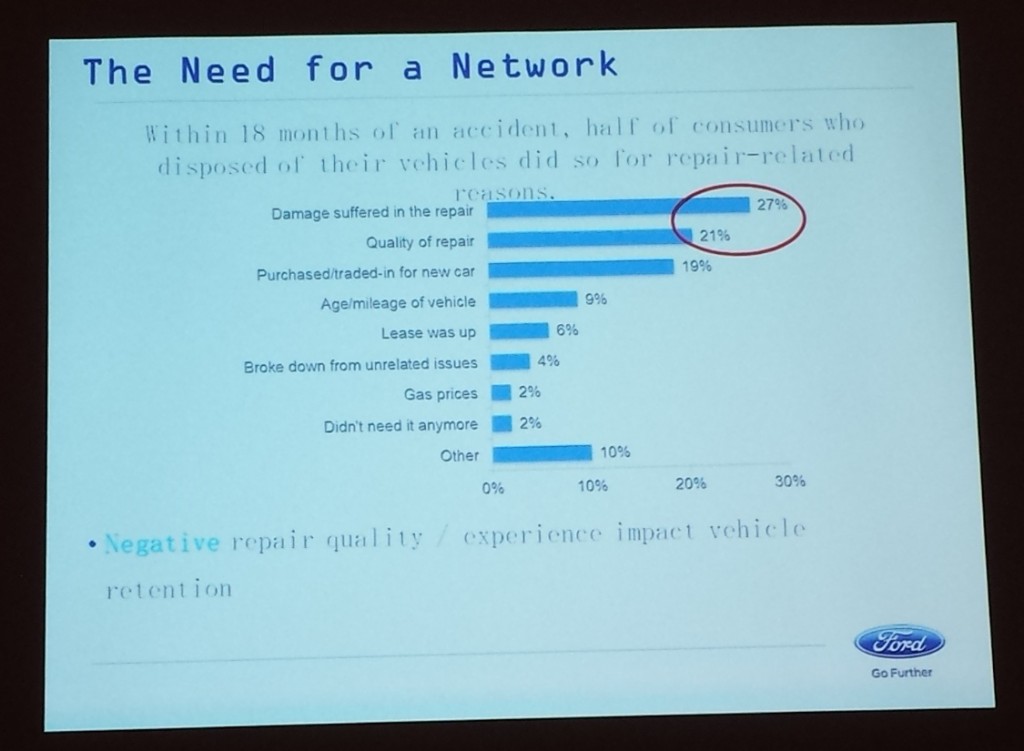 And the network wouldn't be just dealerships, either, Schaefer, Mandl and Nissan collision parts manager Mark Zoba indicated.
"My dealers are not in automatic enrollment," Schaefer said, estimating that about 20 percent of them nationwide weren't certified — "and that's OK."
"We need independents. … We absolutely need qualified repair facilities," Mandl agreed.
Nissan also will use independent repairers — only 30 percent of its dealerships even have body shops — though the company is stressing the dealerships as an initial point of contact, Zoba said. He said Nissan's research found its customers do value the opinion of their dealerships even if an independent gets the business.
The OEMs might have even fewer dealerships in the future. Automotive News observed that National Automobile Dealers Association data found more than 16,500 franchised dealerships, down from 47,000 in 1950, and cited some reasons why.
"Part of that decline has come from small, rural dealerships closing or being absorbed by absentee owners. Industry observers blame factors including automakers' push for pricy facility improvements, a drought of successors or buyers for small stores and a shortage of lenders willing to finance small deals," the newspaper wrote.
"All of this points to more shrinkage in small towns, experts say."
Nissan's program is slightly different in that it's capping the number of certified shops to about one repair facilities for every 10,000 customers.
And its program involves an extra layer of "steering" in its insurance underwritten by Liberty Mutual, which will first recommend policyholders go to Nissan certified shops, then to the Liberty Mutual direct repair program, and then to everyone else.
Marketing
The Oct. 12 Automotive News article ironically posted the same day as Assured Performance's new Accident & Collision Care app was announced for iOS and Android phones, which also could direct customers in dealership-poor areas to any OEM-certified shop vetted by the company.
The Assured app launched Monday shows certified shops and allows for accident report filings (and has a checklist including not only photos and the other driver's information but also witness data). We tried a search in our area and found several certified shops.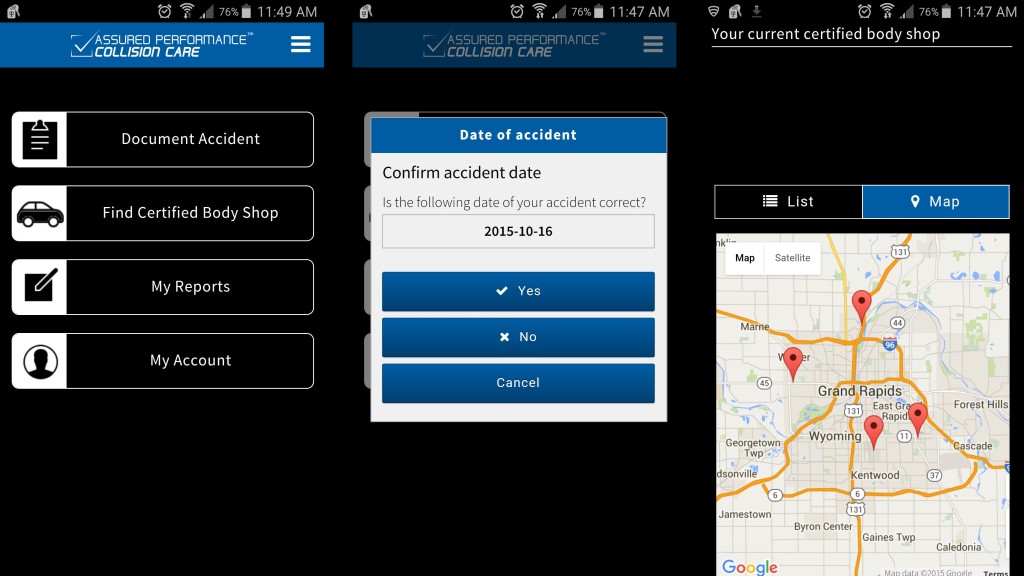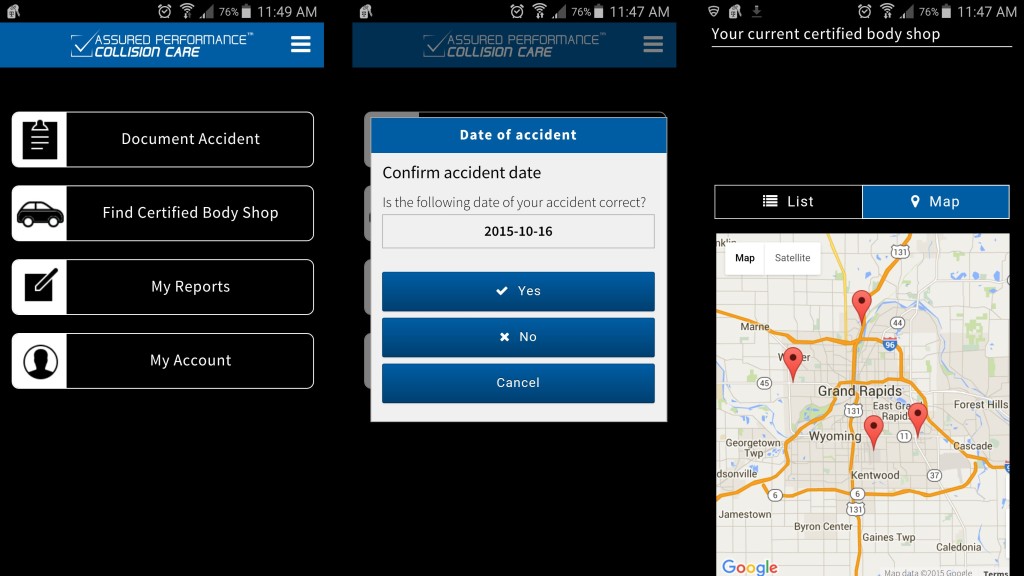 "Now that our network of Certified shops blanket nearly the entire country, we can actively educate the consumer and provide them with a Certified Repairer choice almost anywhere they might need and want one" Assured Performance Chairman and CEO Scott Biggs said in a statement. "Our mission is to ensure that all consumers receive an exceptional repair experience delivered by exceptional businesses."
However, customers with Assured Performance certification might still be unclear which OEMs have OK'd those shops based on the version we tried. Assured certainly lets repairers get a lot of OEMs nods in one shot — including for the aluminum Ford F-150 — but it obviously doesn't include competing certification program vehicles, perhaps most notably Honda, nor does it include luxury certifications.
Biggs noted during the NACE panel that an earlier Assured Performance marketing push in 2007 was too soon — "unfortunately, it was extremely effective." There weren't enough certified shops to take the customers' business.
Today, as the launch of the app indicated, it's different. In July, he displayed a map showing Assured Performance network coverage closing in on the depth of the Verizon coverage map.
He estimated that 2,500 collision repairers would yield certified shops 20 minutes away from 98 percent of customers, and Mandl said customer interest drops off quickly if they have to drive more than 10 minutes. If it's not a trip under 20 minutes, they're not going, he said.
The OEMs are also looking at ways to connect customers with certified shops. Schaefer said FCA had launched a "make an appointment" feature which even let damage pictures be transmitted to the repairer, and customers can get directed to collision repairers through FCA individual make and Mopar apps.
Zoba described a marketing campaign of 3 million impressions to Nissan owners with financial statement inserts and 8 million impressions through e-newsletters.
Certified shops could also do the marketing themselves through a Nissan owner database.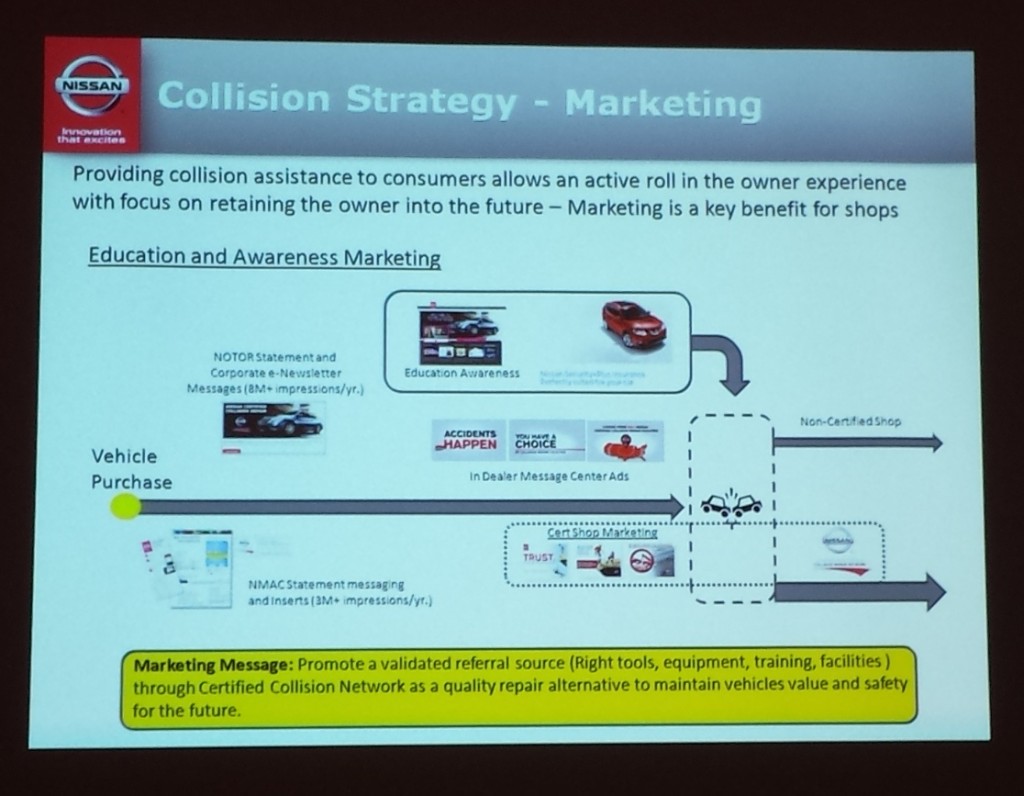 The efforts have paid off, Zoba said.
"We're seeing great success with it," Zoba said in July. Customers were even walking into auto body shops with postcard mailers.
Biggs' prediction is that certification could become as specific as the "year, make and model" version, as the aluminum F-150 network indicates.
Either way, the interest of OEMs in the program and the kind of marketing being ramped up by such major companies make certification programs worth serious consideration by shops.
"Get certified, get busy," Schaefer said was the FCA message.
More information:
"The slow, steady demise of the small-town dealership"
Automotive News, Oct. 12, 2015
"Assured Performance Launches Accident & Collision Care Smart App!"
Assured Performance, Oct. 12, 2015
Images:
A banner touts Nissan certification in the Cobo Center during NACE 2015. (John Huetter/Repairer Driven News)
Ford data in this NACE 2015 slide shows that a bad repair at a body shop could cost an auto brand a customer's loyalty. (John Huetter/Repairer Driven News)
These screenshots display the Assured Performance app officially launched this month.  (Screenshots of Assured Performance app)
This Nissan slide from NACE 2015 shows how certified shops can be marketed. (John Huetter/Repairer Driven News)
Share This: