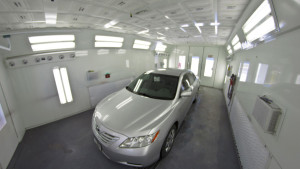 Allied has agreed to a Montana collision repairer's interpretation of the CCC "bumper prompt" after what seems like a refusal that tried to have it both ways on CCC guidelines.
Helena, Mont.-based Capital Collision Center had answered "Yes" to the controversial CCC question, "Will the bumper be refinished in a separate procedure from the other panels?" because flex additive was necessary for the part.
"All panels or components for which paint systems require a flex agent added to the paint mix. Example: fascia covers, fillers, extensions, spoilers, etc.," CCC's Motor Guide states.
"No overlap deduction should be taken when calculating refinish time for a single item from this category."
---
Getting paid, insurer relations, refinishing discussed SEMA Repairer Driven Education
Those wanting to learn more about issues related to this article should check out "Getting Paid for Investing in Facility, Equipment and Training" with Tim Ronak of AkzoNobel, "Paint Shop Performance" with John Fagan of PPG and "Don't Let Consolidators and MSOs Steal Your Insurance Work" with Michelle Nelson of B2B Automotive. The presentations will be at this year's SEMA Show as part of the Society of Collision Repair Specialists' Repairer Driven Education series. Register here.
---
An adjuster for Allied, a Nationwide subsidiary, challenged the response. He also allegedly told Capital, "'I have never allowed 'yes' on the bumper prompt, and I'm never going to,'" according to owner Bruce Halcro.
Halcro, a Society of Collision Repair Specialists board member, pointed out in June that Capital was answering as accurately as it could given the "Yes/No" nature of the prompt, and cited CCC's own language.
"As I previously stated what we look for and expect in the estimating process is consistency and integrity," Halcro wrote to Allied. "When the bumper prompt comes up it specifically asks 'Will the bumper be refinished in a separate procedure from the other panels?'… As you know the Bumper Prompt is a Yes or No question and since the product we use requires that we use a flex additive for flexible parts, and we do use a flex additive we answer yes which I think all the attachments support. Again if we did not use a flex additive we would answer No – and I expect our shop to answer truthfully what we do in the repair process always. And you are telling us that we have to put No even though the answer is yes."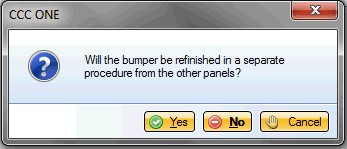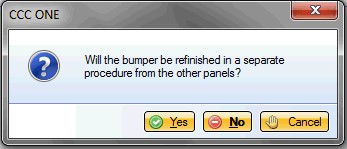 He also referenced Montana Code No. 33-18-224, which states that an insurer can't "unilaterally disregard a repair operation or cost identified by an estimating system that the insurer and an automobile body repair business or location have agreed to utilize in determining the cost of repair."
Allied's adjuster ultimately said, "You win," according to Halcro. But he'd also contacted the Montana Department of Insurance in the dispute, and agency Chief Counsel Jesse Laslovich wrote to Allied/Nationwide to check if the insurer had changed its behavior statewide.
"We are specifically interested in whether Nationwide is still treating bumper prompts the same as it initially did with Capital Collision," Laslovich wrote in August. "If so, please explain how it complies with 33-18-224.  If not, please advise accordingly."
Nationwide's response:
Each vehicle and estimate is evaluated on an individual bases in regards to the bumper prompt provided within the CCC One Estimating System. There are several paint manufactures available for the body shop to utilize and each shop may have a slightly different paint process based on the manufacturers recommendation.  The answer to the bumper prompt will depend on the shops paint process and procedures that they use in their facility.  If  a bumper is "refinished in a separate procedure from the other panels" as indicated by the prompt we would answer "Yes".   If the bumper is painted with the vehicle (but not on the vehicle) in the booth at the same time we would answer "No".
I hope this clarifies Nationwide Insurance and it's affiliates utilization of the CCC One Bumper Prompt and complies with MCA 33-18-224.  If you have any additional questions or concerns please let me know.
"They're twisting it around," Halcro said. CCC saying a procedure is separate should mean "that's the end of that story," he said.
Asked about the case and if their answer to the DOI was trying to circumvent the P-pages, Allied/Nationwide PCO & Direct Public Relations Director Eric Hardgrove wrote in an email, "Due to Nationwide's privacy policy we cannot discuss the specifics of a claim, however we can share with you that we evaluate each claim upon its own independent facts and circumstances and our settlements of any claim are in compliance with all laws and regulations. Nationwide repair estimates reflect repair processes that support high-quality repairs for customers' vehicles."
The Montana Insurance Department accepted the insurer's answer, according to Laslovich.
"Briefly, the Nationwide response was satisfactory to us because our concern was the general business practice and it appears, based on the response, that it's a case by case determination," he wrote in an email. "This does not mean there won't be any problems in the future and if a shop believes the law is being violated, they should let us know."
Based on this experience, shops should challenge insurers when the P-pages back them up, though of course it helps when state law holds the parties to the estimating service of choice's language.
Halcro raising the issue appears to have changed Nationwide and Allied's behavior.
"I do know they deal differently with us now," he wrote in an email.
Images:
The Capital Collision Center paint booth. (Provided by Capital Collision Center)
The CCC bumper prompt is displayed. (Screenshot from CCC provided by Nationwide/Allied)
Share This: