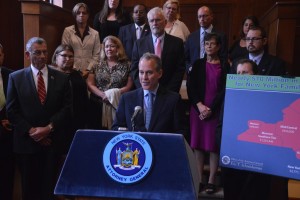 A Binghamton, N.Y.-based auto salvage vendor has settled with New York for allegedly selling recycled airbags, an effectively illegal act under state law, Attorney General Eric Schneiderman announced Monday.
Don's Automotive Mall "agreed that it would not sell any salvaged airbags without first complying with the law," the Attorney General's Office wrote in a news release.
Airbags salvaged in New York must be"certified according to standards established by a nationally recognized testing, engineering and research body" OK'd by the state Department of Motor Vehicles, according to Schneiderman's office.
As no standards exist in New York, it's therefore illegal to sell recycled airbags — and Don's allegedly "sold dozens, if not hundreds, of airbags removed from salvaged automobiles to consumers and auto repair shops throughout the United States without first having the equipment properly tested," the Attorney General's Office wrote.
The vendor on Thursday denied the accusations.
"Don's Automotive Mall denies all allegations related to this matter," Cindy Howard of Don's said in a statement. "However, in order to resolve the New York Attorney General's investigation without spending additional time and resources associated with litigation, we entered into the settlement agreement. In no way should the settlement be construed as an admission of wrongdoing."
Who bought the airbags and why is unclear. A spokesman was attempting to ascertain more details for Repairer Driven News on Wednesday.
Collision repairers shouldn't be installing non-new-OEM airbags — "You gotta be an idiot to do that," LIABRA Executive Director Ed Kizenberger said Wednesday — so it's an even worse idea for the average driveway do-it-yourselfer to try it.
"When an airbag needs to be replaced, a new replacement airbag module from the original manufacturer of the vehicle should be used," the Insurance Institute for Highway Safety wrote in April, also noting that there's no standardized way to even test recycled airbags.
Kizenberger said he didn't think the sales were in New York, even if Don's is based there.
"My understanding is that primarily these things have been sold outside the New York state area," he said.
Among the Long Island Auto Body Repairmen's Association, "There's not even scuttlebutt about it, quite frankly."
"The quality registered repair shops are not interested in that," he said.
Repairers in that state must also keep an airbag log and buy new OEM, "otherwise, we're in trouble," Kizenberger said.
Don's has agreed not to illegally sell any more airbags, pay a $12,500 fine, and keep three years of records on any salvage airbags.
"Airbags are a critical piece of automotive safety equipment and can be the difference between life and death in a car accident," Schneiderman, a Democrat, said in a statement. "Today's settlement will ensure that Don's Automotive Mall complies with state law and will prevent untested and potentially hazardous safety equipment from being used in vehicles in New York State."
More information:
"A.G. Schneiderman Reaches First-Of-Its-Kind Agreement With Binghamton Auto Shop Over Sale Of Salvaged Airbags"
New York Attorney General's Office, Oct. 19, 2015
Featured image: New York Attorney General Eric Schneiderman discusses his foreclosure program in this Aug. 12, 2015, file photo. A Binghamton, N.Y.-based auto salvage vendor has settled with New York for allegedly selling recycled airbags, an effectively illegal act under state law, Schneiderman announced Oct. 19, 2015. (Provided by New York Attorney General's Office, file)
Share This: