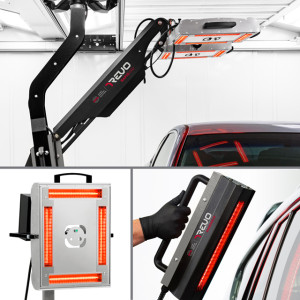 Shops refinishing panels might have a quicker, cheaper and more convenient time of it with infrared curing technology like that offered by Global Finishing Solutions.
Rather than a traditional drying method, GFS' REVO accelerated curing systems warm the substrate of a refinished panel itself and produces heat to dry the paint above, according to Andrea Iacucci Ostini, a REVO sales representative.
"That is a great advantage, since we can dry products applied on zones of the panel that are not directly irradiated, like the inside of fenders, or door hinges" he said in a statement.
For example, the area directly under a REVO lamp might reach 220 degrees, while the remainder of the panel hits 180 degrees.
Plus, the heat doesn't penetrate the metal to affect electric components or leather inside. While the exterior is baked at 220, the vehicles' interior never rises above 100 degrees — "and we can prove it," Iacucci Ostini said in an interview.
As short-wave electric infrared's heat absorption technique is extremely efficient, shops can cut both power consumption and cycle time.
"There's a lot of energy savings," Iacucci Ostini said.
---
Refinishing, ROI, shop operations at SEMA Repairer Driven Education
Those wanting to learn more about automotive refinishing should check out "Paint Shop Performance" with John Fagan of PPG at this year's SEMA Show. Curious about return on investment for buying something like a REVO? See "Getting Paid for Investing in Facility, Equipment and Training" with Tim Ronak, AkzoNobel. Want to know more about paying paint technicians and other staff? Attend "Compensation Solutions" with Mike Lanza of Sherwin-Williams. The presentation will be part of the Society of Collision Repair Specialists' Repairer Driven Education series. Register here.
---
GFS, the American distributor of the Bellini technology, does offer REVO systems which will dry the entire car in a booth. However, it's aiming to serve smaller jobs on a large scale: the 75 percent of repairs requiring refinishing of two to three panels.
"That's the target we have for REVO," Iacucci Ostini said.
Cost and savings
Manual units start at about $1,000 for a REVO Handheld ranging up to an automatic REVO Speed version costing $75,000. Iacucci Ostini estimated GFS' portable units, which likely would be the most useful for shops under the 2-3 panel model, cost about $2,800-$9,000.
Get a couple of those for different preparation areas of a shop, and you wouldn't need to constantly swap vehicles in and out of a booth to cure them, he said.
Iacucci Ostini estimated a shop would make it back spending $40,000 in fewer than eight months. Curing one panel full-cycle with a REVO requires 3 kilowatts and costs $0.50-$1, which is a fraction of the cost of traditional methods, he said.
One REVO chart online estimates curing a door and fender on a medium vehicle at $0.11 per kilowatt-hour would take 12 minutes, 40 seconds, use 0.75 KW, and cost only $0.42.
GFS' infrared lamps themselves can last 12,000 hours and cost around $300, according to Iacucci Ostini.
"They're very easy to maintain," he said. One only has to remove six screws and clean with a solvent every 3-4 months. (GFS has a maintenance program if you'd prefer that instead.)
Speed
Infrared curing systems create efficiencies in time as well as energy. Iacucci Ostini said. GFS can demonstrate that customers could putty, prime, sand, basecoat, clearcoat and polish a panel in 60-70 minutes from start to finish with REVO.
"It takes us about one hour to do one panel," Iacucci said. If they're refinishing two panels close to each other, it's "less than two hours."
A basecoat can be dried in 3 minutes, with another 5 minutes spent on the primer and 5-7 minutes on the clearcoat.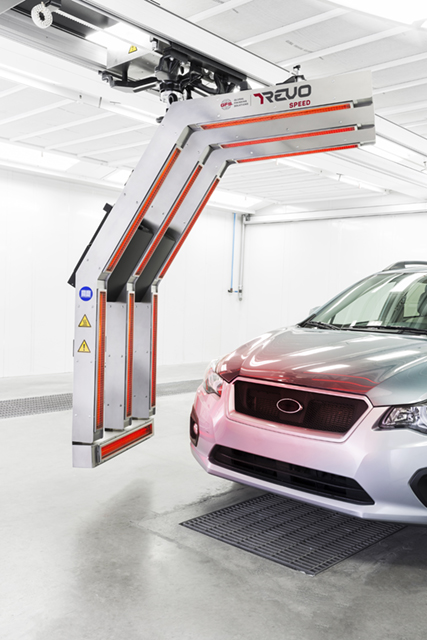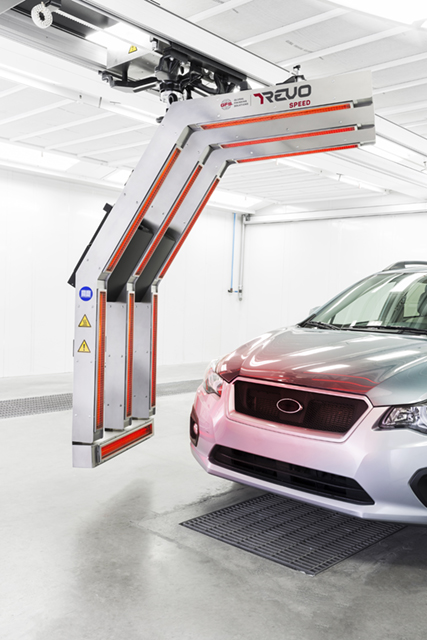 Compare that to traditional priming methods, which could require about two hours before you can get back to work, according to Iacucci Ostini.
"That doesn't happen with REVO, which lets you sand the primer as soon as it gets cold" he said in a statement.
In fact, GFS estimates paint shop throughput can increase by up to 80 percent with REVO systems.
Training
Though the default REVO settings should be sufficient, according to Iacucci Ostini, GFS will spend time with painters to understand their particular preferences and deliver the highest safe curing temperature.
The refinishers won't need to change their technique to adapt to electric infrared curing technology, as they have to when curing is controlled by gas-fired infrared. REVO systems tailor the curing process to whatever specs exist from the paint manufacturer and can be updated with a USB or SD card.
"The units themselves are extremely easy to use," Iacucci Ostini said in a statement. At a REVO training center, an official paint OEM technician was able proficiently use the REVO system with less than two hours of training.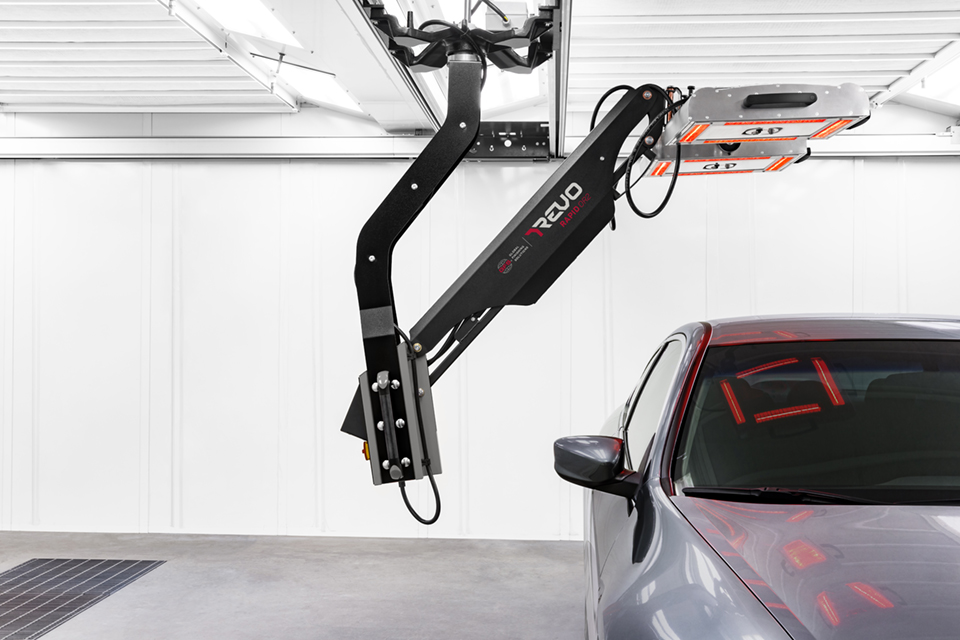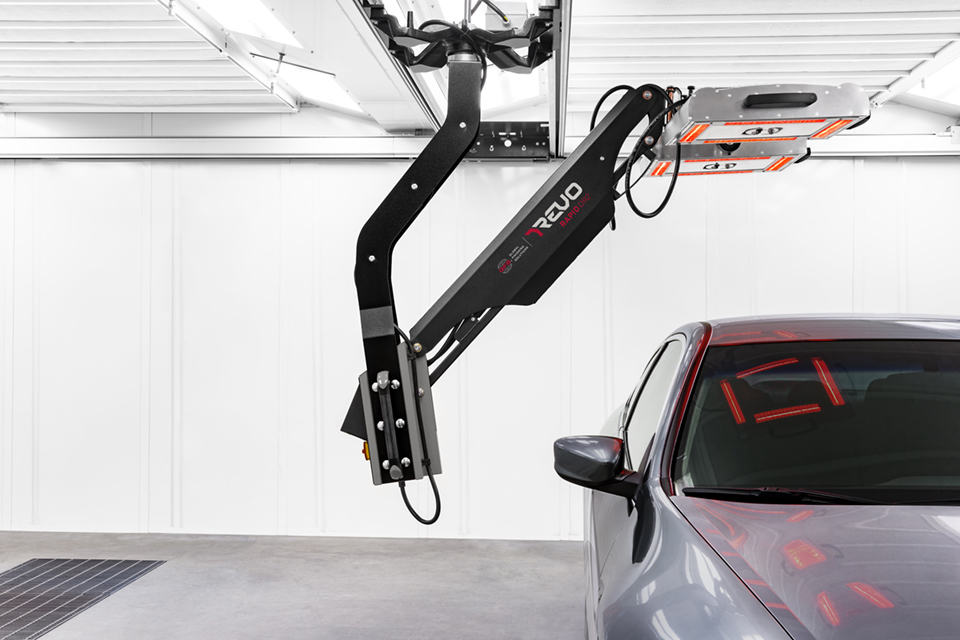 Depending on a technician's wishes and the outside temperature, a REVO infrared system can be moved closer or further to the area being dried to achieve the best result in any situation.
"The technician can play with the unit positioning and workflow – very creatively," Iacucci Ostini said in a statement.
GFS has also already broken ground on an 80,000-square foot U.S. training, storage and research and development center. The company expects construction on the building — 10,000 square feet of which will be used for training — to finish by August 2016.
"The training center will allow us to showcase our paint booth and REVO System technology, and demonstrate to distributors and customers how REVO Systems can dramatically increase paint shop throughput," GFS wrote in an email. "The facility will be set up to resemble a body shop with both prep and paint areas.
Coming to America
Bellini, the manufacturer of the REVO systems, first looked at infrared in 1988, noticing its use in Swedish paper manufacturing.
"Nobody knew infrared, and nobody liked infrared," he said.
At the time, the paint industry worried it'd damage their products. But once Bellini opened its own training center, the company was able to demonstrate the technology to customers and paint manufacturers and develop its own curing systems
Attempts by other infrared distributors to bring the technology to the U.S. "didn't have much success." The industry didn't need it yet, he said.
But now, there's huge demand for "faster and better" among American collision repairers, according to Iacucci Ostini.
"Do it once and do it well," is the new demand, he said.
"The market is asking for this solution," he said in a statement. "… The shops see that they can get faster repairs and better results."
More information:
REVO on Global Finishing Solutions' website
Images:
Global Finishing Solutions' REVO Systems are shown. (Provided by Global Finishing Solutions)
Manual units start at about $1,000 for a REVO Handheld ranging up to an automatic REVO Speed version (pictured) costing $75,000. (Provided by Global Finishing Solutions)
The GFS REVO Rapid is shown. (Provided by Global Finishing Solutions)
Share This: