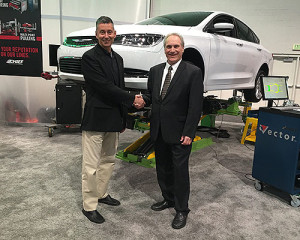 The exclusive distribution rights to Globaljig products announced Tuesday gives Chief access to luxury OEM certification programs — and likely returns the favor.
Chief North and South America director of sales Bob Holland, with Globaljig North America CEO Erik Larum by his side in Chief's SEMA booth, said Wednesday the deal gives the Globaljig much broader access to North America.
Holland said the companies hope to receive U.S. and Asian OEM certification program approval of Globaljig products as early as next week.
"That's our goal," Holland said, and Larum called it a "total solution."
Chief is already well-known here and can be used for many of those manufacturers' programs, while Globaljig has just a toehold, according to Holland.
But the reverse is true for European automakers. With the distribution rights in hand, Chief now can sell Globaljig products approved for companies like Maserati, Tesla, Jaguar, Land Rover and Aston Martin, Holland said.
"We weren't getting there with our stuff any time soon," he said.
Other OEMs supporting Globaljig included Alfa Romeo, Fiat, Honda, Jeep and Lancia. Globaljig works with many of them and the OEMs Holland mentioned to develop measurements of models for the "vast Globaljig worldwide vehicle database," a version of the news release noted.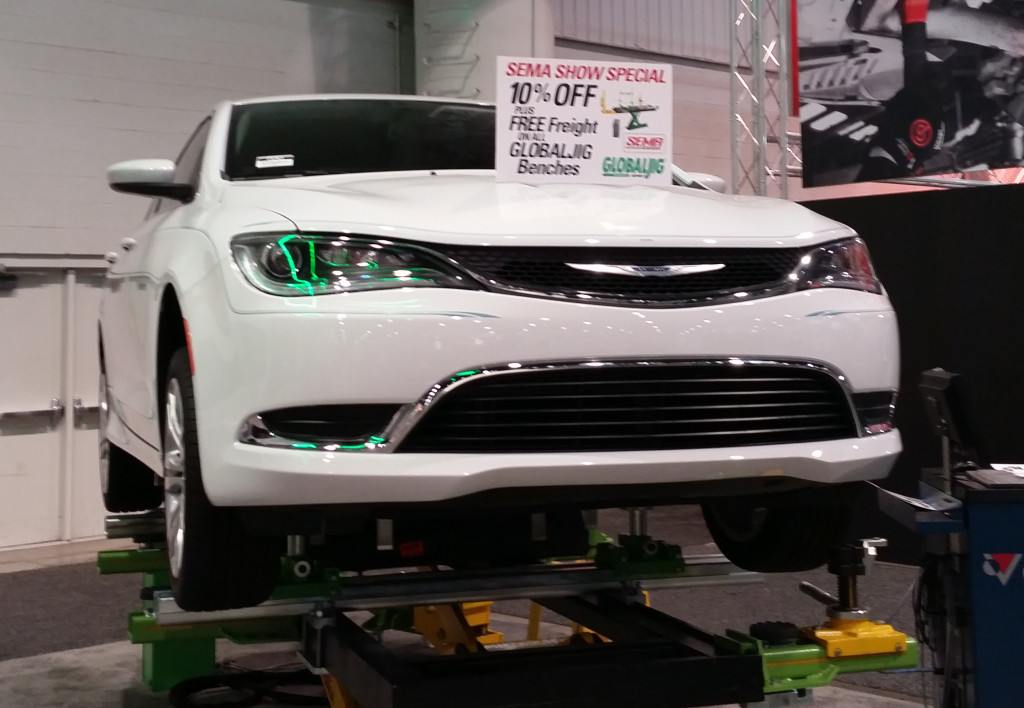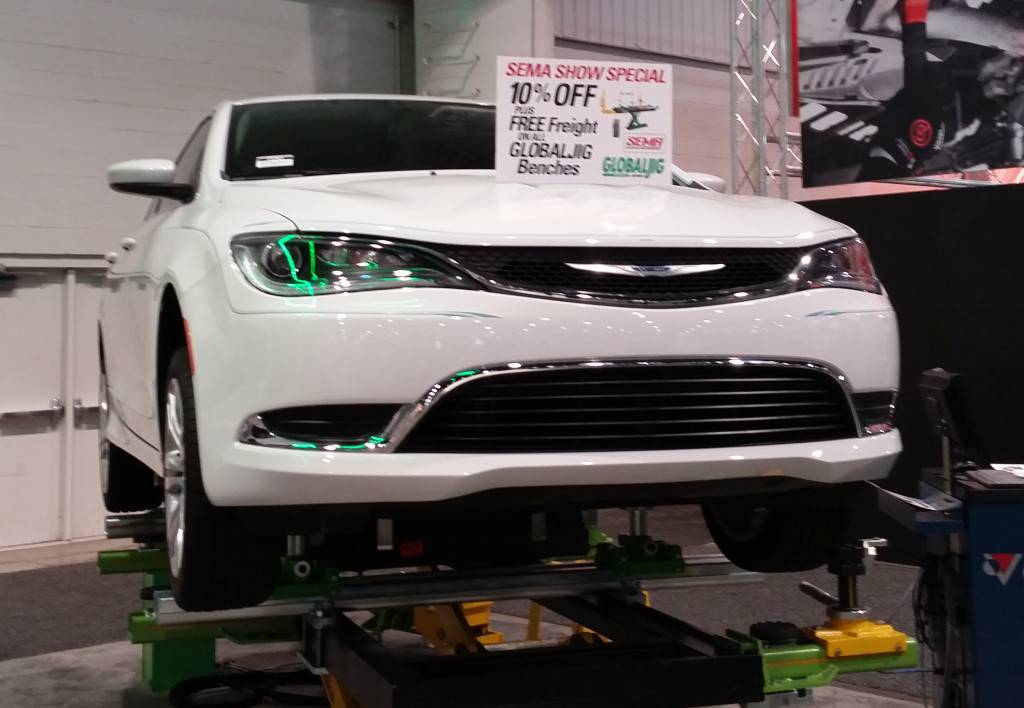 The two companies had been competitors, particularly as the line between Chief and Globaljig products blurred. But they'd worked together in the past, so it wasn't too far of a stretch, Holland said.
Chief has full distribution and marketing rights to Globaljig benches, "'European style'" structural equipment and universal fixture services in Canada and America, the company wrote in a news release. The products here will be branded "Globaljig Presented by Chief."
An executive from Chief's parent Vehicle Service Group indicated that the move was also prompted by the expected growth in advanced-materials cars here in the U.S.
"In North America, where the best-selling vehicle for more than 35 consecutive years has been a pickup truck, frame racks remain integral to proper collision repair," VSG global collision and new business development Vice President Mike Cranfill said in a statement Tuesday. "But as car manufacturers continuously evolve their new vehicle designs to meet stringent CAFE standards, we expect the repair methodologies used in European markets to expand deeper into North American shops. As a result, it's important that we offer our customers a simple, fast and easy-to-use bench and fixture system to supplement their frame racks. After thoroughly evaluating every bench system on the market, we have determined that Globaljig's system is the most user-friendly. Further, we have supplied Globaljig with Chief computerized measuring systems in Europe for 15 years, so we know the products work together seamlessly."
The exclusivity was effective immediately, Chief said in its Tuesday news release.
"We are excited at the opportunity to combine Globaljig's systems, knowledge and experience repairing exotic metals with the industry-leading Chief distribution network," Larum said in a statement Tuesday. "We believe this partnership will increase market share for both companies and provide greater choices for our customers."
More information:
"Chief Now Offers Collision Repair Frame Racks and Benches"
Chief, Nov. 3, 2015
Images:
The exclusive distribution rights to Globaljig products announced Tuesday gives Chief access to luxury OEM certification programs — and likely returns the favor. (Provided by Chief)
A Globaljig product is hyped at the Chief SEMA booth. (John Huetter/Repairer Driven News)
Share This: