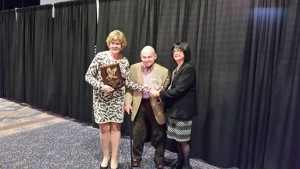 CARSTAR Mundelein co-owner Jeanne Silver was named Wednesday to the collision industry's Hall of Eagles, the first hall of fame inductee since 2012.
"I'm so, so honored to be here. I finally got my wings," Silver said after receiving the award from Bob "Cowboy" Smith, a 2002 Eagle.
She joins her husband, shop co-owner Jeff Silver, in the hall. Jeff Silver was inducted in 1993.
Presenter Rick Tuuri, AudaExplore vice president of industry relations and a 2000 honoree, noted the rigor of the induction process. An Eagle must nominate a new Eagle, and two-thirds of the membership must vote in favor of the honor.
"Jeanne: Well-deserved, girl," 2003 inductee Toby Chess said before his presentation on riveting later that day.
Jeff Silver himself — "considered by some to be the father of I-CAR," as National General material damage Vice President Joe Laurentino put it — won the I-CAR Chairman's Award on Wednesday.
"I have enjoyed the entire time I spent in all parts of this industry," Jeff Silver said. "Thank you, thank you all."
"It's a big day for the Silver family," I-CAR President and CEO John Van Alstyne said before, ironically, presenting the Jeff Silver Award to Jim LaSalle.
Featured image: CARSTAR Mundelein co-owners Jeanne, left, and Jeff Silver, center, pose with Jeanne's Hall of Eagles award and Jeff Silver's I-CAR Chairman's Award. (John Huetter/Repairer Driven News)
Share This: