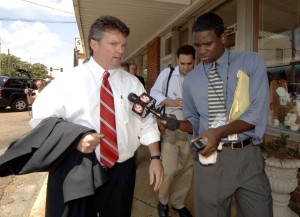 Democratic Attorney General Jim Hood, who in July asked for meetings with insurers following allegations they've pressured body shops, has won another term.
Hood, who will return for a fourth stint as Mississippi attorney general, defeated Republican Mike Hurst in the Tuesday general election.
"This is a heartfelt thanks to each of you for the support and encouragement you've given me through three terms as Mississippi's Attorney General, and I ask for your support during the next term," Hood wrote on his campaign Facebook page Thursday.
"Tuesday night's victory was a bittersweet one for our family, with the absence of my mother who passed away in August. I think she would have been proud of this outcome.
"As I promised on Election Night, I intend to spend the next four years working to make sure our children are protected and offered the opportunity of a good education. My work to protect the vulnerable among us and pursue criminals who prey on our citizens will continue ahead, full speed."
Unofficial vote tallies were not available Monday from the Mississippi Secretary of State's Office. Ironically, a staffer directed us to use other media reports.
The Jackson Clarion-Ledger reported that based on incomplete results, Hood won 56 percent to 44 percent.
"Mississippians have spoken, and I love this state so I respect this decision," Hurst said, according to the newspaper. "… I've never doubted the sincerity and love (Hood) has for our state. We just differed in our ideas on how to make it better."
Hurst raised at least $13,525 from insurance companies between Jan. 1 and late October, a very rough Repairer Driven News analysis of financial records found; Hood seems at first glance to have received $4,000 from the industry.
Scrutinizing insurers
Hood's examination into the allegations against insurance companies continues today, his office said Monday.
"For several months, our office has received reports of allegations that insurance companies are participating in a deliberate system to direct automobile policyholders to selected repair shops, a system which results in direct and significant harm to consumers," Hood had written to 11 insurers and one insurer's lawyer in July (see letters) requesting the meetings.
Hood said then the "apparent scheme" includes the statement that "insurers will 'warrant' repairs made by selected repair shops only, when in reality the insurer relies solely on the repair shop's warranty."
He also said then his agency had received information that "shops have been pressured to make inadequate or incomplete repairs to retain the insurer's business," and it also was concerned that insurers "may be acting to restrain and control automobile repair labor rates."
In February, Hood criticized insurance companies on an "Anderson Cooper 360" collision repair segment by CNN producer Scott Bronstein and reporter Drew Griffin.
"They would force a body shop to put junk parts, to weld and patch," Hood said on the broadcast. If a body shop doesn't play ball, he said, insurers steer business away and inconvenience them.
"They use their economic power to grind down working people," Hood told Griffin.
More information:
"Hood defeats Hurst, remains lone statewide elected Dem"
Jackson Clarion-Ledger, Nov. 4, 2015
Featured image: Democratic Mississippi Attorney General Jim Hood, left, talks to a news reporter as he leaves the Neshoba County Courthouse in the first day of jury selection in the trial of Edgar Ray Killen on June 13, 2005, in Philadelphia, Miss. (Marianne Todd/Getty Images News/Thinkstock file)
Share This: