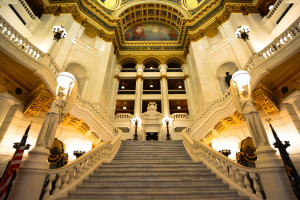 A motion Monday to refer a bill allowing photo-only auto damage appraisals back to a committee for a hearing was halted by the measure's tabling, Pennsylvania state Rep. Tom Murt said Friday.
Murt, R-Montgomery County/Philadelphia County, said he had sought to send House Bill 1638 to the Veterans Affairs & Emergency Preparedness Committee for a wider examination.
The committee's purview includes fire and paramedic first responders. In what is probably not a coincidence, it's chaired by fellow bill opponent Rep. Stephen Barrar, Chester County/Delaware County.
But Speaker Mike Turzai, R-Allegheny County, "shut down the debate right away" before the House could decide about kicking the bill back to the committee level, according to Murt.
Barrar has alleged the tabling was done to protect the controversial measure, introduced by Nationwide insurance agency owner Rep. Mike Tobash, R-Dauphin County/Schuylkill County.
We asked Turzai's staff for comment late Friday morning but had not yet heard back as of early Friday evening.
Asked in an interview Friday about whether he'd be open to a hearing, as bill opponents have sought, Tobash said no.
"I'm surprised that we've had any level of pushback," he said.
He likened a hearing to "having a physical inspection of the vehicle" versus photos.
Murt was the first legislator to publicly oppose the bill as the only no vote in the House Insurance Committee. The bill was introduced to the committee Oct. 20 and on Oct. 26 passed 25-1. Minority Chairman Anthony DeLuca, D-Allegheny County didn't vote.
"This bill seemed to have been rushed through the committee," Murt said Friday, calling it "a little too quickly for my liking," he said.
Murt said his opposition came after talking to Philadelphia-based Alan's Collision Center general manager Jim Pfau, who explained the body shop perspective on the bill. (Read more on collision repair opposition here.)
"This is bad policy," Murt said.
Convenience or safety?
In a Sept. 29 a memo describing the bill he planned to file, Tobash called the measure a customer service benefit.
He said the same Friday, calling body shop concerns "a lot to do about nothing."
"This is a positive step," Tobash said, arguing that it would cut cycle times for repairers and customers.
"I love small automotive repair shops," he said.
He said it typically wasn't a slow process to get an appraiser to a shop. However, in backlog situations like deer or hail season, customers with smaller claims could knock out the appraisal process with photos while larger claims were commanding more attention.
"There are times and there are minor claims" where photo estimates are appropriate, he said.
However, when asked why not cap the bill's scope to minor damage (a determination which admittedly could be difficult for a customer to make) to prevent insurers from using it inappropriately, Tobash wasn't supportive.
He cited a desire to avoid "overburdensome" government regulation on businesses, including body shops.
A customer probably isn't going to know or be able to photograph areas which could have been damaged in the incident, and appraisers could get an incomplete idea of the damage by allowing policyholders to submit photos.
But that's not a problem, Tobash said, as the shop can still inform the appraiser they've found more problems.
"This does not do away with supplements," he said.
Of course, insurers aren't always welcoming of supplements — in fact, they can be one of the KPIs by which shops are judged by direct repair program insurers. There's also the possibility that an adjuster insists "it doesn't look that bad in the photo," creating a battle for the shop to get paid for the work — or ultimately causing the customer to go out-of pocket for it.
Customers can be irritated by the delivery date goalpost being moved (and cycle times are another KPI for insurers), putting the shop in a rough position for having raised the point.
Plus, if there is a serious supplement, wouldn't the shop just have to have the appraiser visit in person to see it?
No, Tobash said, they could just shoot a picture themselves and send it over.
Tobash also said that besides being convenient for the customer, it would eliminate an opportunity for steering by letting customers transmit claim photos and go to the shop of their choice. Shops have alleged that insurers use appraisal visit delays — whether actual or simply implied to customers during steering — to punish non-preferred shops.
Tobash also argued that the law might have made sense back in 1972 when photo quality wasn't as strong or photos weren't available so quickly. Today, why not embrace technology?
However, the original 1972 law was passed as a state companion to the federal 1963 Consent Decree developed after alleged auto insurer abuses, a Pennsylvania Collision Trades Guild director has said.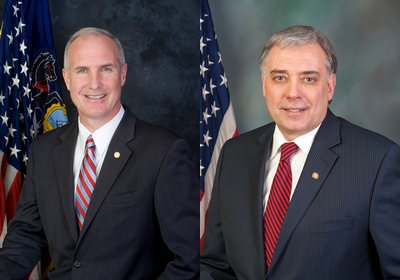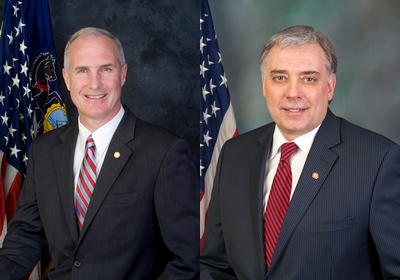 Asked about the potential benefit of giving customers quicker cycle times through photo estimates, Murt acknowledged the point but pointed to the opportunity for damage to be missed.
"That might be true, but I also have a concern about safety," Murt said and gave the example, "What happens if it needs a catalytic converter?" (Or, as the PCTG put it, you wouldn't handle a doctor visit by photograph.)
It was better to err in favor of taking more time to do the job right, he said.
Murt on the House floor referenced a past Society of Collision Repair Specialists damage assessment position statement. The document argues against visual inspections and supports giving customers a disclosure stating an insurer damage assessment isn't the same as a written repair estimate or always reflective of the actual repair costs.
"I thought it was well stated," Murt said Friday. He said he felt it should be part of the legislative record.
More on the bill
House Bill 1638 still requires licensed appraisers on auto claim cases in Pennsylvania. (Murt had thought otherwise.) However, if passed, it would allow them to do the work remotely.
"An appraiser may prepare a repair estimate obtained by personal inspection or by photographs, videos or telephonic means," the bill states, replacing part of Pennsylvania law which said they couldn't do any of those things. "An appraiser may not require the submission of photographs or videos in order to obtain an appraisal.   An appraiser, or an insurer as part of the appraisal process, shall disclose to the owner of the vehicle that there is no requirement to submit photographs or videos in order to obtain an appraisal."
Photos or videos aren't required for an appraisal, and insurers must tell customers as much. However, one can imagine a scenario where insurers soft-sell that fact to customers but still comply with the law.
We also wonder what happens if the customer refuses to take photos, wanting an in-person appraisal, but the insurer just has someone else — a direct repair program shop or a freelance photographer, for example  — take photos or video.It seems as though the insurer could do so and comply with the law law so long as the licensed appraiser is the one who evaluates the images or video.
Tobash said that was not his intent: If the customer wants an in-person appraisal, he said Friday, they get it — insurers can't do an end run and take photos. (Whether insurers and the courts read the law as such is another matter.)
HB 1638 made its way back to the House floor after a detour to the Appropriations Committee on Oct. 28. That committee OK'd it 36-0 on Monday, with state Rep. Mark Mustio, R-Allegheny County, not voting.
Be heard: Pennsylvania legislator contact information can be found here.
Images:
The Pennsylvania state Capitol. (MichelleMorrisonPhoto/iStock/Thinkstock)
Pennsylvania state Reps. Tom Murt, left, and Mike Tobash, both Republicans. (Provided by Pennsylvania Legislature)
Share This: