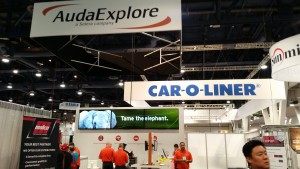 Solera investors Tuesday approved the company's $6.5 billion merger to Vista Equity Partners, clearing one of the last hurdles for the sale of the AudaExplore parent the private equity company.
The deal is expected to close in the first quarter of 2016, Solera said in a news release Tuesday.
Vista Equity will buy Solera's stock at $55.85 a share. Solera noted that in August, prior to the buyout speculation and announcement, its stock was worth $36.39. In fact, the $6.5 billion purchase price is nearly double the company's late August estimate of a $3.255 billion market cap.
So it's probably not a surprise that the shareholder vote was a landslide, with nearly 44 million shares cast in favor of the deal compared to only 7.3 million against. Another 2.3 million abstained, according to the 8-K filed Tuesday.
Foreign regulator approval — Solera has operations in 75 countries — seems to be the only major barrier left to the acquisition.
Solera on Tuesday said the company was still awaiting antitrust approval by the Russian Federation. However, it said the European Commission and the United Kingdom's conditions have been satisfied as of Dec. 3 and Nov. 4, respectively.
In October, Solera announced that the U.S. Federal Trade Commission had ended its Hart-Scott-Rodino Antitrust Improvements Act waiting period early. Companies can request the waiting period end if the government doesn't have any problem with a merger on antitrust grounds.
Solera's sale could have an impact on collision repair given the company's broad automotive portfolio. Its products in America include APU, AutoPoint, AudaExplore, DST, Hollander, Identifix and LYNX Services.
Executive payouts
Shareholders by a narrow margin did vote against "golden parachute" payments to founder and CEO Tony Aquila and other top brass for their termination following the sale. Shareholders voted 26.9 million shares against the payments, compared to about 24.5 million in favor. Another 3.2 million abstained.
However, that vote required by Securities and Exchange Commission rules was "on a non-binding, advisory basis" only, meaning both Solera and Vista Equity can ignore it.
Which for the executives is good news.
According to financial documents, Aquila will make $26.5 million in cash, unvested stock and benefits for getting fired on the merger close date of Jan. 4, 2016, including the $18 million incentive given him to stay through that date.
Chief Financial Officer Renato Geiger will make $4.7 million, including $815,000 for not leaving, and general counsel Jason Brady will earn $6.4 million, including $3.5 million for staying.
The three men also own hundreds of thousands — in Aquila's case, more than 1.5 million — of shares in the form of stock or options, based on the company's details for shareholders. That could translate into millions more depending on at what price the options allow the owner to buy the stock. (Based on Morningstar data, Solera has traded much higher than, for example, the $36.39 pre-announcement share price.)
Solera and Vista
In the U.S., Solera owns AudaExplore | Hollander | Identifix| AutoPoint | DST | LYNX Services | APU
Solera's products would complement some of the offerings by the privately held Vista Equity.  Vista Equity owns EagleView Technology, which lends 3-D measurement software, analytics, aerial images and geographic information systems to the property and casualty insurance industry. It also owns DealerSocket, which serves auto dealerships.
It once owned Applied Systems, a software provider to the property and casualty insurance industry, Zywave, which seems to serve insurance brokers; and Reynolds and Reynolds, aimed at auto dealerships.
Bain Capital bought Applied in 2006, Aurora Capital bought Zywave in 2013 and Vista said it left Reynolds and Reynolds in 2014 (The company now appears to be independent.).
More information:
"Solera Stockholders Approve Acquisition of Solera by Vista Equity Partners"
Solera via PRNewswire, Dec. 8, 2015
Featured image: The AudaExplore booth is shown Nov. 6., 2015, at SEMA. (John Huetter/Repairer Driven News)
Share This: