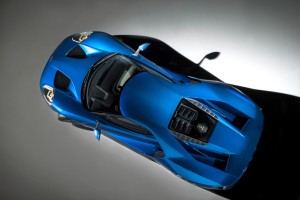 Ford will use a variant of the Gorilla Glass found on smartphone screens to cut 12 pounds from the new GT supercar, the company announced Tuesday.
The light, strong glass from Corning already has been used on more than 4.5 billion smartphone, tablet and computer screens. Ford will apply a "unique formulation" it calls "Gorilla Glass hybrid" to the windshield and engine cover of the GT. Another variant will be used on a bulkhead.
But the GT might only be the beginning, which means collision repairers and auto glass companies should take note.
"We think that it's applicable for all of our future vehicles," Ford body exteriors engineer Paul Linden told the Associated Press. He told the Detroit Free Press any transitions to Gorilla Glass would be made during full model redesigns.
Ford global purchasing Vice President Hau Thai-Tang told the Free Press that the glass meets the OEM's criteria for appropriate weight-saving expenses.  Presumably, he's not just talking about on pricey supercars; after all, all automakers are desperate for fleetwide weight savings with the U.S. 54.5 mpg 2025 target breathing down their neck.
Thai-Tang told the Free Press it's too soon to know if it'll gain wider industry acceptance — though Ford likely wouldn't be the only OEM to use it.
It's unclear if repair procedures would change on Ford vehicles should the glass spread to more Fords. Still, one wonders what this would do to the market for minor ding removal. Can you even accomplish such a thing on Gorilla Glass, or would the entire windshield have to be replaced?
The strength of the glass might render some of that question moot by resisting minor cracks and dings.
Video footage from Ford and the Associated Press shows 1.75-inch hail balls being shot at traditional and Gorilla Glass. The Gorilla Glass emerges unscathed; the regular glass is fodder for a comprehensive claim. (The balls were fired at 55 mph, according to the Detroit Free Press, though the same size hail can theoretically fall faster "in the wild." Still, it's impressive. )
The adoption of the technology also could curtail the use of aftermarket glass; if you're using a heavier glass than the OEM did, you technically haven't restored the car to pre-accident condition and gas mileage.
Ford had asked Corning about the glass for use in a supercar concept — but then realized they were on to something more practical. Within four months of being fast-tracked, a joint team sought approval to bring the hybrid Gorilla Glass to prime time.
"Gorilla Glass hybrid is a great example of how Ford works with suppliers to innovate in every area of our business," Thai-Tang said in a statement. "Ford GT is setting new standards for innovation through performance and light-weighting, and we're excited about exploring other applications for this great new technology."
Typical automotive glass involves two annealed glass layers bookending a thermoplastic binding agent. In the U.S., it dates back to Henry Ford. For the GT Gorilla Glass, "a pane of toughened automotive-grade formed hybrid acts as the strengthened inner layer, an advanced noise-absorbing thermoplastic interlayer is in the center, and an annealed glass serves as the outer layer," Ford wrote in a news release.
The new glass is 32 percent lighter, 25-50 percent thinner and equals or exceeds the strength of the old glass.
"This successful collaboration is one of the reasons we spend R&D resources to develop new innovations and solve tough problems," Corning CEO Wendell Weeks said in a statement. "Ford recognized the significant value of these innovative light-weighting technology and committed significant resources to quickly get it qualified for production applications. We worked with Ford to develop a glass that successfully withstood thousands of hours of durability testing and is now being used in a Ford production vehicle. We are excited to introduce this game changing technology to the market."
More information:
"FORD AND CORNING INTRODUCE INDUSTRY-FIRST GORILLA GLASS HYBRID WINDSHIELD TECHNOLOGY ON ALL-NEW FORD GT SUPERCAR"
Ford, Dec. 15, 2015
"New Windshields Made From Smartphone Glass"
Associated Press YouTube channel, Dec. 15, 2015
"2017 Ford GT to lighten up with Gorilla Glass"
Detroit Free Press, Dec. 15, 2015
Featured image: Ford will use a variant of the Gorilla Glass found on smartphone screens to cut 12 pounds from the new GT supercar, the company announced Tuesday. (Provided by Ford)
Share This: