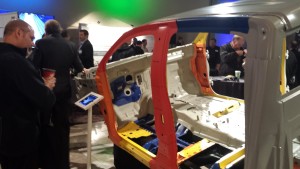 Any modification of high- and ultra-high-strength steel heat treatment can have a negative impact on the properties of parts intended to serve a variety of functions during a crash, ArcelorMittal automotive product applications Director Dr. Blake Zuidema said at SEMA.
That's why it's vital collision repairers not deviate from the OEM procedures — or restrictions — related to repairing, replacing and welding the steels of today.
Zuidema used the example of making a chisel during a metal shop class. To create one, you heat a piece of metal to a bright orange hue, put it in oil, grind the tip, and then heat until it turns the color of straw.
"You heat-treated it," said Zuidema during his presentation at the SCRS OEM Collision Repair Technology Summit. (Register here with the Society of Collision Repair Specialists to receive free downloads of slides from both Zuidema and Kaiser aluminum expert Doug Richman.)
A lot of the steels on the market today use the same principal to produce their light, strong properties, he said. But what if the chisel was heated to a bright red? It's weakened.
"You're all steel metallurgists now," he joked to the crowd Nov. 5.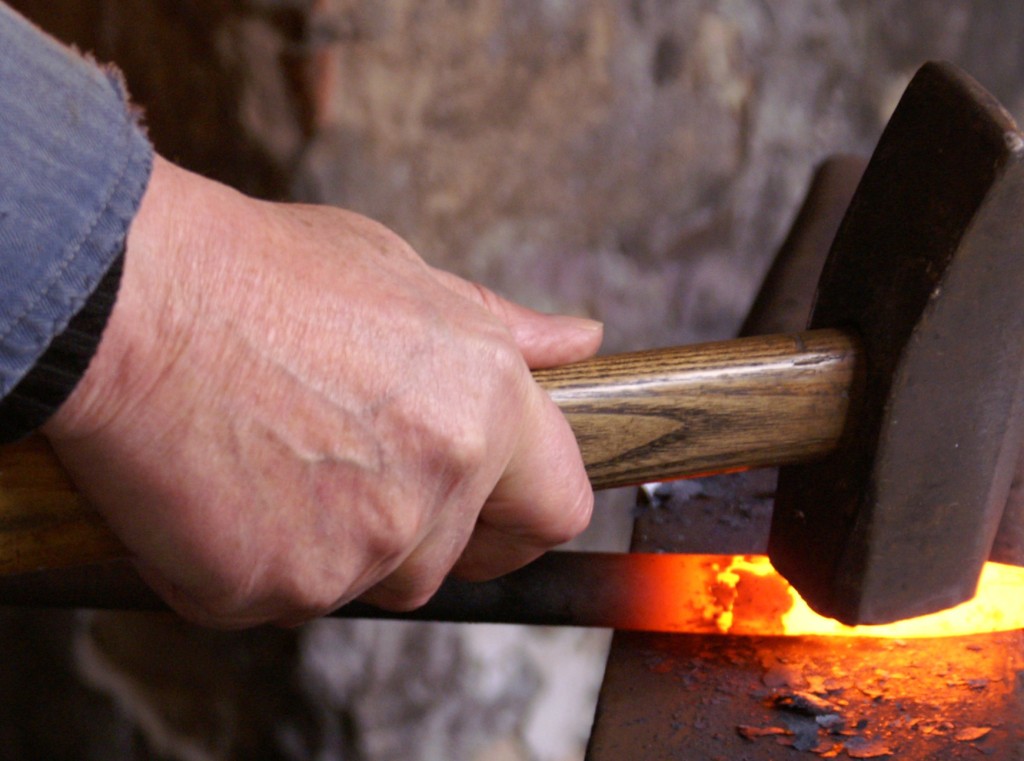 That's why you can't section or use certain welding techniques on steels stronger than particular megapascal levels (check with the OEM), and you definitely can't flame-straighten some of the newer steels.
Trying to do this will weaken the metal, according to Zuidema, who presented test data showing the effects of heat on various steel grades' yield and tensile strengths.
"Even mild steel is losing some of its strength," he said.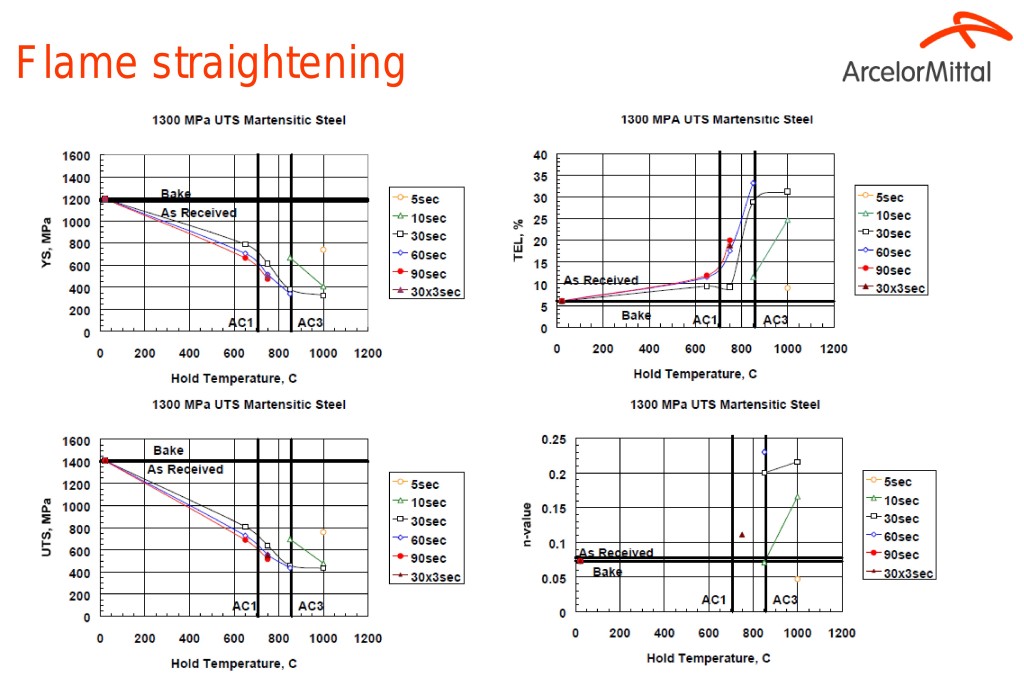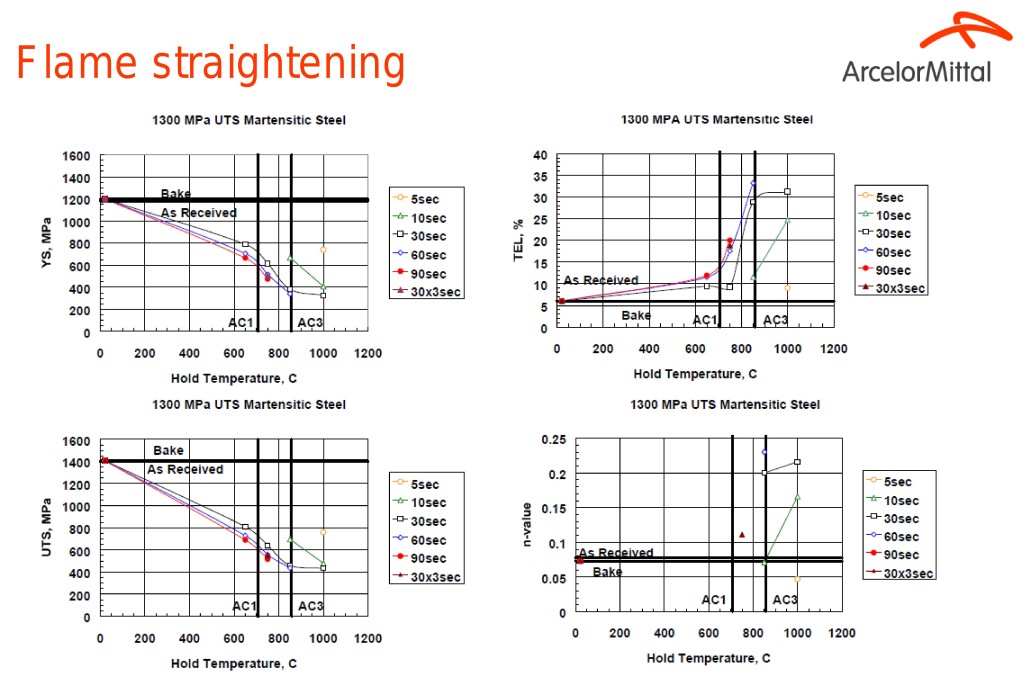 Flame-straighten a gigapascal-level steel like like Honda's 1,500 MPa door ring, and its strength plummets dramatically, eliminating its ability to protect vehicle occupants and distribute energy throughout a car.
"You cannot use flame or thermal straightening on these," Zuidema said.
Welding becomes affected as it heats up metal but fails to quench it, leading to the metal around the weld to soften.
"Even welds have to be very precise," Zuidema said. "… Welding applies heat. And heat can have deleterious effects."
'Cold working'
But the attention to the manufacturer's guidelines can't stop there. Even "cold work" on a part can also weaken it beyond an acceptable level.
Zuidema drew upon the common example of a paper clip which breaks after being twisted a few times. Each twist is "cold work," and it puts a strain on the metal.
Think about an auto part, Zuidema said. The steel source gets cold worked in a factory to obtain its properties and strength. A crash cold-works it further. You cold-work the steel further while repairing it.
With cold-straightening, "we still have to be very careful," Zuidema said. Consult the OEM manual and follow it, he said.
"The procedures they have developed are safe," he said.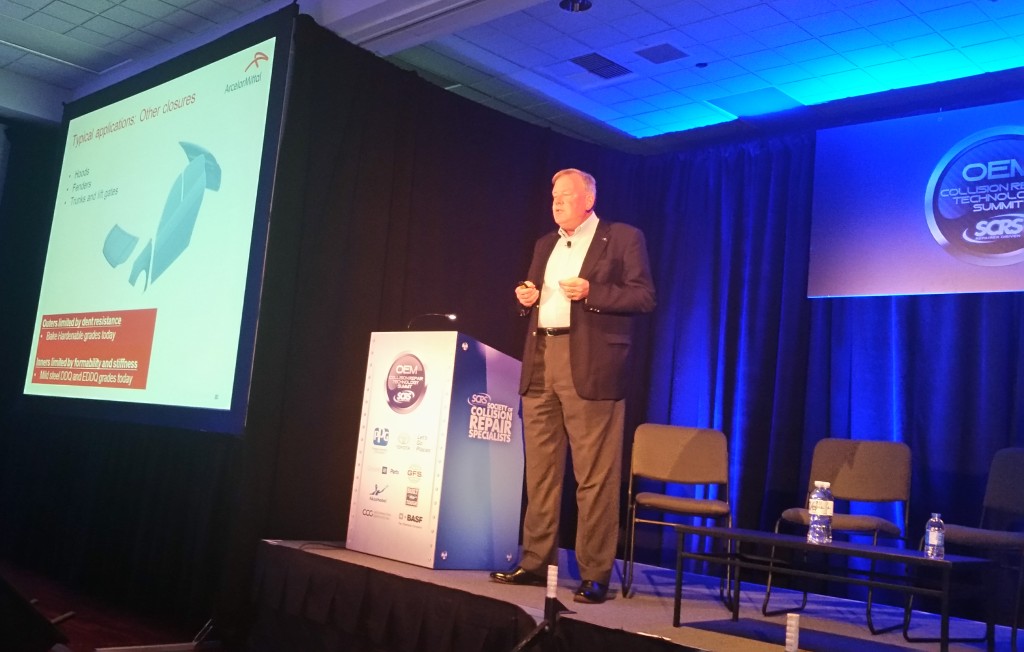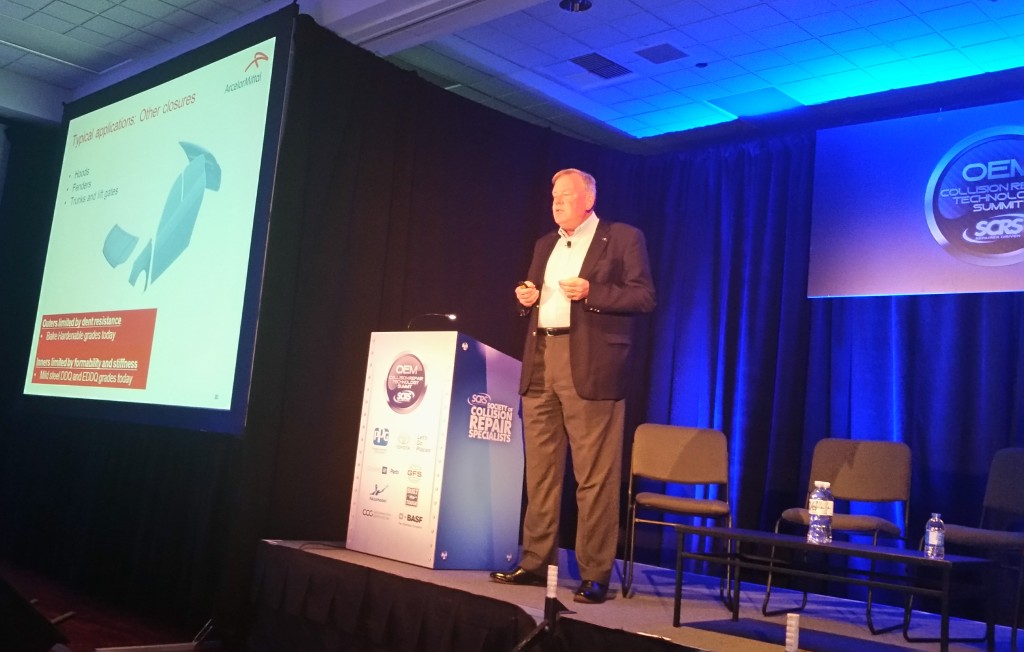 The same goes for any repair, Zuidema said, citing the infamous example of the incorrect Acura MDX door ring work (you're supposed to replace it) displayed by Honda.
"They absolutely must be consulted," Zuidema said.
Follow OEM procedures, and guess what — the part performs exactly as it supposed to. The American Iron and Steel Institute and General Motors last decade intentionally inflicted crash damage on a floor rail and fixed it according to GM repair procedures. The poor part was then crashed again.
"The repaired crashed parts looked exactly the same," Zuidema said, presenting the data on the energy pulse.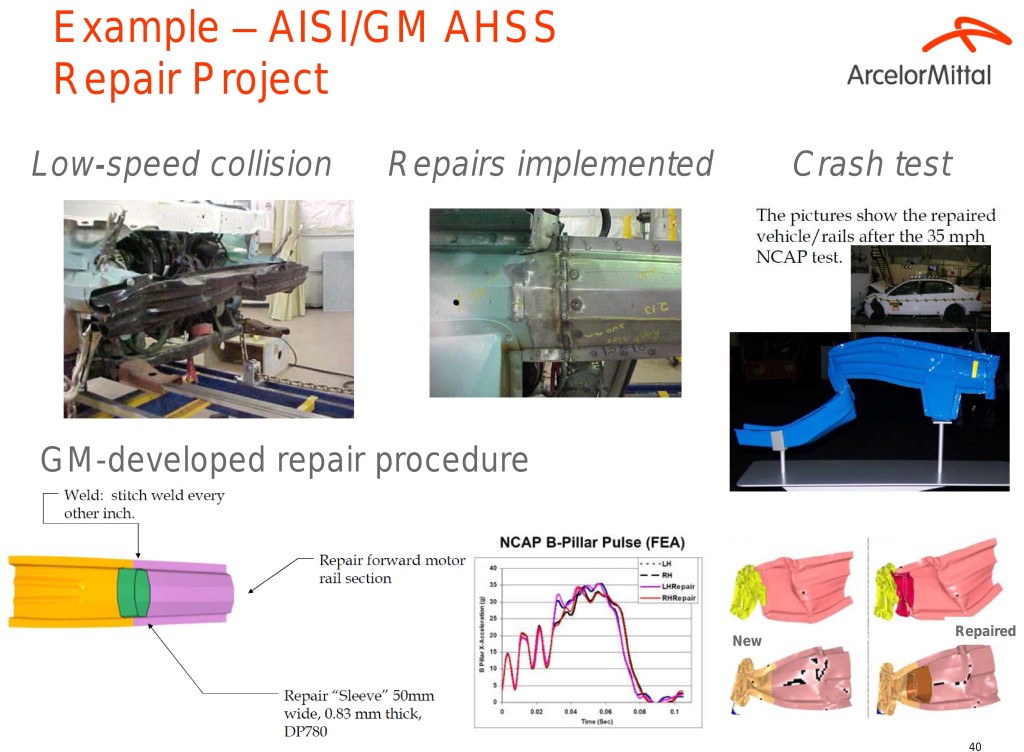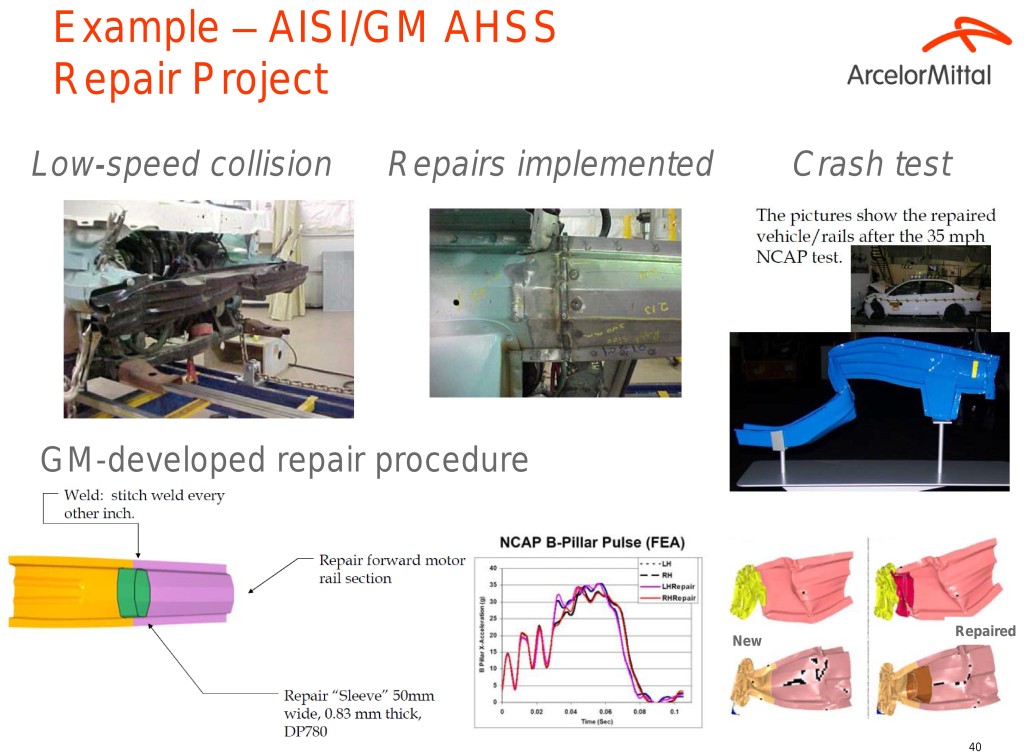 Images:
Ultra-high-strength steel on the 2015 GMC Canyon/Chevrolet Colorado of at least 1,000 MPa can be seen here in red and yellow at Great Designs in Steel 2015. (John Huetter/Repairer Driven News)
It's vital to follow the proper OEM procedures on high-strength steels to avoid ruining the material with excessive heat or mechanical "cold" work, a steel industry expert said last month at SEMA. (Dirk Hoenes/Pixabay)
Flame-straighten a gigapascal-level steel and its strength plummets dramatically, eliminating its ability to protect vehicle occupants and distribute energy throughout a car. (Provided by ArcelorMittal)
Any modification of high- and ultra-high-strength steel heat treatment can have a negative impact on the properties of parts intended to serve a variety of functions during a crash, ArcelorMittal automotive product applications Director Dr. Blake Zuidema said at SEMA. (John Huetter/Repairer Driven News)
The American Iron and Steel Institute and General Motors last decade intentionally inflicted crash damage on a floor rail and fixed it according to GM repair procedures. The part (poor guy) was then crashed again. (General Motors, American Iron and Steel Institute, ArcelorMittal)
Share This: