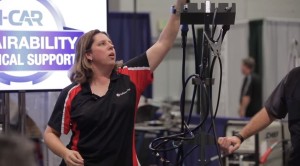 There's still time to last-minute Christmas shop for your collision repair colleagues or loved ones, and I-CAR and Collision Hub have made it easy.
Offering some new highlights as well as older favorites, the two auto body education entities at SEMA detailed products for that special estimator, body technician or painter in your life — or for a shop owner or manager who just wants to treat themselves.
You probably won't be able to find these in a frantic last-minute Walgreens dash, but at least you can print out a copy of the order from the distributor, stick it in a card, and make a shop's day.
Here's some highlights from Collision Hub CEO Kristen Felder and I-CAR Director of Industry Technical Relations Jason Bartanen's SEMA picks. Don't miss the full video:
Rivet guns
We've given a lot of press to the XPress 800 "Cadillac of all the rivet guns," but another good pick is the Pro Spot PR-5, according to Bartanen.
"This is going to become an essential tool in the next several years," Bartanen said.
He noted its approval (a Henrob gun is also OK'd by Ford) for the aluminum 2015 Ford F-150 and the expected future growth of rivets as a joining technique for mixed-materials cars. The aluminum and steel Cadillac CT6 — which at this point does not allow the PR-5, only the XPress 800 — extensively uses rivets, for example.
Riveting is also attractive because the joining can reduce noise, vibration and harshness (NVH), Bartanen said.
Door skin SPR extraction, insertion, zipper
Though their usage is limited to the cosmetic level, Bartanen also praised the Steck self-piercing rivet extraction and insertion tools.
"They're not approved for structural repairs at this time," he said. However, Ford has approved them for F-150 door skin replacement.
Another useful door skin tool was the Steck Aluminum Skin Zipper, according to Bartanen.
Aluminum door skins can be prone to cracking on the hem flange, but the Skin Zipper offers "a quick, efficient way to put door skins on" with less cracking.
"The faster I could do it, the better my check was on Friday," Felder said of the technician world.
Carbon fiber adhesive removal
Going more exotic than aluminum, Bartanen also praised a BMW tool (unfortunately, we couldn't track down the name) used on carbon fiber cars such as the BMW i8.
The tool allows a technician to grind down the adhesive connecting carbon fiber — "there's no spot welds to drill" — during BMW repairs, Bartanen said. He said the device also includes a small vacuum to remove dust generated during the grinding.
Cutting through welds
Also in the joining removal line, Felder raved about the 3M File Belt Sander.
"I call this thing the magic finger, because if I can touch it, I can get on it to weld it," she said. It cuts through spot welds and dresses welds "like butter," she said.
"The tool's just amazing," she said. "… This thing will change your life."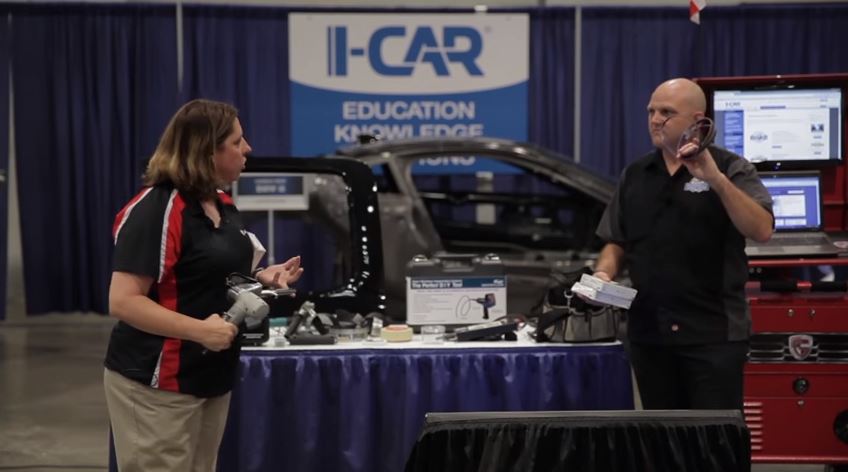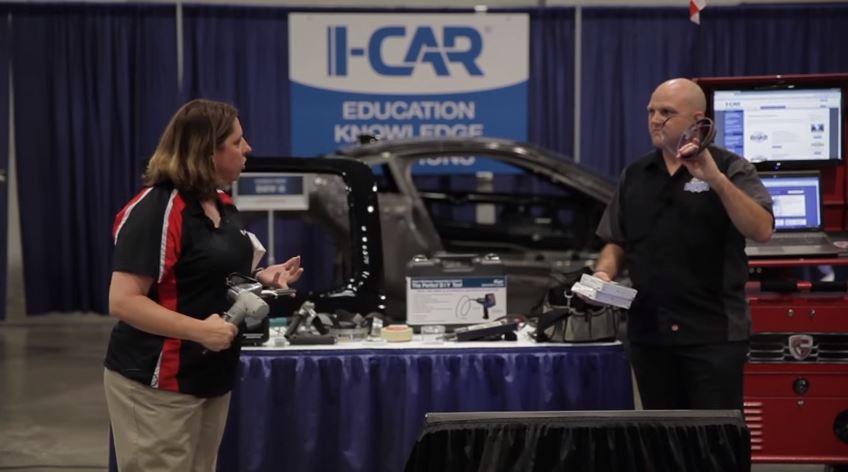 Plastic repair tool
"Plastic repair is a great source of revenue for shops," Felder said, and recommended the Pro Spot HSW-200 for shops looking to capitalize on that stream.
"We're not repairing as many bumpers as we used to, say, even like three to four years ago," she said; replacements have become more popular.
But "these things have given us a lot of options," she said, saying that unlike a traditional V-cut method, the hot staple welder can deliver "a really good, strong long lasting repair"
Dent estimating and removal
Dent estimates can draw scrutiny from a desk reviewer who can't tell the damage from a photo alone, noted Felder: "'Hey, I don't think you need X amount of hours on that door.'"
A great solution from Collision Edge was the Dent Viewer, which paired with the flash of an estimator's camera projects a grid over a dent, showing the actual scale of the damage.
"It's a great way to prove what you need," she said.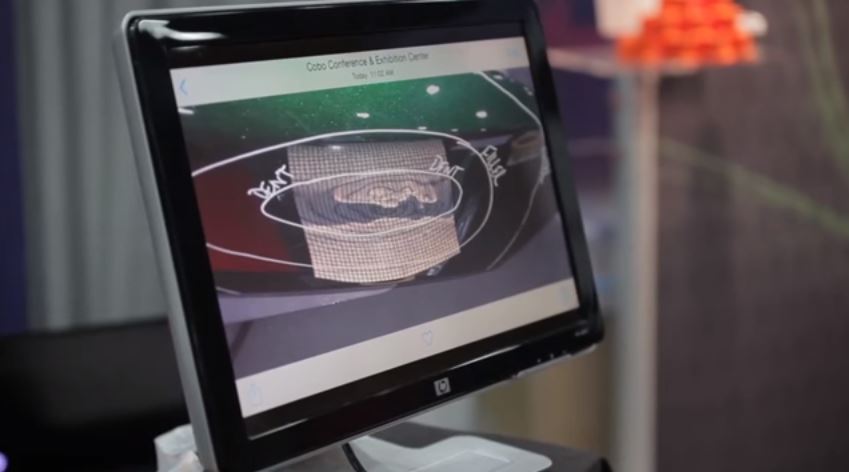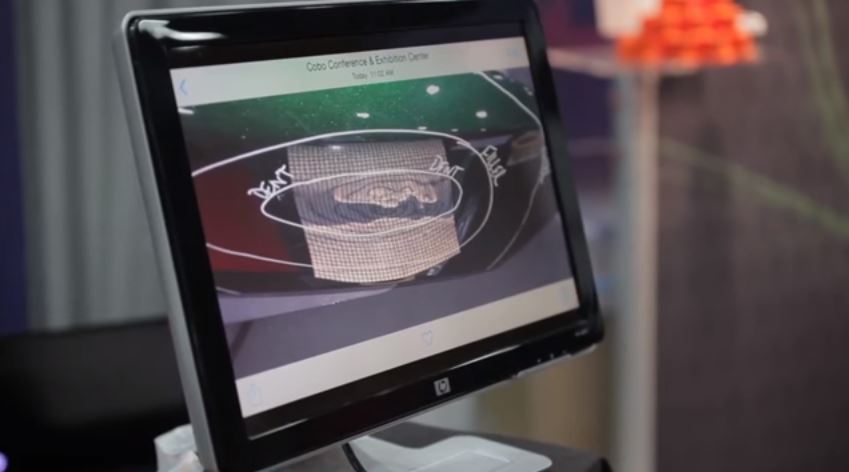 A similar useful offering from Collision Edge was the Estimating Kit, which lets an estimator slap a floppy, magnetic ruler upon a car for more scale when demonstrating a refinishing need.
"Adjustors love these," Felder said, and some insurers are even having adjustors carry them.
With that context, Felder said, "I'm getting less no's."
Dent removal itself also gets easier with the H&S Autoshot UNI-9850, Bartanen said.
The tool allows cosmetic work on both aluminum and steel vehicles, and Bartanen singled out a feature which can lock a dent in place while you perform metal work.
"This one gives you an extra set of hands as well," he said.
Welders
Another all-in-one tool, they segued, was the Pro Spot SP-5 Smart MIG, which offers separate welders for aluminum, steel and silicon bronze.
That's convenient for a shop as the substrate mix repairers encounter continues to diversify; there's no need to swap out rollers or waste other time switching welders, Felder said: "Productivity goes way up."
"Knowing it's set up and ready to go changed my life forever," she said.
The tool also allows for MIG brazing, which has become necessary on some vehicles (some from Acura, for example), according to Bartanen.
Tape protection
In another Collision Edge win, Felder, a former painter, praised the Tape Thing, a magnetic-backed tape holder also offering a belt clip.
"Does it bug you when you walk through the paint shop and you see that?" she asked the shop owners, dropping a roll of tape on the ground.
When you see a run-over roll of tape or a wet roll, "you know exactly what that roll cost you," she said.
With the Tape Thing, "I just stick (the roll) on the car, it's magnetic. … I don't have 12 rolls running around the shop because four guys have them in their toolbox anymore. They're right where they need to be each and every time."
By reducing waste like crushed paint rolls, a shop has more money to spend on bigger-ticket items.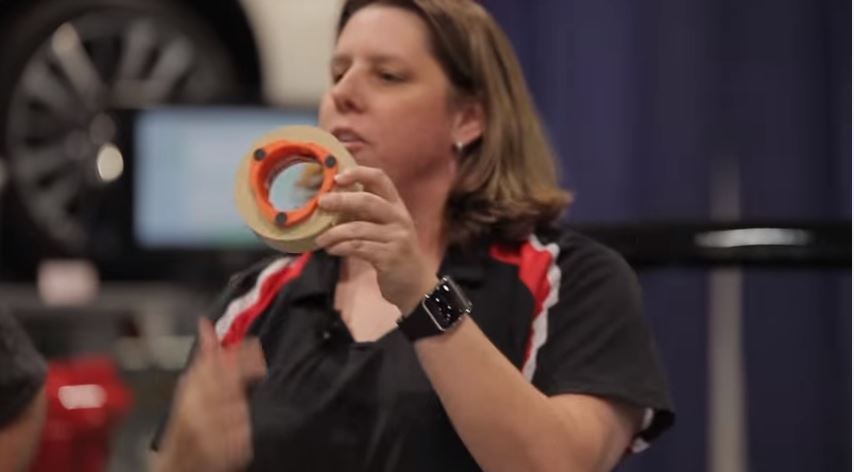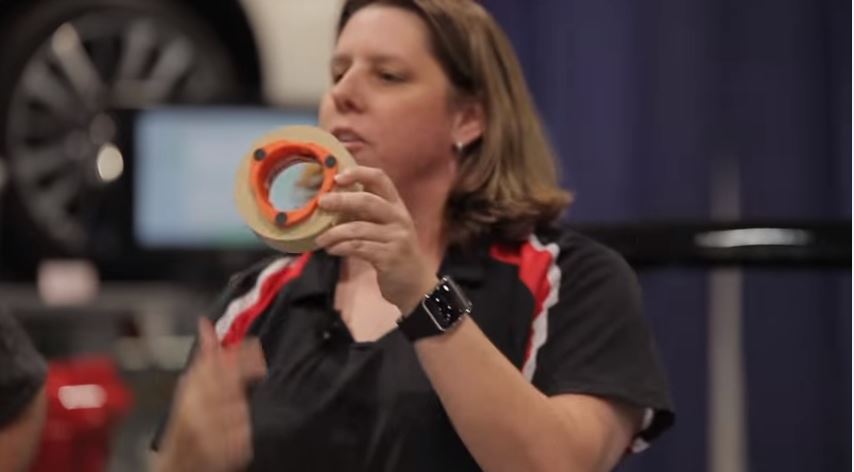 Diagnostics
Also a runner-up for this year's best collision repair products at SEMA, the asTech 2 drew a nod from Bartanen.
The device from Collision Diagnostic Services attaches to the OBD-II and sens the scan data to CDS through Ethernet or Wi-Fi (though the latter "not as well sometimes"), according to Bartanen.
There, the information is analyzed by ASE-certified technicians specialized in whatever OEM you're scanning.
"They've got the factory scan tool in their lap," Bartanen said, and the CDS staff can remotely even do "all kinds of goofy stuff" like honk the horns or lock doors.
The only time you'd be out of luck would be scans requiring a test drive, he said.
As Bartanen and other SEMA speakers stressed, scanning is a new fact of life for collision repairers; it's not just for mechanics.
"If you don't measure the vehicle, how do you know whtere the hidden damage is?" Bartanen said. "If you don't scan the vehicle when it comes in, how do you know if you've got any trouble codes that aren't turning on a light?
"With all these advanced safety systems today, a lot of these systems aren't going to turn on a light when you replace a lot of these parts."
Get it right
Like scanning, following OEM procedures is more important than ever as cars continue to get smarter, lighter and stronger. A good way to seek out that information and get questions answered can be found in the I-CAR Repairability Technical Support portal.
"That is a really cool tool for every shop to use," said Felder, who with B said.
Felder and Bartanen touted the portal, first offered in 2014, during the SEMA demonstration. Bartanen said it helps connect OEMs, I-CAR and shops so repairers have the proper knowledge and guidance to fix a vehicle.
"If you don't know what you don't know, (you won't) be able to repair the vehicle properly."
Inspection camera
Taking another note from mechanics, Felder praised the Whistler Inspection Camera, which offers a snakeable 9mm camera on a cord which can be paired with a 12-foot attachment.
"I started using these in reinspections," she said. They're also useful for navigating the different layers behind panels, for example, she said.
Never leave the car
If you don't mind looking a little ridiculous, the Spanesi Touch Virtual can be pretty handy, according to Bartanen.
It lets a user view Spanesi measurements, search procedures on the Internet and even Skype with a technician while never removing one's eyes from the vehicle.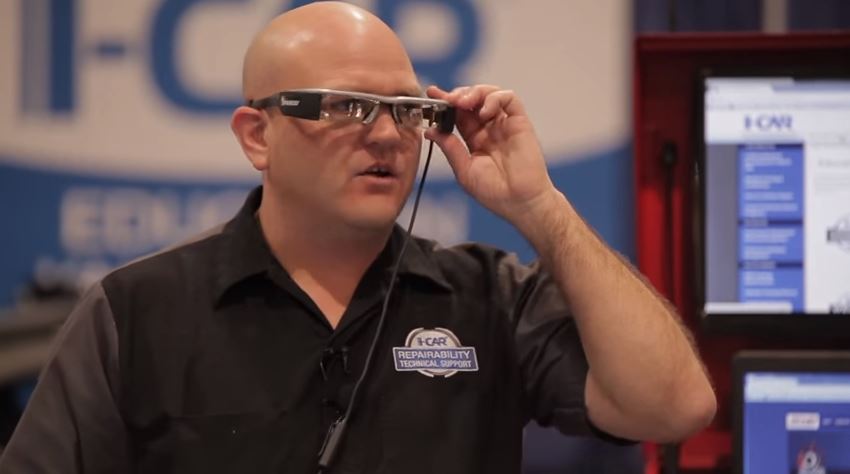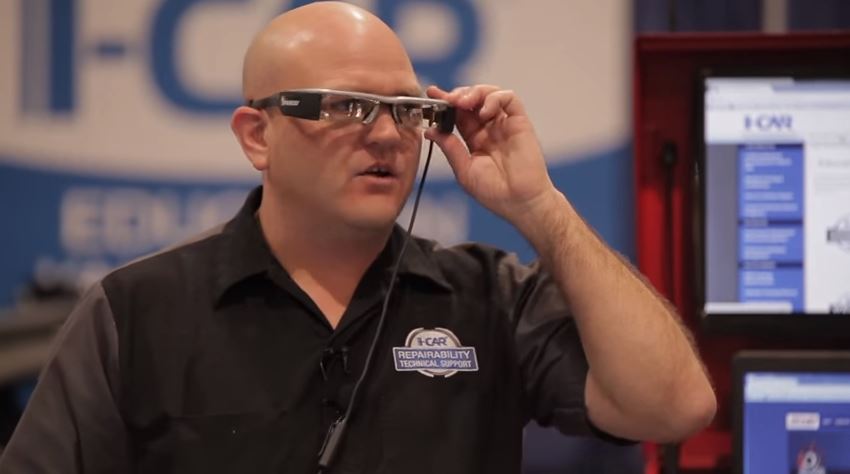 A less-tech but still welcome alternative is the Goliath G1, Felder said, a completely battery-powered cart — no extension cord to trail around the shop — offering space for a computer, printer and even a second monitor.
Constantly running between the car and office to check on something can cost an accuracy, Felder said.
With the self-contained system which "rolls everywhere" — even outside for a total loss — on large wheels, "I don't have to wait and go back and forth," she said, and you're not limited by a tablet or smartphone.
More tool highlights
In January, those flush with Christmas money or revenue from winter and holiday-travel crashes should check out the SCRS Education Committee tool recommendations from Toby Chess and Kye Yeung.  (Learn about the 2015 presentation here.)
The duo will present their picks at the Society of Collision Repair Specialists open board meeting Jan. 13. The event runs 8:30-10 a.m. Jan. 13 at the Palm Springs Hilton ahead of the Collision Industry Conference.
More information:
"I-CAR and Collision Hub Pick Cool Tools From SEMA 2015"
I-CAR and Collision Hub via Collision Hub YouTube channel, Nov. 30, 2015
Featured images: Offering some new highlights as well as older favorites,  Collision Hub CEO Kristen Felder and I-CAR Director of Industry Technical Relations Jason Bartanen described "Cool Tools" at SEMA 2015. (Screenshot from Collision Hub YouTube video)
Share This: