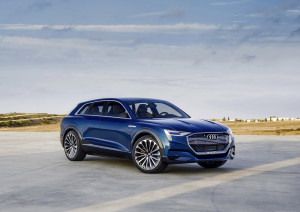 Audi announced Monday it would spend $3.3 billion with a heavy focus on electric/hybrid vehicles and two German plants.
In a very busy news release, the automaker also referenced its Q5 replacement, plans to court lightweighting experts and a brand-new new Q2 model.
Collision repairers — particularly those in Audi's authorized repair networks — should pay attention to all of these factors. Because they all likely signal more aluminum and high-strength steel designs coming on the market.
"We are continuing with our high levels of investment in future technologies to enhance the strong position of our brand," Audi CEO Rupert Stadler said in a statement.
The German versions of the new Audi A4 and A4 Avant announced this summer will weigh nearly 265 pounds less than the current A4s. (U.S.-specific vehicle and press information haven't yet been released.)
The company saved weight on what automotive media say will be 2017 A4s with a mix of aluminum, high-strength steel and even magnesium in major structures like the body and powertrain as well as bite-sized weight cuts in items like the power steering system, brake pedal and carpet.
Audi pushed further into aluminum with the next-generation Q7 announced in May. The new version will weigh as much as 716.5 pounds less than the existing SUV, and its "innovative multi-material" body will be 156.5 pounds lighter, according to Audi. Aluminum doors would knock off another 209.4 pounds.
Audi didn't provide any more details about the Q2 from a "new market segment." (Car and Driver called it a crossover and speculated it could replace the Q1.) Nor did it discuss the Q5 successor.
Automotive News in June reported that the company planned a greater SUV lineup, the kind of vehicles which must stay light to meet U.S. and European emissions targets or support a hybrid/electric powertrain.
"A significant proportion of our investment is naturally in the field of alternative drive systems," Stadler said in a statement.
Audi promised the "first large-series battery-electric vehicle" by 2018, based off of the e-tron quattro concept. It wants 60 different models by 2020, likely referring to all the different variations on each of its models rather than 60 distinct model brand names.
Half of the $3.3 billion will be spent on Ingolstadt and Neckarsulm facilities.
More information:
"Audi Group invests in the future"
Audi, Dec. 28, 2015
Featured image: The Audi e-tron Quattro concept car is shown. (Provided by Audi.)
Share This: