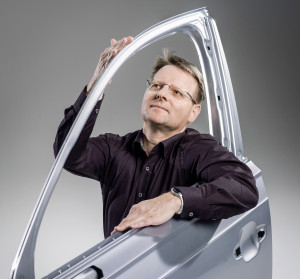 As Audi announces more steps along what Automotive News described as a company focus on SUVs, we thought we'd take a closer look at the upcoming changes to the 2017 Audi Q7, on sale in the U.S. early next year.
For if Audi continues to ramp up aluminum usage to meet a more SUV-intensive fleet's lightweighting needs, a spot on the general Audi authorized repair network might not be enough; repairers might have to seek Audi aluminum repair authorization.
Being on either network could become more crucial now as Audis receive the Audi connect Gen 2 update from Audi and Sirius XM, which allows the vehicle to provide OnStar-like emergency and roadside assistance. The feature will debut on the Q7 and be available on future vehicles, including the upcoming all-new 2017 A4s.
Cadillac recently announced it would recommend its network of CT6-certified shops via OnStar, and the new Audi service could help that OEM drive more of such conversations. (Audi already has a 24-hour roadside assistance hotline.) A German Q7 news release describes Audi connect sending "at the customer's request service-related data via an Audi server to the customer's preferred workshop."
Lighter
Audi in May said the German version of the next-generation Q7 would weigh as much as 716.5 pounds less than the current Q7, and the "innovative multi-material" body would be 156.5 pounds lighter.
Aluminum doors would knock off another 209.4 pounds, according to Audi, though it elsewhere put the savings at 52.9 pounds a door. (Four doors multiplied by 52.9 pounds would be 211.6 in savings.)
About 41 percent of the 2017 Q7 is aluminum — up from 6 percent in its first-generation predecessor.
That Q7 featured aluminum on the hood, fenders and tailgate. On the 2017 Q7, aluminum sheet has spread to the roof, floor and doors (internally as well as the door panel), while aluminum sections and castings can be found in other areas of the SUV – including front and rear bumper beams.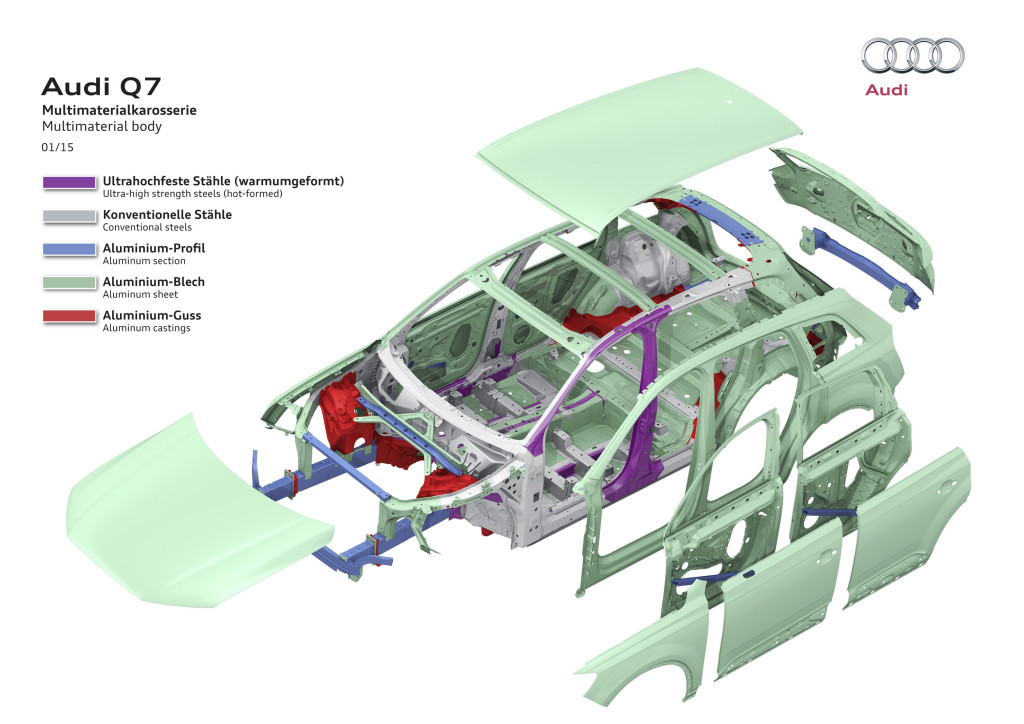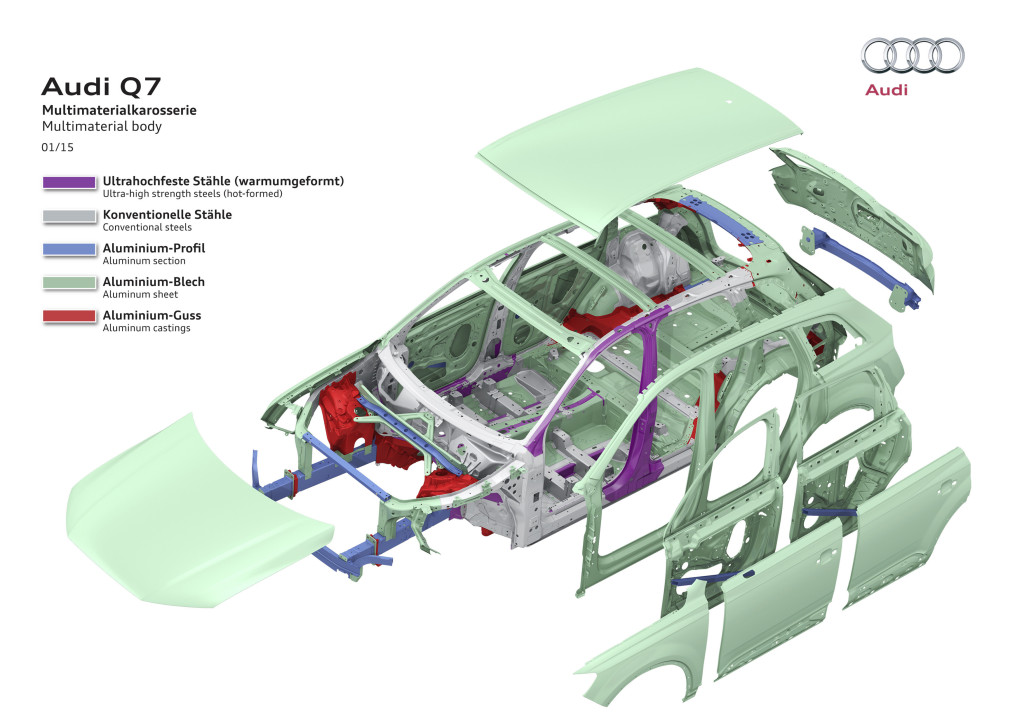 Though aluminum frequently replaces steel in much of the the 2017 Q7, the SUV still will contain 12 percent hot-stamped ultra-high-strength steel, mostly in the A- and B-pillars and floor rails like the rockers. It's unclear how much conventional steel exists in the car. (Learn more about aluminum and ultra-high-strength steel with these free SCRS SEMA presentations.)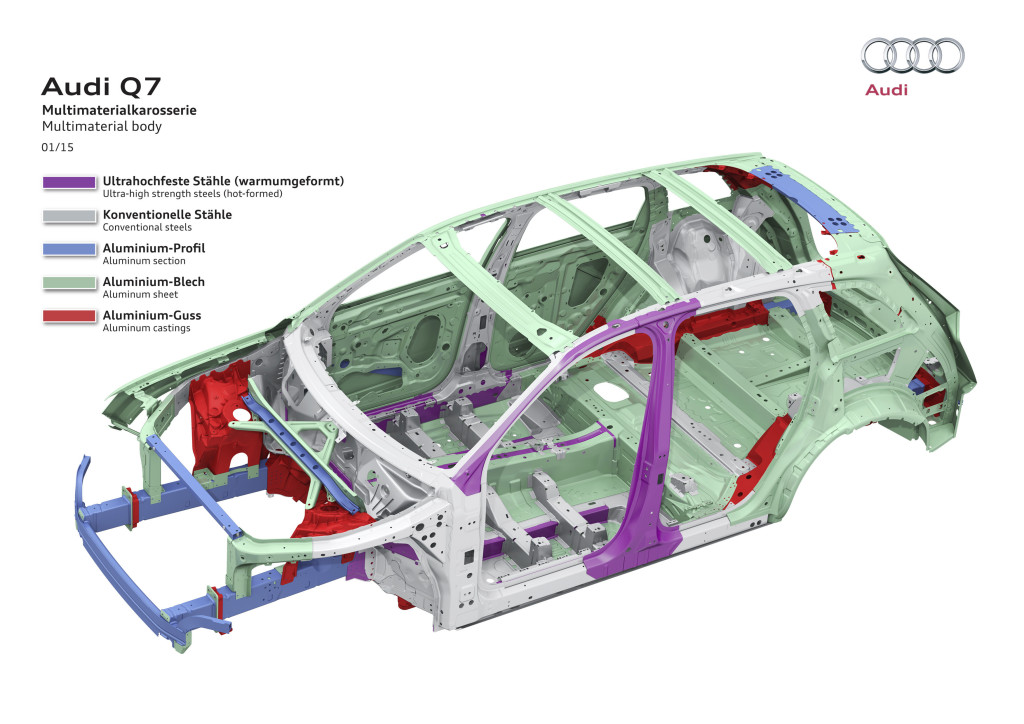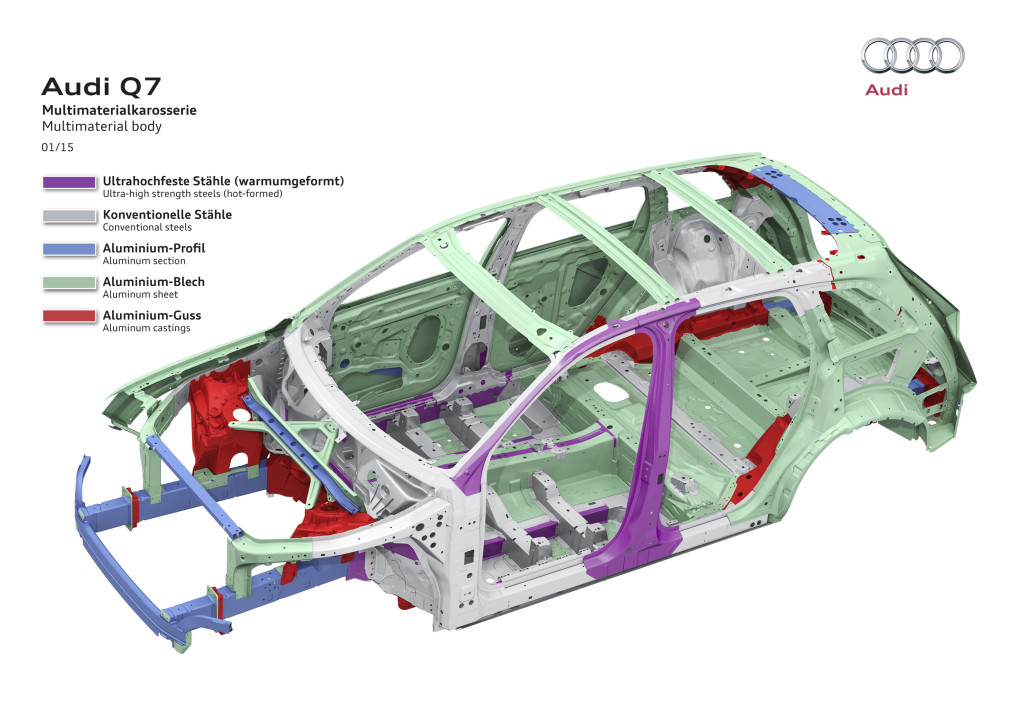 Joining
Audi says it developed new techniques to join the Q7, including "roller hemming" the side wall frame to create "ultra-strong B-pillars."
"It allows slender flanges and correspondingly large, comfortable door cutouts," Audi stated in a news release.
Audi also friction-element welds rivets to connect steel and aluminum, and "Punch-riveting, clinching and self-tapping screws make up the so-called cold-joining techniques from the Audi repertoire," the OEM states.
Another interesting collision tidbit: If the car hits a pedestrian, "pyrotechnic elements push the hood upwards in a flash, preventing the person's head from striking against hard engine parts." We wonder what that means for mechanics and repairers working on the hood or engine.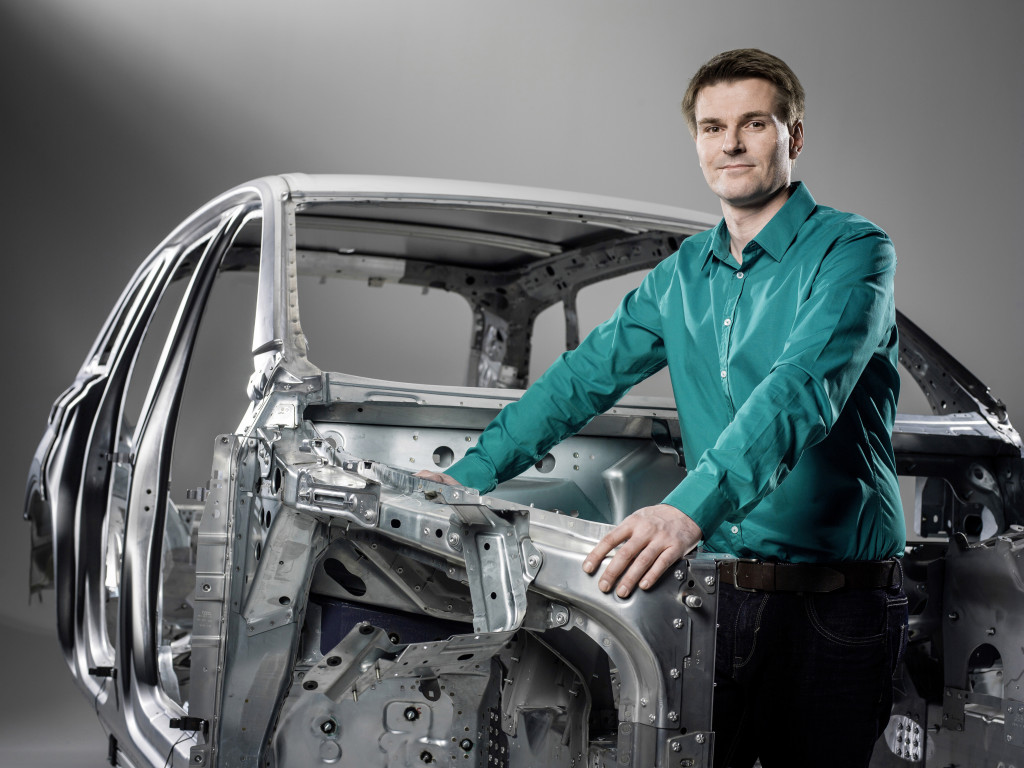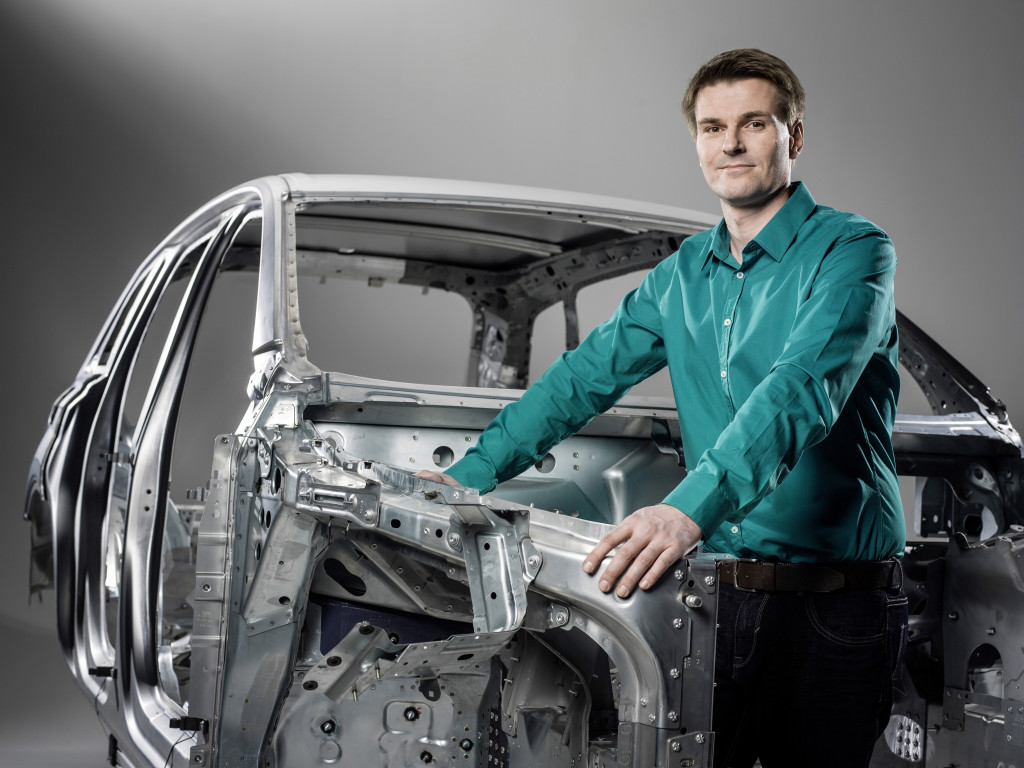 More information:
Audi, May 8, 2015
Audi, Jan. 31, 2006
Images:
Audi Q7 door developer Wolfgang Faaß is shown with one of the aluminum Q7 doors. (Provided by Audi)
About 41 percent of the 2017 Audi Q7 is aluminum — up from 6 percent in its first-generation predecessor. (Provided by Audi)
The 2017 Audi Q7 is shown. (Provided by Audi)
2017 Audi Q7 multimaterial body developer Hendrik Risch is shown with the Q7 body. (Provided by Audi)
Share This: