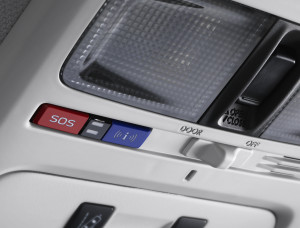 Subaru and No. 7 auto insurer Liberty Mutual will show vehicle owners how well they drive and if they're eligible for usage-based policy discounts through a new STARLINK app.
The Liberty Mutual RightTrack application on the STARLINK infotainment service ties into a smartphone to "monitor driving habits, provide trip reports and offer tips to become a safer driver," the companies announced Tuesday.
The RightTrack software will give the driver a report card after every trip, evaluating factors like hard braking and rapid acceleration. If they drive well, they might receive a discount through the insurer's telematics RightTrack policy. General Motors announced a similar program last year with Progressive, incorporating Snapshot into OnStar.
"We are excited to bring this innovative offering to market," Liberty Mutual auto product manager Hamid Mirza said in a statement. "This partnership combines Liberty Mutual's extensive experience and reach in usage-based insurance with Subaru and Clarion's cutting-edge connected car technology to bring RightTrack savings to consumers in new ways."
Liberty Mutual's team at the Consumer Electronics Show wrote Tuesday afternoon that RightTrack would be handled on an opt-in basis for Liberty Mutual customers. Subaru drivers insured through other carriers can still use the STARLINK RightTrack app for driving tips.
Unlike Progressive's Snapshot program, RightTrack drivers won't be penalized for bad driving, according to Liberty Mutual.
"RightTrack results can only help customers save on their rates through discounts depending on their driving habits," the CES Liberty Mutual staff wrote in an email. "Customers are not penalized.  RightTrack evaluates four key driving behaviors:  fast acceleration, hard braking, miles driven and late-night driving to determine the discount amount."
Since 2002, Subaru and Liberty Mutual have partnered on the affinity program, which offers Subaru owners insurance discounts, towing and roadside assistance and guarantees OEM parts.
Subaru has already announced STARLINK would provide collision and roadside assistance for 2016 models. Given the affinity insurance program and this new Liberty Mutual tie, there seems to be the potential for STARLINK "steering" to a OEM-backed shop and/or Liberty Mutual DRP repairer.
Nissan and Liberty Mutual last year began offering a similar affinity collision insurance. That program's call centers first recommend policyholders with damage visit Nissan OEM-certified shops, then tout Liberty Mutual DRP facilities, and then everyone else, Nissan collision parts manager Mark Zoba said at NACE.
Email and phone messages with Subaru have not yet been returned. Liberty Mutual is looking into our questions about the companies' affinity insurance program. Continue to check Repairer Driven News for updates.
More information:
"Liberty Mutual Insurance and Subaru Introduce New Technology to Promote Safe Driving and Savings on Auto Insurance"
Liberty Mutual, Subaru, Clarion via Liberty Mutual, Jan. 5, 2016
Featured image: STARLINK assistance buttons on the 2016 Subaru Forester are shown.  (Provided by Subaru)
Share This: