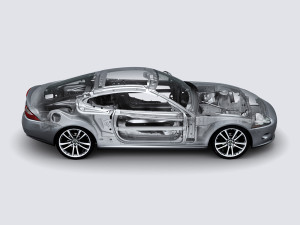 Certified shops charge anywhere from their steel repair rate to more than $145 an hour to fix aluminum vehicles, according to the latest "Who Pays for What?" survey from Collision Advice and CRASH Network.
The October study involved 800 shops, 130 of which reported being certified by at least one of nine OEMs to perform aluminum work, Collision Advice and CRASH wrote in a Monday news release.
"Surprisingly, those labor rates spread over more than a $100 range," the release states. So based on the survey data, a shop opting to charge different steel and aluminum rates certainly wouldn't be the "only one" doing so.
The average rate was $92; the surveyors didn't release the median or lowest aluminum rate reported.
"At the low-end of rates for structural aluminum repair, a small percentage of shops reported charging only a few dollars more per hour than their regular repair rates," the release states. "Near the top, there are shops charging in excess of $145 an hour for certified structural aluminum repairs."
Survey questions looked at both aluminum structural and cosmetic repairs; the cost of meeting OEM training and equipment requirements — something shops try and recoup with aluminum rates; markup on sublet work; and how often insurers pay for 29 shop supplies (panel adhesive, for example).
To sign up for the February survey and receive its results for no charge or to buy full survey results, visit www.collisionadvice.com/survey.
The prior study, released this fall, found 40 percent of collision repair facilities surveyed weren't guaranteed compensation from insurers for removing pinchweld coatings — a lack of financial support for a procedure that frame machine and auto OEMs say must be done.
Another study asking 980 shops how often they're reimbursed for 26 "not-included" procedures found that no major insurer outright rejects them — and yet some shops neglect to even attempt to be paid for them. Of course, shops reporting that they're "never" compensated still remained in the low 40 percent range for all of the major insurers except State Farm and USAA, which refused to pay only about 35 percent of the respondents.
Correction: An earlier version of this story incorrectly indicated that the highest aluminum labor rate charged by a surveyed shop was $145. The real value was "in excess of $145 an hour for certified structural aluminum repairs," according to Collision Advice and CRASH Network. The article has since been updated to reflect this.
More information:
"New 'who pays for what' survey results show wide range in 'certified' aluminum labor rates"
CRASH Network, Collision Advice, Jan. 4, 2015
Featured image: An unspecified Jaguar XK aluminum body is shown. (Jaguar Land Rover via International Aluminum Institute)
Share This: